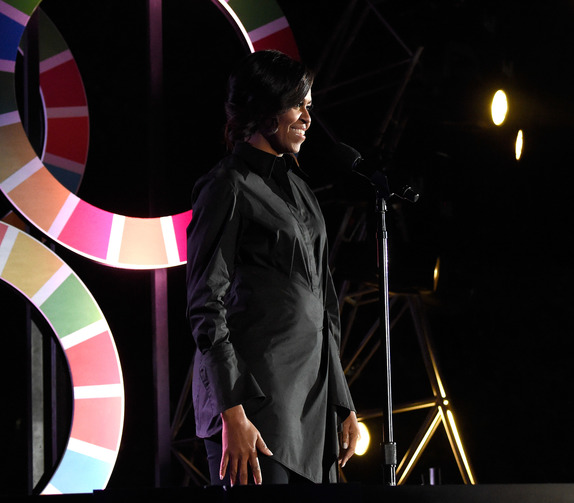 Saturday, September 26, 2015, was an incredible day for global unity.  Hollywood's musical royalty and the world's business  and government leaders gathered together to help achieve what is just the beginning of our world's noble goals for Sustainable Development.  More than 60,000 citizens attended, while millions watched live throughout the day as MSNBC and Youtube partnered to broadcast a one-hour special based on the Global Citizen festival, which will be aired in more than 70 countries in the upcoming weeks. 
"When so many still live in extreme poverty and chronic hunger, when so many mothers still die from childbirth, when so many children still die from preventable diseases—that's a moral outrage.  It's a profound injustice.  And we have to come together, as one world, to realize the change we seek.  Today, we're setting new Global Goals, and every nation, every sector, every government, every citizen has to do our part." –United States President Barak Obama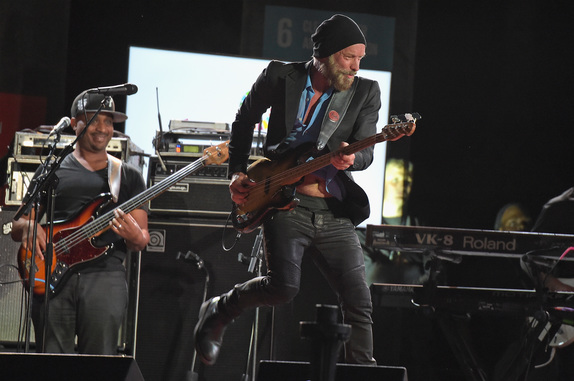 Performances were by Beyoncé, Pearl Jam, Coldplay, Ed Sheeran, Ariana Grande, Sting, Common, Tori Kelly, and Sunidhi Chauhan to name a few. The 2015 Global Citizen Festival coincided with the new Global Goals for Sustainable Development, adopted by 193 countries at the United Nations on Friday, September 25th. Global citizens took more than two million actions in the months leading up to the Global Citizen Festival, leading to the 27 announcements and commitments that were made from the stage. These commitments are set to affect the lives of more than 92 million people, and will be used by global citizens to hold governments and businesses accountable to deliver on their promises in the years to come.
Photos: Theo Wargo (Getty Images)
Mitchell J. Silver

Leonardo Di Caprio and Kerry Washington

Laverne Cox

Actress Kajol Devgan

Prime Minister of Norway

Delaware Senator Chris Coons

Big Bird and President of World Bank Jim Yong Kim

UN Secretary General Ban Ki-moon

Australian Prime Minister Julia Gillard

"To fight poverty we need lots of things. We need to end corruption, we need to end conflict, we need to make sure the medicines are there, we need to make sure that kids can go to school, but we also need to make sure the money is there, the resources are there. Britain is the only major country in the world that has kept its promise of spending 0.7% of our national income on aid, and that is absolutely vital. We need other countries to meet that pledge, to meet their promises, because these were promises that we made to the poorest people and the poorest countries in the world." –United Kingdom Prime Minister David Cameron

"There is a need to liberate our world from the curse of poverty. My government is committed to eliminate poverty. To me, it means creating a condition where every individual is able to realize his or her potential. The time has come for nations and governments to show resolve in tackling this challenge. I'm committed to dignity and freedom from poverty for all. This is my mission and this is your mission. Let us work together. This will make our world a better place to live." –India, Prime Minister Narendra Modi

"Right now, more than 62 million girls worldwide are out of school.  As I've traveled around the world, I have met so many of these girls, and they are so bright and so determined to make something of themselves… These girls are our girls, and I simply cannot walk away from them. Today, along with Girl Rising, we're announcing a new campaign called 62 Million Girls – and we're asking you to get on Twitter or Instagram…share a photo of yourself…and tell the world what you learned in school using the hashtag #62MillionGirls."–United States, First Lady Michelle Obama

"Images speak loud and the ones we just saw are heart wrenching. Syria is a crisis from hell. Countries like Lebanon, Jordan, Turkey have given a safe haven to millions of refugees. They urgently need more help. And the European Union commits to increase our support substantially. We have set up a Trust Fund for Syrian refugees in those countries: it's a regional fund, with a regional scope – and we commit to increase it by an additional 500 million euros. We want this money to focus on education, livelihoods, food security. To target especially children and young people. And we guarantee that this funding will not be at the expense of our existing development aid budget. We'll push hard to get individual European countries to match that money with contributions from their national budgets so that we can reach 1 billion euros. All the Europeans out there – write to your governments, tell them to sign up! Syria needs our help. Thank you."–European Commission, Vice President Frans Timmerman

"Over the next 15 years, Sweden's 10 million inhabitants will support efforts to improve sanitation to 60 million people throughout the world."—Sweden, Prime Minister Stefan Löfven 

"Last year, world leaders … agreed to reduce the gap between men and women in the workforce by 25% over the next 10 years. As the Chair of G20 Antalya Summit in November, Turkey will call on world leaders to redouble their efforts to meet this ambitious goal and commit to monitor and report on the progress they are making to create a better life for girls and women. A new G20 engagement group – the Women-20 – will be dedicated specifically to improving gender empowerment. If we achieve our goal, 100 million more women will get access to fair and equal work around the world. Global citizens, Turkey has heard your voices loud and clear. I am calling on all G20 leaders to prioritize the needs of women in the workforce and society for a more peaceful, inclusive world."—Turkey, Prime Minister Ahmet Davutoğlu

"To achieve the Global Goal of ending hunger, we must make women's role in agriculture and in nutrition a top priority. In Rwanda we have omitted laws that prevented women from owning and inheriting land. Millions of computerized land titles have since been issued, the majority to women. We can do much more by working together to make the sustainable development goals a reality."—Rwanda, President Paul Kagame

"Images speak loud and the ones we just saw are heart wrenching. Syria is a crisis from hell. Countries like Lebanon, Jordan, Turkey have given a safe haven to millions of refugees.They urgently need more help. And the European Union commits to increase our support substantially. We have set up a Trust Fund for Syrian refugees in those countries: it's a regional fund, with a regional scope – and we commit to increase it by an additional 500 million euros. We want this money to focus on education, livelihoods, food security. To target especially children and young people. And we guarantee that this funding will not be at the expense of our existing development aid budget. We'll push hard to get individual European countries to match that money with contributions from their national budgets so that we can reach 1 billion euros. All the Europeans out there – write to your governments, tell them to sign up! Syria needs our help. Thank you." –European Commission, Vice President Frans Timmermans 

Enjoy additional images from the event, photographed by Theo Wargo (Getty Images).

Usher

Olivia Wilde, Bono, Kerry Washington, Melinda Gates and Bill Gates

UK Parliament Secretary of State for International Development Justine Greening

Joseph Muscat and Xavier Bettel

Vice-President Joe Biden

Hosts Stephen Colbert and Hugh Jackman

Eddie Vedder of Pearl Jam

Chris Martin of Coldplay

Beyonce and Eddie Vedder

United Nations Special Adviser to the Secretary-General on Post-2015 Development Planning Amina J. Mohammed

Actress Connie Britton and educator Bill Nye

Activist Malala Yousafzai