It seems the 89th Academy Awards was full of surprises.  Nobody can complain about the lack of diversity this year!  Compared to the number of minorities (particularly African-American nominees) to non-minority nominees, I have never seen so many holding gold statues – though quite deserving.  It was predicted that La La Land was going to sweep, and it did, winning several awards, Best Score, and finally Best Actress.  But the biggest surprise was the final category, Best Picture.  Warren Beatty and Faye Dunaway presented and (Faye) called out the wrong winner; probably the biggest, most embarrassing blunder in the history of the Academy Awards.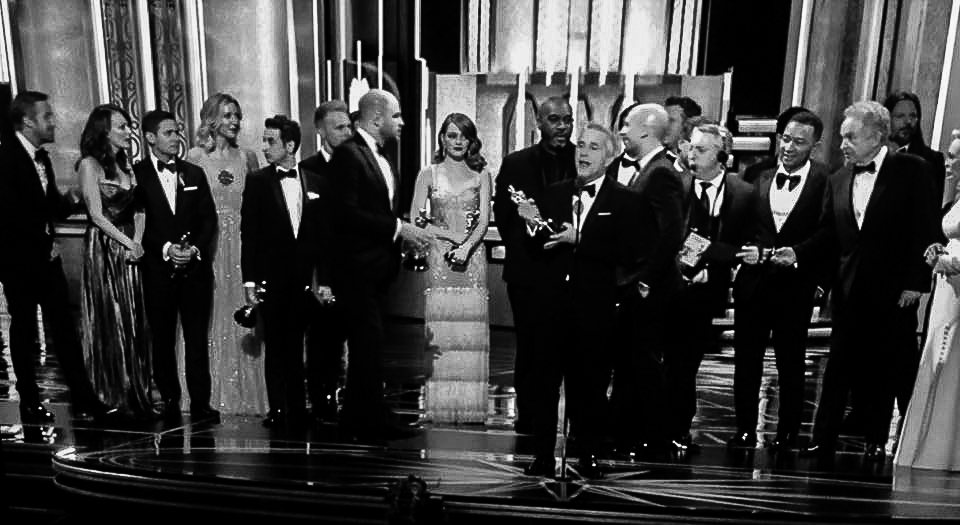 Seems like 2017 is filled with public humiliations.  Remember the Super Bowl and Mariah Carey?  Or what about the Grammy's with Adele forgetting her words and having to start a song over again on national TV. And I thought Steve Harvey (2016) calling the wrong Miss Universe was bad enough.  But to have to give back an Oscar for the most coveted category as Best Picture . . .  There are simply no words.  And the Oscar mistakenly went to La La Land when it should have gone to Moonlight.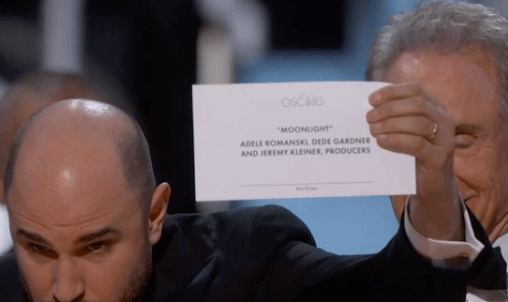 Let's talk about the Matt Damon roast. At first I found it funny when Host Jimmy Kimmel gave his acerbic banter by making fun of his acting in his latest film.  Matt Damon tripped Fallon early in the show.  It all seemed lighthearted until Damon came on stage with Ben Affleck, and was announced only as Affleck's guest.  When Damon tried to announce the nominees, Jimmy Fallon was conducting the "wrap-it-up" music loudly.  It actually looked like Matt Damon was legitimately upset as indicated by his outburst.  It was obvious the industry was paying him back for his recent political musings.  Mel Gibson didn't escape a backlash early in the show either.  Speaking of politics . . . it appeared as if every non-American chimed in on the Muslim immigrant ban by President Trump. Jimmy Kimmel even did a spoof about Trumps lack of tweets during the award show.  But the presenters, winners, and seemingly anybody who held the microphone for more than a minute used it as an opportunity to point out their political view. Why not . . . they had 25 million captive viewers.
See the complete list of winners below.
BEST PICTURE
Moonlight

BEST ACTRESS
Emma Stone, La La Land

BEST ACTOR
Casey Affleck, Manchester by the Sea

BEST SUPPORTING ACTRESS
Viola Davis, Fences
BEST SUPPORTING ACTOR
Mahershala Ali, Moonlight

BEST DIRECTOR
Damien Chazelle, La La Land
BEST ANIMATED FEATURE FILM
Zootopia
BEST ADAPTED SCREENPLAY
Moonlight
BEST ORIGINAL SCREENPLAY
Manchester by the Sea

BEST MUSIC (ORIGINAL SONG)
"City of Stars," La La Land

BEST MUSIC (ORIGINAL SCORE)
La La Land
BEST FOREIGN LANGUAGE FILM
The Salesman, Iran
BEST DOCUMENTARY FEATURE
O.J.: Made in America
BEST CINEMATOGRAPHY
La La Land

BEST FILM EDITING
Hacksaw Ridge

BEST VISUAL EFFECTS
The Jungle Book
BEST PRODUCTION DESIGN
La La Land
BEST COSTUME DESIGN
Fantastic Beasts and Where to Find Them

BEST SOUND MIXING
Hacksaw Ridge
BEST SOUND EDITING
Arrival
BEST MAKEUP AND HAIR STYLING
Suicide Squad
BEST DOCUMENTARY SHORT
The White Helmets
BEST SHORT FILM (ANIMATED)
Piper
BEST SHORT FILM (LIVE ACTION)
Sing