Five stars for this well written premier novel of forbidden love between an Arab and a Jew.  Lila was a Jew born and raised in Istanbul. Later an adult, she moved to Jerusalem. Elias Riani was an Arab, whose family has lived in Jerusalem for over a hundred years. In 1947 Elias and Lila meet serendipitously when she stops her car to help an ailing dog she sees beside the road. Behind her on his motorcycle, Elias stops to see if she needs help.  Elias insists she take the dog to a vet that he knows, where he will assist with the cost. Two things happen: Lila becomes attached to the dog, and she and Elias fall in love.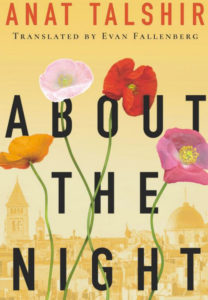 The novel begins in the present, 2006, with eighty-five-year-old Elias in the hospital in constant pain with a condition the doctors have not yet been able to diagnose. He has his faithful friend and caretaker Munir locate Nomi, a mutual friend of his and Lila's in years past, with the request to visit him.  She does. He has a special favor to ask of her.  And here in medias res begins their story which starts in 1947 before the onset of the war that divided the city Jerusalem into east and west.
In a unique backward and forward motion told by an omniscient narrator, this is a love story of impossibility and implausibility. The entire novel reads like poetry. The back and forward motion is a dance that keeps the reader not only interested but also participating in the emotionally charged dance.  I am looking forward to more literary fiction by Anat Talshir.  
ISBN: 978-1503936034 / Reviewed by Lee L. Peoples