My Winter Wardrobe
By
Elana Pruitt
| November 7th, 2009 | Category:
2009
,
Columns
,
November 2009
,
Talking Chic
|
No Comments »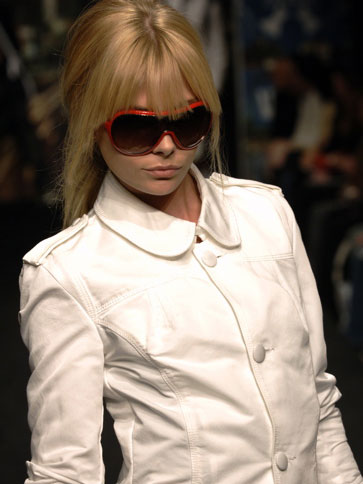 When I was a child, I couldn't wait until it was Chanukah. The taste of latkes and relaxing by the fireplace are memories I shall never forget.
As for gifts, my parents usually had at least some sort of clothing wrapped up for me. This was in addition to new journals, fun Hello Kitty pencils, and new multi-colored strings for my friendship bracelets. I loved the thought of ringing in the winter season with something new to wear. I never expected a new wardrobe for Chanukah – and I wouldn't have received that anyway! (My mother is a firm believer in "it's the little things that count.") Still, I couldn't help but squeal in the delight that I would be able to add to my wardrobe.
One of my favorite gifts was a pink puffy button-up coat with a turquoise attached scarf! It was so perfect. Valuing that jacket so much, I decided to take the scarf out and save it. I still have it after 20 years.
Sometimes, I would get new slippers, a new robe, sweaters, or comfy turtlenecks. I never realized how smart my mother was until I was an adult. She would buy us what we truly needed ? practical gifts. However, she would make it fun. I really needed that jacket, as the hail poured down from our Southern California sky. Slippers, but in a royal blue, pull-up boot style, were to keep my feet toasty throughout the winter nights.
As an adult, I now like to treat myself to my own Chanukah gifts. And I do so following my mother's standards – take what you need and put your own twist to it. So what do I need this winter? Well, my shopping list entails a top three must-have check-off: short, black leather bomber jacket; a man's navy blue blazer jacket (which I may just snatch from my boyfriend's closet to save money); and a faux fur cream jacket. I have plenty of boots ? the over-the-knee boot is too dominatrix for me. I also already own various plaid pieces, a print which will continue to be a hot style for winter. So my list is minimal and practical, these three items that will add classic, couture-inspired style to my wardrobe.
Happy Chanukah and Merry Christmas! May your wardrobe be filled with pieces that are practical and exciting.