Tatiana McLane: A 16-Year-Old Fashion Designer of the Victorian-Inspired "Queenie 4 Ever"
By
Kaylene Peoples
| November 1st, 2009 | Category:
Fashion
,
Interviews
,
November 2009
|
No Comments »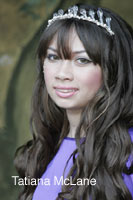 "To other teens out there who would like to be a fashion designer like me or have a dream or passion, keep going until the end, because you can make it as long as you believe in yourself. This was once my dream, but because I pursued it, it is now my reality." -Tatiana McLane
While most 16-year-old girls are hanging out at the mall, Tatiana McLane, the designer of Queenie 4 Ever is creating beautiful Victorian-inspired clothes for the upcoming seasons. Tatiana started designing at nine years old. It's hard to fathom, since I was skateboarding and still playing with Barbie dolls at that age. I certainly couldn't design an outfit, much less sew a hem. I always found it fascinating when my mother would make me a dress from a pattern and watch it materialize. But to imagine a child of nine creating an outfit from scratch, and bringing it into being, that is a sight to behold. Tatiana has had her vision for seven years and has been quite successful at keeping that vision alive. Her designs have been worn by Jessica Simpson, Hilary Duff, Missy Elliot, Macy Gray, and others. She has been featured in several publications: La Weekly Style Council, East West Woman, Music Connection, and Skratch Magazine. Her mother, Venice Wong, is the co-creator of the Queenie 4 Ever label and a huge support to Tatiana.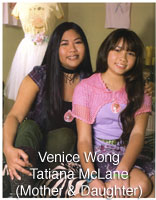 What made you want to start designing clothes?
It all started when I was nine years old. My parents are both music attorneys, and so they work in the music industry. I would go along with them after school when they had meetings. My mom helped [the clients] rearrange their outfits. I always thought it was really cool, and I wanted to help.
A lot of designers I've interviewed have told me they used to sew clothes for their dolls. Did you do that at all?
Not really. I had Barbie dolls, but I mixed and matched their clothes.
Are the clothes that you wear to school things that you make for yourself?
Well, I have to wear a uniform because I attend a private school. But I do design my own clothing.
How do you go about designing an outfit?
First, I do research. I find pictures. I roughly sketch it, show it to my pattern maker, and pick out the fabric.
Can you tell me what makes Queenie 4 Ever unique? Who inspires you?
I'm inspired by Japanese and Victorian fashion. I like Audrey Hepburn. I really like Vivienne Westwood because her designs are really cool and she uses plaid and I like plaid.
You're wearing a very adorable pink taffeta, black lace dress. What would you call it, and how did you come up with that design?
I just found the fabric and I really liked it. So I started with the fabric and I thought of Victorian tea parties and how they spend time during the spring.It has an exaggerated bow . . . I really like bows. Right now I'm showing my spring collection.
You have to come up with a collection twice a year. What inspired your spring collection?
Victorian-inspired collection that has ruffles and lace bows. I just choose a color and decide what would look good with that.
You said you're in a private school. How do your friends accept youbeing a designer?
I was featured in my yearbook. It was called "Hidden Talent." There were three students featured, one who flies airplanes, another one who did river dancing, and then me, a designer. A lot of people found out about me through that. I thought it was pretty cool that they recognized that I was a designer.
Could you walk me through your first outfit that you designed atnine years old?
I was at a charity event my parents went to. They probably had clients there. I met one of the Back Street Boys, Howie Durrough. I started talking to him and I told him I was a fashion designer. I can make you anything you want. He said he wanted a jacket and a man's dress shirt. I told him I could do that. My mom was pretty surprised that I did that. But I ended up making a sky blue pinstriped shirt and a jacket. We sent it out to Florida.We flew out after the package, and I got to see him wear it on stage. That was my favorite moment as a fashion designer.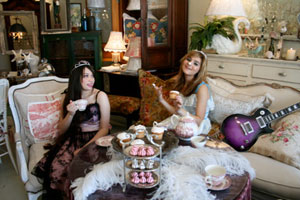 Where do you see yourself in five years? Do you plan to attend fashion school, or do you even need to?
I want to go to Stanford to study East Asian language because I have a huge interest in Japanese. I take Japanese and I really love it. I want to use that to go over there and put my own boutique here and also in Japan. Because then I could speak both languages and it would help me in business.
What is your ultimate goal as a fashion designer?
My goal is to get my designs worldwide, and not just the internet. I want to physically be there.
What advice would you give a young aspiring designer like yourself?
You should follow your passions, and when somebody tells you that you can't do it, you should prove them wrong because you will feel proud of yourself. And your family and friends will feel proud for you.
Tatiana also volunteers and sponsors several nonprofit organizations: A Place Called Home, P.A.L.S. Class Act (Musical Theater Scholarships), Dorough Lupus Foundation, and Angel Way Maternity Home, and more. Visit www.queenie4ever.com to learn more.