Vilaiwan Fine Jewelry – Semi-Precious Wearable Art That Complements a Woman's Charisma!
By
Kaylene Peoples
| November 1st, 2009 | Category:
2009
,
Fashion
,
Interviews
,
November 2009
|
No Comments »
When I put the right pieces on the right client and I know that is her piece, I get goose bumps because it will complement her face, neckline, complexion . . . it will frame her face and hair. When I put the right piece on, we both feel it and know it. It's as if that piece was created just for her. That's the highest point for me because I feel like I completed my job as a designer. It confirms for me that's why I'm doing this! -Jo-Jo, Vilaiwan Jewelry Designer
Polthakorn Viboonviriyawong, aka Jo-Jo, was born and raised in Bangkok, Thailand. He watched his mother start and build a successful diamond business. His earliest creative memories are of his mother (Vilaiwan) asking him to use his own design
skills to help design new settings for her jewelry. As a result of this new-found passion, his mother sent Jo-Jo to the United States to turn that passion into a career. In honor of her support, Vilaiwan Fine Jewelry was born.
Jo-Jo received his Master's from FIDM and graduated number one in his class. While there, jewelry became his passion. His vision is that jewelry is not just an accessory, but it is art that makes a statement of personality and energy. His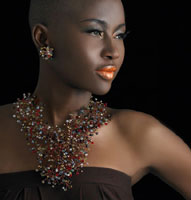 designs are inspired by vintage styles. Vilaiwan designs have made the flower the centerpiece of its design and its signature. Jo-Jo hand-makes each piece and uses his relationships in the jewelry business abroad to secure the best materials. You will not find pieces like his anywhere else in the world. This also means that most of the Vilaiwan collection cannot be mass-produced.
Tell me about your background
I got my Master's Degree in Interior Design. After that, I wanted to have something of my own before I was 30. I started to make jewelry. I gave a piece to one of my friends and she wore it to an art exhibition. Long story short, we made a connection, and we were able to put some of my jewelry in the museum store. Everything started from there. From the first to the third collection, I saw the opportunity. I created a website. We immediately got published in Dailycandy.com. Everything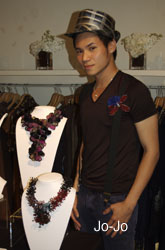 blew up after that. We got 20,000 hits in two weeks. I was able to sell my first production in ten days. From there I started to learn about the business, like how do you connect to stylists, stores, you have to have a rep to deal with buyers, and people contact you from everywhere in the world.
So you had a fast snowball success!
It was something that happened at the right moment and the right time. Luckily, I ran into the right channels.
How would you describe your jewelry?
My jewelry is more of an art. It's definitely not something that's teeny-tiny with a small little sheen. I definitely create a statement. I design with my heart and my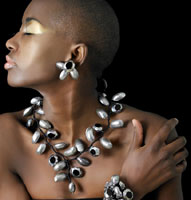 soul. You can definitely see it in the pieces—they're like an art piece. It is jewelry, but it also complements your bone structure and your appearance. I put a lot of emphasis on the bone structure.
What are the materials you use?
They are all semi-precious. Luckily, I have the benefit of my family diamond business to help with that. We have very rare stones to mix in our one-of-a-kind collection. The structure part is plated with either 14 carat white gold or 22 carat gold. This way the client won't have to worry about the pieces getting tarnished or creating a rash. We think about every single detail and every aspect of the jewelry.
I have seen the jewelry. It is very beautiful. You said you want to complement the bone structure, but you have some very interesting, intricate designs. Can you give me an example of what inspires that?
The pieces are inspired by nature: flowers, trees, leaves and their textures and colors . . . or even textures of stone and wood in flooring . . . even fountains and the rain. When I'm referring to the bone structure and the appearance of the client, how could I bring up those ideas and concepts' shape and form, based on my inspirations and be able to collaborate and combine and create something that actually flows with the bone structure of a human being, and make it look like something that really frames your face or neckline? It raises the look of elegance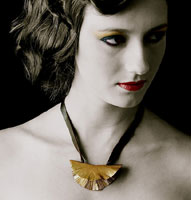 and complements the charisma of its owner. The answer is every piece has to embody something that complements those particular elements. That's why it's called jewelry. You want to wear the necklaces. You don't want the necklaces to wear you.
So your line is only three years old.
Yes, I feel really grateful for all the great response that I got, including all the press, clients, and fan base. I feel really fortunate for that.
You had a lot of success in a very short period of time. Where can we find your jewelry?
You can find it on our website. We do exhibitions with museums and high-end boutiques. Every 3-4 months we launch one-of-a-kind collections not announced on
our website—only announce it to those on our email list. When I'm in Los Angeles, I schedule private appointments with my clients.
How do you go about actually designing these pieces?
I sketch, and every time I go back to Thailand, I get a chance to look at the stone market or the suppliers affiliated with my family diamond business. From there I can see if there are any stones that can fit what I've sketched. I will literally make at least one piece myself, and then I have a little team make a couple of the pieces. The maximum number of pieces per design is only five pieces. But every 3-4 months when we do our one-of-a-kind collections, that's only one piece per one design.
Are they collectible or individually named?
Yes, we named them based on flowers in Thai or ladies' names in Thai. It gives you a more meaningful association with the piece.
Is there anything challenging about creating your jewelry?
The challenging part for me is finding the right materials to match the design. Sometimes the structure's not right or the number of the wiring was wrong, but once you complete it, it's like a miracle. Because when it's finished, you know it's right. I get ecstatic every time I create and finish a new piece. I have to put each piece on a
person, because I have to make sure it sits right on the neck. So when it's completed, it's a miracle to me. What can be challenging is making sure that the finished product actually looks like the picture I had in my head.
Could you list some of the semi-precious stones you use in your jewelry?
Yes. We use ruby, jade, quartz, emerald, rose quartz, yellow topaz, blue topaz, corals; and sometimes we even mix the stones, for example, ruby and emerald.
Everyone's got inspirations, right? What jewelry designers inspire you?
Honestly, I don't have any jewelry designers that inspire me. I see some of the pieces from other artists. I really admire them. But I am mostly inspired by different shapes and forms of art, like architecture or even a flower arrangement . . . even a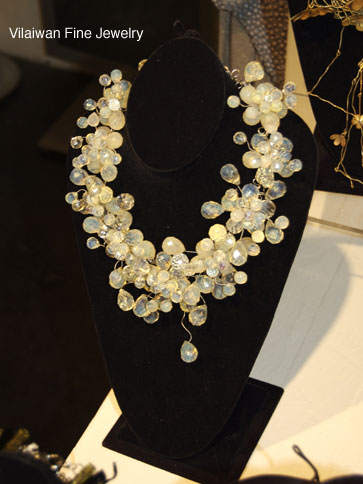 color scheme that moves me. I have been taking a lot of pictures lately of the floor with shadowing and different textures of concrete; the sand; the ways that nature grows; the odd shades of pink; etc. I prefer that to a real object or shape and form.
Highest High
When I put the right pieces on the right client and I know that is her piece, I get goose bumps because it will complement her face, neckline, complexion; it will frame her face and hair. When I put the right piece on, we both feel it and know it. It's as if that piece was created just for her. That's the highest point for me because I feel like I completed my job as a designer. It confirms for me that's why I'm doing this!
Any lows?
Sometimes it can be challenging. I might have a design, but I can't find the right stone for it. Or I found the stone, but the execution didn't materialize the way I wanted. When those moments come, I just take a break, go for a walk or jog, and then return to it later. By the end, it always works out somehow.
My parents taught me that any job that you do, there will always be problems; but you're lucky to get the chance to solve the problems in the business that you love and have a passion for. So for me, I have no complaints.
What advice would you give to another aspiring jewelry designer?
1. You really have to follow your passion. You really have to be honest with yourself. If you want to be a fashion designer, jewelry designer, or a singer, it's what's deeply inside screaming for you to do it. Follow that and never give up. There will always be obstacles where things aren't as smooth, but just don't give up. Be passionate about it; and in the end, it will pay you back. The difficulties are just a test to see if you really want to go through with it.
2. Be open-minded. When you become a designer, it's like being an artist. You have an ego. But if you become an open-minded person, it will be much more fun while you are enjoying learning everyday from everything and everyone. There are a lot of things in this world that you don't know and it benefits and can inspire you.
To learn more about Jo-Jo's jewelry, visit his website at www.vilaiwan.com.
Interviewed by Kaylene Peoples