Gift Ideas for Guys Who (Think) They Know What They Want
By
Guest Writer
| December 1st, 2009 | Category:
2009
,
December 2009
,
Gift Guides
|
No Comments »
Finding gifts for a confident man isn't always easy, especially since he already projects such strong characteristics. But by giving him a stylish gift this holiday season that works with, or even enhances, his confident personality, you can't go wrong.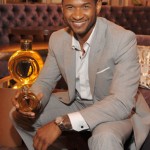 * The Usher VIP fragrance is constructed around a rich suede note, a combination of fresh clean bergamot, tangerine and kumquat and allows a man to radiate the confidence of a gentleman at ease in his own skin. Usher VIP fragrance is also found in a shower gel, after shave soother and deodorant.
* Consider cashmere scarves, leather gloves, or even a hat that you know will bring out that special look in his eyes when he tilts it just slightly on his head.
* If he's into a sports team, think about getting tickets to a big home game, and include a meal or dessert as part of the bargain. Maybe find some front row tickets to a concert for the music lover. Or plan a hike with a romantic picnic included. Surf and turf dinners are also a popular favorite, whether you cook them yourself or take him out to a fancy restaurant.
This holiday, you can't strike out by giving him a strong gift to match his personality. And I promise you, he'll thank you for it!