A Model Summer – Paulina Porizkova
By
admin
| May 30th, 2011 | Category:
2007
,
Book Reviews
,
Winter 2007/2008
|
No Comments »
A Model Summer
Paulina Porizkova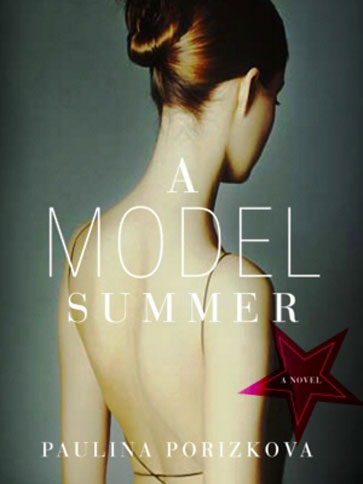 After reading Paulina Porizkova's novel, A Model Summer, I find it difficult to enjoy, as I previously did, the innocent-looking faces of the young models I encounter in the magazines and elsewhere; for fiction as we very well know is based on fact, and I shudder at the fact that to become a top model, young people often endure terrible trials and temptations.  However, I want to believe this book is an intentional exaggeration on the part of Paulina Porizkova, a model herself, in order to warn aspiring young models, especially females, of the tragedies that could befall them on their way to the top.
A Model Summer is the story of an innocent fifteen-year-old girl's rise to the position of top model during, ironically, a model summer in Paris.  Watching how others before her have achieved this coveted spot, in spite of her goals and ambitions before being discovered, she succumbs to the tricks of the trade, among the worst, sleeping with whoever she thinks will benefit her career.  Like others at the many parties she attends, she learns to smoke and drink; she experiments with drugs.  It is unbelievable that the adults responsible for her encourage such behavior.  On her rise to the top, she falls in love with one of the world's great photographers and becomes pregnant.
Jirina Radovanovicova, Swedish, is fifteen years old.  It is the beginning of summer in Sweden.  She has just completed the ninth grade.  Her parents, Czechoslovakian, are divorced, and her mother spends more time with her many boyfriends than she does supervising her girls.  Therefore, Jirina is looking forward to spending even more time with her little sister, Kristynka.  However, thanks to her friend and schoolmate Hatty, Hatty's obsession with fashion and makeup leads to Jirina's being discovered and given a chance at this "model summer" when she accompanies her friend to a seminar.  Hatty has found an ad in the local paper for a modeling seminar, run by a famed modeling scout to the most exclusive modeling agencies in the world.  So to keep her friend company, she tags along.  At the end of the seminar, Malin, the scout, tells her she has modeling possibilities and sets her up with an appointment in Paris with Jean-Pierre, the owner of Sirens Modeling Agency.
The author, a former model herself, gives us a candid picture of what life as a model is like.  When Jirina arrives in Paris, she meets Britta, another young lady, who like herself, is trying modeling for the summer.  Unlike Jirina, this young lady, though not much older than she, is far more mature and sophisticated.
The sex, the drinking, the drugs…the ease with which the author writes about these, especially with teenagers, is at times disgusting, as if there is nothing wrong with fornication.  Virginity is made to appear as a curse.    Before the summer is over, Jirina has succumbed to this life.
I found it hard to believe anyone would be so naïve and so easily influenced.  Granted she was from a broken home – her parents are divorced; her mother is more interested in men than she is in her two daughters; and her father, who does not believe Jirina's younger sister is his child, virtually ignores her.  Prior to her summer in Paris, her only friend, the only person in whom she can confide, is her friend Hatty, the same age as she.  Perhaps the author is saying that girls with strong family ties can succeed in this corrupt modeling world, as one minor character, a world-renowned model, rose to the top of her career without the degradation and stooping we see these young models succumb to.
At the end of the summer, Jirina has made it, but what will she do now?   She is pregnant.  Where will she go?  Will she return home to Sweden, or will the father of her child – old enough to be her father himself, but honorable and in love with Jirina – marry her?  The book ends on the happy note, albeit a cliffhanger, that things will work out for this previously very deserving young lady.
An enjoyable, well-written novel, A Model Summer is guaranteed to keep you reading from the first page to the last, as you experience one emotion after another:  anger…happiness…sadness…disgust…and finally, hope.
ISBN: 1-4013-0326-9; ISBN-13: 978-14013-0326-6
Reviewed by Lee L. Peoples