Auf Wiedersehen, Uncle Sam
By
admin
| May 29th, 2011 | Category:
2006
,
Articles
,
Fall 2006
|
No Comments »
Insights
Auf Wiedersehen, Uncle Sam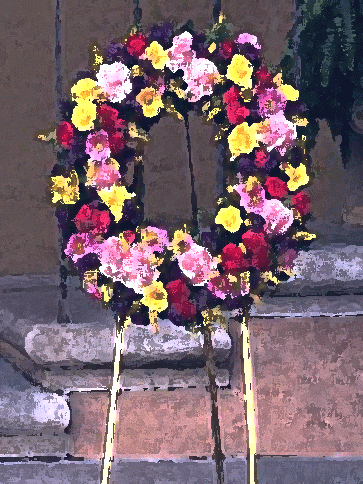 Often in life we serve others and for that service we expect returns. We give to our children and we expect from them obedience and respect. We expect them to love and appreciate us.
We give to our lovers and we expect them not to disappoint us. We expect life to reward us with favor, especially when we have been just and fair.
Things don't always go as planned, however, and our due is often delayed, or not received at all.
Our children sometimes hate us; our lovers often go astray.
Where is the justice?  Where is the fairness? Life is not fair. Life unfortunately has a life of its own.
He who can follow the wind from whence it came is he who can anticipate the outcome of any event. The origin of the wind is a mystery as often are life's outcomes.
My Uncle Sam was diagnosed with lung cancer less than six months ago. We buried him this past weekend.
My uncle was funny, quick witted, determined.  For someone so full of life, death came as an unwelcome surprise not only to him but also to his friends and family.
Many good things happened as a result of Sam's death.   For one, he brought me home.
I try to find meaning when someone I love passes on. If there is any meaning in death, I believe it is to help us recognize that we all are mortal and our time together should not be treated recklessly. He's out of my life now, and I regret not making the trip to see him sooner; but I do cherish the opportunity his death gave me to get in touch with loved ones that I hadn't seen for many years.
Regretfully, I did not have one last opportunity to laugh at his jokes or witness his smile, as did my cousin in Atlanta, who visited him very early in his illness. Or recognize that the twinkle in his eye was a sign that someone was about to be a victim of some witticism.
The rest of the family, some many miles away, rallied to take care of their brother, my uncle. I spoke to him when he could no longer respond.   My sister talked with him, laughed with him, and shuttled all our relatives back and forth to and from the airport.  Another cousin, in spite of her own failing health, traveled a great distance just to see him before he died.   Her son, took off work to drive her.  Others of us came too late to walk with him one last time or hold his hand one last time or say one last word to him before he took his last breath.  But we showed up to usher him into the next transition and help him enter what we deem as his peace.
At his funeral we sang many songs and gave recollections of many experiences that caused us to smile at the man we called Uncle Sam.  I'm sure he was there laughing and crying along with us as we bade him Auf Wiedersehen:   not goodbye, but "Until we meet again in the bye and bye."
What we produced by all these acts is a sort of comfort for all those who had to wish their loved one good bye.  And through this completed act, we have created a kind of tapestry that is a reflection of the many lives that shared this man's one life.
Until we meet again, Uncle Sam, rest in peace and continue on laughing and living in our hearts.
Written by Lisa A. Trimarchi