Bao Tranchi – Costume and Fashion Designer
By
admin
| May 4th, 2011 | Category:
Fashion
,
Interviews
,
October 2009
|
No Comments »
Costume and Fashion Designer Bao Tranchi graduated from Otis College of Art & Design at the top of her class. She was immediately offered a designer job at Anne Klein in New York or work onQueen of the Damned, as the illustrator and assistant to Academy Award nominated costume designer Arianne Phillips. Opting for the costume job, Tranchi became the youngest person ever admitted into the Costume Designers Guild. She went on to work onCharlie's Angels, Hedwig & the Angry Inch, The Madonna Drown World Tour, music video styling for Janet Jackson, and Destiny's Child, just to name a few projects.
Bao Tranchi's first magazine shoot was Rolling Stone Magazine with Mark Seliger shooting Leonardo DiCaprio. Her designs have been worn by Steven Tyler, James McAvoy, Bryce Dallas Howard, Jessica Alba, Brittany Murphy, Salma Hayek, Naomi Watts, Paris Hilton, and Courtney Cox. Tranchi also designed and produced the wardrobe for Kelly Clarkson's "Breakaway" and "Hazel Eyes" 2005-2006 World Tours, including her video for "Behind These Hazel Eyes." Tranchi was also a guest judge on America's Next Top Model Cycle 7.
In 2007 for her work in Fashion and Costume, Tranchi was a life-size cutout at the first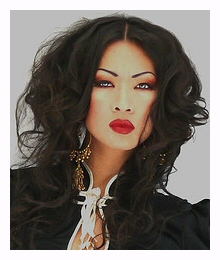 Vietnamese American historical exhibition at the Smithsonian in Washington, D. C.
Arun Nevader presents Bao Tranchi Fashion 2010 Photo Shoot at the Hotel Borg in Reykjavik, Iceland.