Divorce: It's All about Control – Author Stacey D. Phillips
By
admin
| May 28th, 2011 | Category:
2006
,
Book Reviews
,
Summer 2006
|
1 Comment »
Divorce – It's All About Control
by Stacy D. Phillips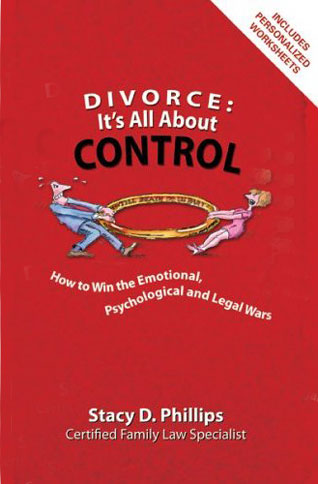 Stacey Phillips's book is not just for couples contemplating divorce.   It is beneficial for anyone in a relationship, for heeding her advice can in many cases avoid that dreaded breakup.   Taking a good look at one's interaction with his/her mate can definitely give insight into a better relationship.
This is a book "that fully explains the single most important aspect of understanding what lies beneath the surface of the marriage wars—be they legal, psychological or emotional—the 'X', or should I say 'Ex' factor:   Control!"
At the heart of control the author says are the big six:
•  Money/Property/Wealth
•  Children
•  Health (Physical and Mental)
•  Loss of Love/Intimacy
•  Growth (Personal and Professional)
•  Fear (Physical/Emotional/Psychological)
Not only does this self-help book make for interesting, engrossing reading, but complete with worksheets, it personally involves the reader.   The author addresses control as it relates to the dating relationship or marriage or divorce.   She notes "…control does not have to be a problem so long as the dynamic between couples is working…if couples cam come to terms—if they can implement more quality in their relationship—control tends to take a back seat.   Such couples stand a very good chance of keeping control issues under control!"
So the goal of the lessons and the hands-on assignments in the book is that anyone who is out of control, whether it is in marriage/love relationship or in the process of divorce, will be motivated to take complete control, not of others but of self.   Examples of assignments come under headings such as Money/Assets/Liabilities, Children, Health, Loss of Love/Intimacy, etc.
Stacey Phillips is a certified family law specialist, who in her practice witnesses the wars between couples divorcing.   She wrote this book in hopes of making a positive difference in the lives of her clients.   While the book is nonfiction, and some of the characters and scenarios depicted are real, others are fictional.   A sincere reading of the book can quite possibly lead to a reconciliation, or if not, a more peaceful divorce.   Her advice always is "Work it out.   Settle your case if you can."   This book shows the reader how.   She even gives advice on choosing the right attorney should the divorce be inevitable.
Reviewed by Lee L. Peoples