Fried Green Tomatoes
By
admin
| May 29th, 2011 | Category:
2006
,
Book Reviews
,
December 2006 - Holiday Issue
|
No Comments »
Fried Green Tomatoes – A Holiday Recipe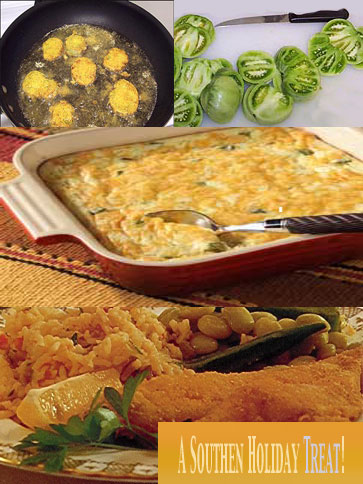 Having family over for brunch does not have to be a stressful event.   My family is from the South, and traditionally we have a big spread for breakfast around 10 a.m., which includes sausages, scrambled eggs, biscuits, and grits.   Try the following menu to impress your loved ones Christmas morning.
Brunch:
Fried Catfish
Sausage Scramble
Biscuits
Cheese Grits
Fried Green Tomatoes
Ambrosia
Biscuits
(Serves 4)
2 cups self-rising flour
1/2 stick of butter
1 egg
1/2 cup of milk
Preheat oven 350 degrees.   Cut butter into flour until it looks grainy.   Set aside.   Mix milk and egg together, and then mix into the flour mixture.   Do not mix too much.   Knead mixture for 30 seconds on floured surface.   Let stand for 10 minutes.   Shape into biscuits.   Place on cookie sheet dusted with flour. Bake approximately 15 minutes or until golden brown.   Remove promptly from oven.   Set aside to cool.   Makes approximately 10 biscuits.
Serve with jam and butter.
Fried Catfish
(Serves 4)
4 medium sized catfish filets
3/4-cup cornmeal
1/4-cup flour
Salt and pepper
Cooking Oil
Mix and Cut filets into quarters.   Season with salt and pepper.
Mix flour and cornmeal.
Dredge filets in mixture.
Deep fry for 10 minutes or until golden brown, set aside to drain on paper towels.
Cheese Grits
Follow directions on box to serve four.
Remove from heat and set aside for 5 minutes.
Crack an egg into the mixture and mix thoroughly.
Add salt and pepper to taste.
Follow with 2 tablespoons of butter.
Sprinkle cheese on top of mixture.
Sausage Scramble
1 dozen eggs
1/4-teaspoon of water
1 package of sausage
2 green onions minced
1/8-teaspoon red pepper flakes
Salt and Pepper
Red Pepper Sauce
1/4 cup of sharp cheddar cheese, shredded.
Crumble sausage and cook through in large skillet.   Set aside.
Crack eggs and mix thoroughly; mix in water.   Add onions, red pepper flakes and salt and pepper.
Cook in separate skillet on low heat.   Be careful not to overcook.   The eggs will have a curdled appearance when done.
Add to the sausage mixture.
Sprinkle red pepper sauce over mixture.   Mix.   Sprinkle cheese over top.
Fried Green Tomatoes
4 large green tomatoes sliced 1/4 inch in thickness
Cornmeal
Salt and Pepper
Hot oil
Sprinkle tomato slices with salt and pepper
Dredge in cornmeal
Fry until brown.   Enjoy.
Ambrosia Punch
This punch will be sure to pack a punch!
1qt. of Orange Juice
1 liter of 7 up
1 pint of Rum
1 pint of Grenadine
1 orange, sliced, peel and all
Serve over ice and enjoy.
Enjoy your Christmas brunch, and don't worry about the calories.   Christmas comes only once a year!   See the next issue for the after Christmas brunch workout, sure to burn calories.
Written by Lisa A. Trimarchi