Isabella Oliver – Maternity Wear without Compromising Style
By
admin
| May 30th, 2011 | Category:
2008
,
Fashion
,
Summer 2008
|
No Comments »
Isabella Oliver – Maternity Wear without Compromising Style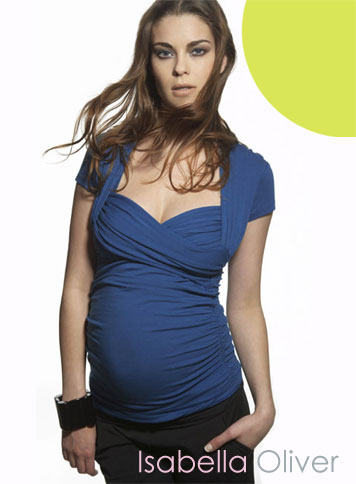 Isabella Oliver maternity wear provides chic maternity clothing for pregnant women who won't compromise their sense of style. Isabella Oliver offers moms cool options to wear for the summer heat and delivers fabulous, feel good and glamorous clothes that pregnant women love. What's even better? There's no difference in the level of style from standard non-maternity clothing.
Isabella Oliver's collection is a favorite among celebrities, including Angelina Jolie, Jessica Alba, Jennifer Lopez, Minnie Driver, Amanda Peet, Tori Spelling, Marcia Cross, and Heidi Klum, just to name a few.
Founders Vanessa Knox-Brien and Creative/Marketing Director Baukjen de Swaan Arons, formerly with Proctor and Gamble, initially launched Isabella Oliver in 2003. Vanessa was previously a head designer at Victoria's Secret and head designer and Creative Director at Natori. Her designs have been recognized by Design and Lingerie critic awards and have been featured in popular television programs, such as "Sex and the City," "Friends," and "Will and Grace."
Interview with founders Vanessa Knox-Brien and Baukjen de Swaan:
Your maternity line is a relatively new line, launched only five years ago (2003). What made you decide to design maternity clothing?
When we [my husband Barrie and I] were pregnant with our first children (Isabella and Oliver), we could not find timeless, classic pieces. It doesn't sound like a difficult

request, but there was nothing available that suited our clothing style and lifestyle needs.
What is your background, for example, education, training, etc.?
Baukjen: I have a marketing and branding background, and this is the area I take responsibility for within Isabella Oliver, although we work closely together over all areas.
Vanessa: My background is in design, lingerie specifically, and that is my core responsibility within Isabella Oliver.
Did you encounter any specific challenges with the line? For instance, was sizing an issue?
When we started, there were several hurdles that had to be overcome, for example, finding factories that are willing to work with a new company. Another challenge we had was to narrow down the designs we originally had in mind to a realistic size so that we had a collection that could be launched financially but also answer the needs of the modern pregnant woman, and together they would form a cohesive story.
The line is very versatile. In your own words, can you describe your collection?
It's modern, effortless, chic yet comfortable. Anything that does not tick all those boxes does not go into the collection.

Do you have a favorite piece?
Vanessa: The Wrap Around Top in all its varieties. It's so flattering and works throughout pregnancy and after.
Baukjen: I have a different one every week but at the moment it is a style from the '08-'09 Autumn/Winter collection, which is a silhouette which is clean, simple, timeless with a touch of sexiness.
What are some of the fabrics you use?
We focus on pregnancy-friendly fabrics that are soft on the skin, drape beautifully, grow with the pregnancy curves, and are easy care. So our fabrics include a variety of jerseys, tailored stretch wovens, and sweater knits.
How would you say your line compares to other maternity lines?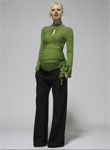 We design clothes that we love to wear. The designs are modern, chic, and comfortable. Timelessness also plays a large role, as that is a look we love. Since we launched four and a half years ago, the competitive landscape has changed, and there is now a lot more available across all different budget levels. However, we don't focus on what competitors do, but instead choose to focus on what we do best, and that is designing effortlessly chic clothes that are comfortable, too, and have our signature detailing.
Can your clothes be worn even after the pregnancy is over?
Absolutely!
What are some of your price points?
They vary from $50 up to $850 for a wedding dress.
I visited your website and was impressed how thorough the shopping experience was. You even have instructional videos to help women wear your clothes. How did you come up with such an amazing resource?
We are an etailer which means we sell via the Internet and our catalog. We are continuously looking at how we can physically bridge the gap between ourselves and our customers. We give lots of advice, be it in videos, in our online magazine, on the product pages, and in the catalog to give as much information and tips to our customers. Even though our business is heavily dependent on technology, we always try to . . . "untech" and humanize our website.
What inspires your designs?
Lots of things. It can be a fabric, a neckline we saw in an old movie, a color of a wallpaper, the way a fabric moves and drapes, a photo hanging in someone's living room. Inspiration is really limitless.
What is your highest high as a designer?

Vanessa: Hearing people talk about us and receiving fabulous feedback and thank you notes.
Baukjen: The emails from customers, seeing a woman on the street wearing Isabella Oliver, the growth of the business.
Have there been any lows?
Of course. Delays in production, website issues, selling out and having frustrated customers. Anytime a situation is out of our control, it is frustrating, but we have learnt that the best way to deal with it is to be honest and communicate with our customers.
What advice could you give pregnant women who are searching for clothes? Are there any tips to guide them to the right wardrobe?
Be yourself. Don't try to wear clothes that aren't you. Invest in basic pieces with clean lines and neutral colors that you can dress up and down with accessories. Show off your curves. Don't hide.
What other kinds of items besides clothes do you manufacture/sell?
At the moment we only sell clothing. However, we are branching out into other categories.
Where do you see Isabella Oliver Maternity Clothing in five years?
In the coming year we are launching our first collection for non-pregnant women, which will follow our design philosophy of timeless, modern, chic pieces that are comfortable and work every day. Also we are launching into a few other countries. Where will Isabella Oliver be in five years time? Hopefully, dressing women around the world who like our design concept!
Any last words?
Thank you for inviting us to participate. Isabella Oliver is a dream come true for us; but there's a whole team behind it, so we'd like to thank them!
Visit www.IsabellaOliver.com for more information.
Interviewed by Kaylene Peoples