Joseph Domingo – San Francisco-based Fashion Designer and Atelier
By
admin
| May 29th, 2011 | Category:
2007
,
Fall 2007
,
Interviews
|
No Comments »
Joseph Domingo – San Francisco-based Fashion Designer and Atelier

San Francisco-based fashion designer, Joseph Domingo, considers himself an atelier, specializing in custom-made clothing for both men and women.

Domingo's designs include sportswear, contemporary clothing, evening wear, and wedding gowns.

Joseph has been featured on CNN, DNR, Women's Wear Daily, California Apparel News, and he has been a huge hit at the last few Fashion Weeks.

Last season's runway show created quite a buzz, and they are still talking about it today.

I recently visited his modest shop in San Francisco and saw the real scope of his designs.

Originally from the Philippines, Joseph hid his desire for fashion design until he was an adult.
"There are nine siblings and I'm the youngest of nine kids, and there are seven testosterones. You can just imagine, I could not be as expressive as I wanted to be. As a child, I had to hide my paper dolls … I had to make my own paper dolls. I had to be underneath the dining table and play on my own–pretty much hide."
–Joseph S. Domingo–
How long have you been designing?
I've been designing for the past fifteen years, but I've had my own Atelier for the past seven years.
That's a very interesting word, "atelier." I know what it means, but a lot of people don't, and it's a very distinguishing facet of fashion design. Could you explain?
Atelier is like you having your own showroom and people come to you and have something specifically made for a certain occasion.
How did you decide to get involved in fashion design?
Well, it's a long road for me because growing up, I watched a lot of beauty pageants. I liked women dressing up, and from there on I liked to sketch. I went to architecture school of design and rerouted to interior design and thereafter I ended up being a fashion designer.
So you really knew what you wanted to do.
I really wanted to do this at a young age. [But didn't have the freedom to express myself]. So I had to kind of reroute. But it was a good experience going into architecture first, then interior design, and then finally being where I really wanted to be.
Where are you from originally?
I'm originally from the Philippines. I moved here when I was a teenager. That's why I enrolled myself into a fashion school.
What school did you go to?
I went to West Valley college, which is just a regular community college. But they have a great program, and I'm really proud of my accomplishments and what they did for me.
Now, I've basically seen your collections since you started showing at Fashion Week. Beautiful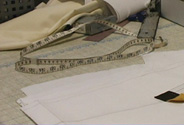 stuff. Stunning and basically shocking for a first-time showing at that. I notice it's more like luxury wear.
I wouldn't call it couture wear. It's more like luxury if you may call it that, based upon their price points.
Could you give me an idea of what the average item you make would cost?
Cocktail dresses start from $800 and up, depending on the intricacy of the design. I do a lot of custom clothing. Wedding dresses start from $3000 and up. It depends on the budget of each individual.
Now, you obviously have your boutique here and in San Francisco. Do you have boutiques anywhere else?
Actually not at this moment. I sell on occasions, season to season. That's why I want to be rerouted to ready to wear sometime in the future. But most of the time people come to me on a recommendation basis, or people hear about me and say they want me to design something for them for a specific occasion.
Have the Fashion Weeks helped with that?
Absolutely! Fashion Week has been great for me, having to show three times. It's just progressing. I have a couple of [PR Firms] now helping me out to get exposure. I'm getting quite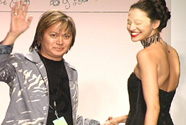 the unimaginable article here and there, and people are talking about me and hearing about me, especially the last season when I [showed at LA Fashion Week].
The last season was big.
It was. It was great. It's a good thing I took the risk I took.
What was that?
What we did for the models. It was a collaboration of my sponsor (the one responsible for the hair and makeup) to specifically focus on the clothing. We wanted to have a walking mannequin. And in order to do that, we had faceless models. He developed a kind of eye patch that blended into the skin tone, but they had the lips and the facial structure with coiffed hair.The idea being that people would initially focus on the face, wonder what's going on, and then they would get more relaxed and focus on the clothes. And I get so much buzz about it on the different blogs and Google. It's all over the place. It was very edgy. Some people even quoted that they had never even seen it from places like Paris, Milan, or New York, and then all of a sudden, it's in LA. It just separates us from the norm.
I like it because it was a juxtaposition between the faceless mannequin and you have this classy clothing.
Yeah it's like a balance of things that people would think that if it's edgy and faceless, it would be this rocker urban kind of thing. My lines are simple, having this architecture background. It goes with the flow and the consistency with gelling the whole collection together.
Highest High
My highest moment is being patted on the back or being appreciated with either the accomplishments of an individual client or a student that would just say, "You inspire me, and I would like to intern. I would like to learn more about what you do, and I heard so much about you." That pretty much for me is a validation. Another high is reading articles here and there, especially with the industry and the professionals that said either I arrived or I'm doing a good job, or for some reason, some people even giving hints about a bad critique. I don't even care for bad critique because I think critics are critics, good or bad. It's better for them to talk about it. If they don't talk about you, you don't exist.
Lowest Low
The low point of being in this industry is having a lot of financial hardship. People think that once you're a fashion designer…once you're in Fashion Week…you've got an amount of money backing you up, but no. I'm more like self-financed, looking for investors here and there, not like I don't have offers here and there, but I have to be really careful about it. So my low moment would be having to juggle things.
How do you get inspired for a collection?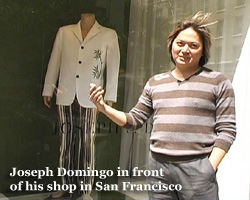 For the past three seasons, just going everywhere. The first collection was The Safari Rose, and I was trying to get into the fall. I wanted to create something that is kind of safari-ish, but I want to incorporate the femininity of it so there are roses, cabbage roses in every evening gown I made that season. And then the following collection was the Raindrops in a Bamboo Forest, which consisted of polka dots and bamboo prints. This last collection was Red and Black Equals Chocolate. I love chocolate a lot, so one time I was scribbling with a red pen and then a black pen and it become chocolate and that was my inspiration. The next season I saw this one pink magnolia in a tree, and I said, "That's beautiful. Maybe I'll incorporate that into the design." So you don't know what's going to come out of it. It's nature, magazines, people. All kinds of things inspire me a lot. So I encourage everybody to just keep their eyes open. You never know.
Do you have a designer that inspires you?
The three Italians, I love them so dearly. I met a couple of them…Giorgio Armani, whom I haven't met…GianFranco Ferre, and Valentino. Those are the three great designers that I aspire to be like. Jon Franco Feri has an architectural background. Armani—the name itself describes it—and Valentino for his femininity, luxury, and ladylike designs.
I like Valentino a lot. That's probably why I like your clothes. Last season, you did polka dots, and it was breathtaking. It reminded me of Audrey Hepburn. What was your biggest defining moment as a designer?
The defining moment is seeing your clothing being worn by a friend, or somebody famous, or hanging on a rack in a store.
I like how you managed to sneak in a little bit of culture in your designs. How do you do that so successfully?
I love traveling a lot and keep my eyes on every culture. I always think on a global level while keeping the integrity of my background and history.
Where do you see yourself in five years?
I would like to have my own store and all kinds of different collections like footwear, sunglasses, watches, etc.
You make it look very easy.
I try, but sometimes I cannot breathe. I am so busy. But this is my passion, and I just have to explore it and keep it alive.
What advice would you give an aspiring designer?
Just go for it. There is always room for everybody. Don't surround yourself with negativity because I have been there. A lot of people can be so discouraging in this industry…either they're colleagues of yours questioning [your decisions]…. Keep the good and throw out the negative. Surround yourself with people who support you. It's better to be nice to people than giving them attitude, because a door won't open otherwise. It's a small industry, and people will talk. If you're branded as a so-called diva, it will be hard to get in. You just have to stay grounded. Ego won't take you anywhere.
Visit Joseph Domingo's website at www.josephdomingo.com. He is also available by appointment at his showroom at 808 Post Street, San Francisco, 94109 / 415-563-2007.
Interviewed by Kaylene Peoples