Let the Rhythm Melt the Weight Away
By
admin
| May 30th, 2011 | Category:
2008
,
Health/Fitness
,
Summer 2008
|
No Comments »
Fitness Couture
Let the Rhythm Melt the Weight Away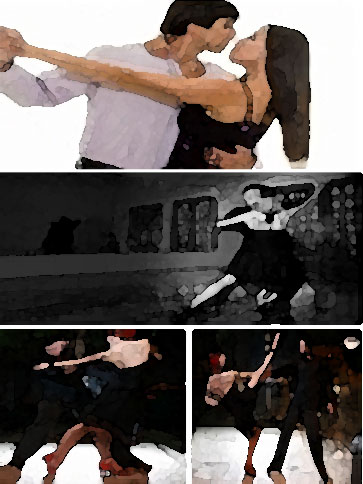 May I have this dance? Our topic this month will be putting the sizzle in shaping the heavenly curves of our lady readers, through rhythm derived from passions defined.
Ladies, who is the clueless authority that said exercise had to be a boring chore? Let's all hang him by his toes. The best way to shape and sculpt those lovely silhouettes of yours is to get them moving in whatever way gets them to move again and again. So why not sculpt with revitalizing music coursing through your being, a gentleman on your arm (or not), a smile embracing your lovely face, and the night at your beck and call! In order to claim the kind of curves that demand respect, drive men to their knees, and beg your little black dress to dazzle, you must make exercise a way of life and not "a thing to do." You accomplish this by making it fun, exciting, invigorating, and dare I say, thrilling. Make exercise something you channel passion through. I can hear you all now, "Im supposed to get excited about sweating?"
Well, first of all, ladies "glow." They don't sweat; and the answer is a resounding "yes." This is how. Invoke the passions and fire from within you, setting them free through the art of dance. A dancer's body is one to behold, wouldn't you say! Here is a big secret. Most devoted dancers don't do much extra besides dance for that fabulous body. I personally cannot wait for my workouts because I set the floor afire through salsa myself. I let the divine trance of Latin dance melt me into form, and boy, do I enjoy every sizzling note. Studies have shown that from one night of aerobic dancing you can shave off one-half to one pound and then some (details in Health 101). That's what I call encouragement to dance again. Not only do you carry a beaming smile, unwind the toils of the week by releasing stress, destroying endorphins, and get better at dancing, but you also get a sculpted body as the cherry on top. In fact, you even burn more calories for the next few days as an extra bonus (details in Health 101). I challenge you this month to dance the night away at least once and see if you don't come back for more "exercise."
I can hear you all now with all your reasons for not being able to, but I'll do you one better and make it even easier. Maybe you can't get to the night scene, but there is no reason you cannot dance. Take a class in your gym or through professional classes. It's great to learn something new, and classes nowadays cater to every level of dancer. My instructors Sergio and Salud (latindancepro.com) are fantastic. They really take the beginning dancer lacking a single step and nurture her (or him) into a vibrant twirling vision of elegance. You don't even need a partner nowadays in case your other half doesn't want to go. Leave that lazy lump at home and twirl those enchanting curves, ladies. Classes from all styles of dance are done in rotating circles, so you learn fast by dancing with multiple partners in a circle of others at your level. If you are still a bit timid, you can even ask to observe a class, most instructors, such as Sergio and Salud, welcome observers, knowing you will fall in love and stay for a twirl or two.
Expand your rhythmic horizons to any and all styles of dance. Let the music take you where it will. Try swing, fox trot, quickstep, tango, hip-hop (you know you secretly love it), samba or any of dozens of others, as long as you love it and are left thirsty for more. I know enjoying exercise is a revolutionary idea, but it's true, ladies. It can be done. Worse case scenario, find some space at home, set up a big mirror in front of you (or the TV), and blare your own music or DVD as loudly as your heart sees fit. Let your hair down and unwind with the rhythm, the bandleader and the music as your dance partner. The passion and results you'll invoke are as fantastic as they are liberating.
The reason this feels so wonderful is because the music and dancing stimulate the same endorphin release as that of a good tub of ice cream, except a stronger amount without the guilt, and a body to die for as a reward. One warning, though, for those ladies who opt to take the night out as their weapon of choice: beware of the drinks. The drinking can truly hamper all the wonderful effects I spoke of (details in Health 101); so keep the drinks light or drink water, and your body will thank you. With all that said and done, let us set the night ablaze, dear ladies. Shall we dance?
* All information from this article is taken from Fitness: The Complete Guide. Frederick C. Hatfield, PhD – Edition 8.6.6 735pgs, International Sports Science Association.
Anthony Heredia