Resurrection Mary's Pamela Jean – A Young Leading Lady with a Promising Career
By
admin
| May 30th, 2011 | Category:
2008
,
Indie Hotspot
,
Summer 2008
|
No Comments »
Resurrection Mary's Pamela Jean – A Young Leading Lady with a Promising Career
"What makes the story of Resurrection Mary so compelling to folklorists and other historians is the sheer number of documented credible eyewitness sightings of this very mysterious ghost, spanning decades."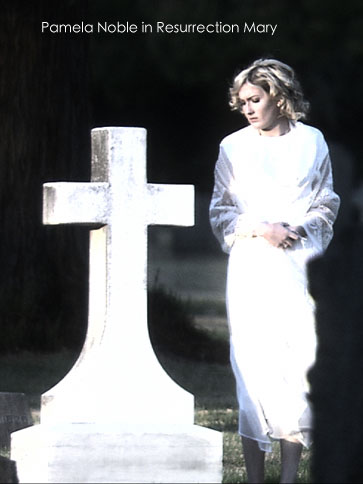 Resurrection Mary, directed by Sean Michael Beyer, is a film about a legendary ghost story about a high school student back in the 1930s. Pamela Jean (aka Pamela Noble), who plays opposite Kevin G. Schmidt, plays the character Mary. At just 18 years old, she made her on-screen debut in the movie's title role. She has appeared in the short film Social Theory Revised, and has appeared in numerous music videos and commercials. Pamela's role in this feature film certainly dictates that she has a promising career as a leading lady.
"Resurrection Mary manages to tell a story of ghosts and murder without falling into slasher movie clichés. Peppered with strong performances, Indie audiences who favor character development over gore will enjoy Resurrection Mary."
—Michael Gavine, LAsThePlace.com—
So, Pamela, this is your first feature film. What is your background as an actress?
I started acting when I was five in television, did some modeling and commercials. When I was eight, I was with an agency and they ripped us off for $8,000.00. So I quit until I was about 13 and decided I wanted to get back into it. I started doing more singing than acting, and then at 14 that's when I made the switch to doing what I wanted to do, acting. Singing is a lot harder industry to break into than acting. There's a lot more competition. I do country music and they don't want me because there are too many young blonde country artists out there right now.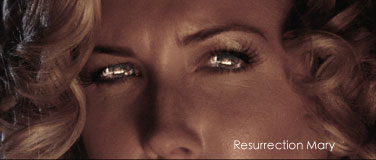 That's a really interesting statement you make. I've never heard that before, for someone to say that it's harder to break into music than it is to break into acting.
I've been told that so many times that no country label is going to take me because there are too many blondes out there. I am not going to dye my hair. I went out on my first audition at eight, and all I did until I graduated from high school was do commercials and music videos.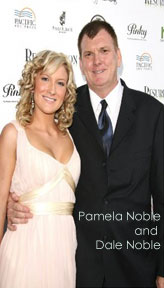 Your father, Dale Noble, is the Producer? What was it like working with your father on this film?
It was fun. I live out in Fontana, so I'm kind of far away. It was nice to have him around. If I ever needed to talk to somebody, he was right there. I had fun with it. I thought it was a great way to do my first film.
Being that he was the executive producer─and you said it was good to have him there with you─did it also help you with developing character for how you were going to perform in the movie, too?
Not really. When it came to film, I made my own decisions. To my dad and my agent, I always said I want to be in control of my acting career. I wanted to make the big decisions. For instance, when I was younger, I never wanted to be on a soap opera. I never wanted to be on Nickelodeon or a Disney show. There are a couple of actors that come out and they're big, but some of them don't do the kind of movies that I personally would be proud of. I want my career to be very broad. That's one thing my dad knows off the bat. Anything I do in acting, I am going to make the decisions.
[Pertaining to Resurrection Mary], for example, my character Mary, was physically and verbally abused by her boyfriend, and he drank a lot. In the movie, you'll see if anybody's drinking around me, I was scared. And I would always fidget with my locket.
Those are always good signs of those films that have character development.
Yeah if you don't have those, your character isn't fully developed. Even though my character wasn't assigned a last name, I gave her one. I gave her a birthday. You have to actually do
those things so you feel like you are her. For example, Mary is very prim and proper and I am a tomboy. [Someone even commented on how different I was from the character in the movie once they met me.]
That makes your characters more 3-dimensional. IsResurrection Mary an Indie film?
Our film's budget is higher than most Indie films, so they're calling it something else. It was fully funded right from the beginning.
There are a lot of movies that are Indie films that were hugely funded. For example, Enemy at the Gate was an independent film. Right now there's only Indie or studio films, but unfortunately sometimes when something's labeled Indie, people automatically assume low budget. But obviously Resurrection Mary doesn't really fit into that.
That's what everyone thinks when they say Indie film. They think the budget is like $80,000.00, and everyone gets the wrong idea.
I guess they need to come up with a new label.
Pamela, where do you see yourself in five years?
My dad and I have talked about this. An up-and-coming director told me he wanted to do an action film with me, which is perfect for me. If I can be running around in shorts and be dirty and shooting guns, that's perfect. Where do I sign up? He started writing one for me. We're hoping that's going to happen next. I'm hoping I can do a very dramatic love story. I always wanted to do a period piece. I always wanted to do some kind of musical because that's where my passion is, too—it's singing. I want my career to be very broad.
Being that you are a young actress who has made some very wise choices in your life already and in your career, which is probably going to play out very well in the future because of it, what advice would you give to someone who's trying to also do the same thing you're doing?
You have to work hard. Especially for the people in my film, I was basically the newcomer. Kevin Schmidt, who plays Jeff Pryce in the movie, has been in a lot of movies (The Butterfly Effect and Cheaper by the Dozen), and Kristen Herrera (Freedom Writers); and when you're the lead role and one of the few people that no one really knows where you came from, you
need to work twice as hard as anyone else. You need to show that you have a place to be in that movie. And that's what I did. Every single day I was studying for this role, learning my lines. I had to learn a different way to talk. Especially in that kind of film, you have to be very articulate. You just have to work really hard and just be yourself. If you're going to have the attitude that "I'm better than anyone else," your career is not going to get far at all.
Is there anything else you'd like to add?
When people see the trailer to Resurrection Mary, they're just going to think it's a horror film, but it's a lot more. At my premiere, people were coming up to me saying how they related to the character. People really need to come and see it, because it's not just a horror film. It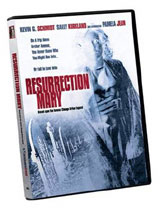 adds an element that is a lot different than the way most horror or thriller films are made.
Resurrection Mary will be released on DVD August 26, 2008. To learn more about this film, visit www.resurrectionmarythemovie.com.
See the trailer of Resurrection Mary.
Interviewed by Kaylene Peoples