SECRETS OF THE TRADE
By
admin
| May 30th, 2011 | Category:
2008
,
Entertainment
,
Summer 2008
,
Travel
|
No Comments »
SECRETS OF THE TRADE
By Marilyn Anderson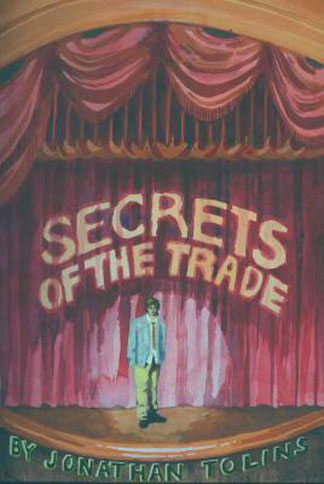 The World Premiere of Jonathan Tolins' "Secrets of the Trade" at the award-winning Black Dahlia Theater in the gentrifying Pico District is a drama well worth seeing.
Tolins' new work is a powerful and sentimental insider's journey down Broadway that helps us understand universal human themes through the eyes of gay men, who purportedly dominate the theatre industry.
John Glover gives a stellar performance as pompous veteran writer/director Martin Kerner, agreeing to meet a teen-age fan years after receiving the teen-ager's flowery letter. We're not sure why, but unfulfilled expectations are Kerner's gifts.
The smart and ambitious young writer, Andrew Lipman, is played by Edward Tournier. Tournier excels, growing in stature from a manic 16-year old high school student, through college years, and by the end, a cynical 26-year-old Hollywood television writer.
Amy Aquino has been a favorite actress of mine for a long time, and she does not disappoint as Andy's mother, Joanne Lipman. Fully committed to her only child, she becomes jealous of his relationship with Kerner.  Amy does three hysterical cameos, including a New York agent and the Faye Dunaway character, in a musical version of "Network." Her "dancer" is a total hoot!
Playing opposite Aquino is Mark L. Taylor, whose laid-back role as caring father and understanding hubby serves as Kerner's counterpoint. His tempered vigilance plays well against the emotion-ladened Andy/Kerner dialogues.
Rounding out the cast is Bill Brochtrup as the bittersweet Bradley, the director's long-term, sympathetic assistant, who gave up his own creative dreams when Kerner told him, "You'd make a good . . . assistant!"
The Dahlia is a tiny space, yet the director, Matt Shakman, expertly manipulates the actors and sets into commanding scale as the story comes to life. You forget about size as the actors explode and plumb the depths of their characters in a totally free use of the space—behind a scrim, in the aisles, at a table—even on a table. In one scene, John Glover is literally curled up on a kitchen table the entire time—and it is truly magnificent to watch.  His presence is imposing, but never false. The entire production flows seamlessly—dialog, characters, acting and directing. It's intense and powerful, but always natural.
Shakman adds some interesting directorial touches, including a delightful comic dialog where the egotistical mentor handily drops the names of a series of stars . . . whom we never hear. Instead, the waiter (Taylor) simply taps a spoon on a glass, which chimes every time a name comes up. It's a perfectly timed, masterful sequence that leaves no face in the audience without a smile.
"Secrets of the Trade" runs through April 20th at the Black Dahlia, with the potential for a life well beyond that, likely to the New York stage. Tolins' other plays have been successful. His "Twilight of the Golds" was a provocative piece with an interesting theme that was a hit at the Pasadena Playhouse years ago. It didn't run long on Broadway, but became a television movie, produced by Garry Marshall.
The production in this small, black box storefront proves that size doesn't always matter! This is a company that puts on exhilarating, first-class theater. There are only about 50 seats per performance, so you'd better book your tickets now for whatever production is next!
The Black Dahlia Theatre
5453 West Pico Blvd
Los Angeles, CA 90019
323-525-0070
www.thedahlia.com