Sympathy for the Kettle – Not your Typical Tea Retailer
By
admin
| May 30th, 2011 | Category:
2008
,
Articles
,
Spring 2008
|
No Comments »
Sympathy for the Kettle – Not your Typical Tea Retailer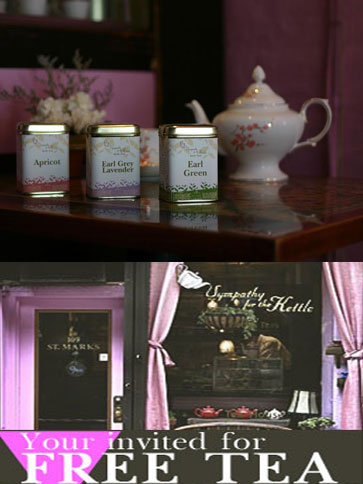 Sympathy for the Kettle is not your typical tea retailer.  It was started back in December 2003 in the East Village in New York City. Jodi Holiday purchased the initially dark and bankrupt Korean tea room and its business, learned the art of tea, and created a whole new tea experience. She experienced tea while living in Germany and traveling through Denmark, France, and Holland. That's when she made the switch from European coffee to tea layered in herbs and dried fruit.  Sympathy for the Kettle use teas and herbs from China, Sri Lanka, Taiwan, Japan, India, Rwanda, Sudan, Egypt, South Africa, Indonesia, France, Italy, Poland, Hungary, Turkey, and Argentina, as well as peppermint from Oregon and ginseng from Wisconsin. And for the self-professed non-tea lover, they offer a large variety of dessert and fruit teas. Those who thought they didn't like tea quickly change their minds. Sympathy for the Kettle's motto is to save the world with tea, healing society's ills naturally with teas and herbs.
We believe in tea.  As an elixir, a life force, for the social quirks it ignites, but especially for the families, friends, and communities it unifies.
-Jodi Holiday
Hello Jodi.  Why don't you tell me a little about your tea house.
My tea house is very unique.  I have over 200 different blends, herbs, specializing in Chinese, African, and Indian teas.
How did you get started in this?
When I moved to New York six or seven years ago, I worked at various office jobs.  I decided I couldn't do that anymore, so I put my work to the side and started working on a business plan, and opened up a tea room in 2003.  I was introduced to teas living in Europe in the mid 90s.  Living in Germany and traveling through France,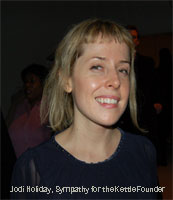 Denmark, and Holland.  They drink a lot of teas blended with herbs and spices and flowers, as opposed to the British tea, which is Indian Black tea with milk and sugar.
That's an interesting thing to pick up.
Tea is very much an elixir. You're grounded with tea.  When you live in New York City, you need roots.  A lot of people here are from all over the world, and we moved here for our ambition.  It's the hub of very ambitious people.And also in a city where there's so much indulgence and it's bad for you, you're able to indulge in a swanky pot of tea that makes you feel good, and doesn't give you a hangover the next day.  It's kind of perfect for New Yorkers that are stressed out   The East Village is known for its bars, so instead of going to a bar, you can go to a tea room and feel good after your pot or two of tea.  My employees laugh.  If you have a big pot of Jasmine, you have a healthy buzz.  On Friday and Saturday nights I call it a disco.  Customers are talking to each other.  Everybody's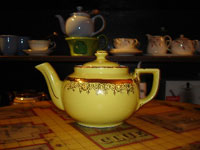 feeling good.  Lavender actually makes you dopy. It's a healthy and affordable addiction.  The health benefits are great.  Diabetes is going to be a raging epidemic in the next few years.  Drinking tea reduces your risk of adult-onset diabetes, heart disease, etc.
But there are certain teas that do that.  You have to know the specific teas, correct?
All tea. Most of the teas that you find are all coming from the same plant.  They're just being oxidized to a different extent, or dried or mixed or spiced in a different way.  A real tea is all from the same plant. The secret is to find quality tea. If it's quality tea, you don't have to put milk, sugar, or anything in it. The simplicity of tea is you're drinking a steeped tea leaf.  In a chaotic, busy world, there's something very refreshing about drinking the simplicity of a tea leaf.
Tell me about your involvement with fashion designer Vivienne Tam?
Her people called me a few months ago.  She wanted to get into the tea business.  She imported a 150-year-old wooden hand-carved tea room from China and transported it in the middle of [her boutique], the Mercer SoHo shop.  She is going to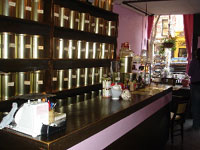 open that up as a tea room inside of her ready-to-wear shop.  We've been working on a few blends for her.
So you're like a consultant in a way.
Yes. But I will be selling her the various blends and training her employees on how to serve tea.
For people trying to lose weight, which is the best tea?
White tea Oolong. Tea and herbs are better than drinking water all day. Water just provides hydration, where tea provides nutrients. You need the antioxidants to kill the free radicals that destroy skin. Free radicals destroy cells, and essentially your skin.
We're all exposed to bus exhaust, fumes, and the food we eat, too.  Tea has antioxidants that you don't find in any other plants.  We believe in tea, as an elixir, a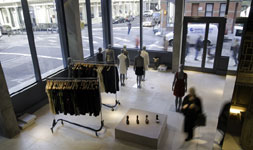 life force, for the social quirks it ignites, but especially for the families, friends, and communities it unifies.
To learn more about Sympathy for the Kettle, visit their websitewww.sympathyforthekettle.com.
By Kaylene Peoples