The Many Facets of Coco Johnsen – Her Next Stop, Designing!
By
admin
| May 30th, 2011 | Category:
2008
,
Interviews
,
Spring 2008
|
No Comments »
The Many Facets of Coco Johnsen – Her Next Stop, Designing!
Coco Johnsen has graced the pages of countless magazines as a model, including Essence, Glamour, and Vibe.  As an actress and former Lee Strasburg student, she was featured in the television shows The Parkersand Judging Amy, just to name a few.  There has been some controversy surrounding the former model/actress regarding her affiliation with Playboy, but she has dispelled any untruths in her blog.  After all, hobnobbing with celebrities like Anna Nicole Smith and Coolio, as well as constantly being sought after by paparazzi, do tend to make people exaggerate.  Oh yeah, and she's also writing a book.  But I digress.  The reason for this article has nothing to do with gossip columns or what someone may or may not have engaged in years past.  My sole purpose of writing this article is to celebrate a person who has overcome adversity and has always landed on her feet.  If I didn't know better, I'd think Coco Johnsen has nine lives.
How do you explain being raised in an orphanage, spending her formative years in foster care, and dealing with the harsh realities of the deep South filled with provincial attitudes and racial intolerance?  In most cases, you can't.  But Coco Johnsen has proven repeatedly that she is the exception to the rules.
I interviewed a stylist a couple of years ago named Ty-Ron Mayes, who turned me on to a new designer named Coco Johnsen, who was launching her collection at LA Fashion week back in October 2007.  Her spring 2008 collection was a big hit—again, no big surprise there.  Everything this woman does is stellar.  She not only has a successful clothing line, but she also designs shoes, and has an accessory line that includes high end sunglasses, belts, etc.  Even her ad campaigns look like they have multi-million dollar budgets.  So who is this mysterious chameleon?  And what does she have to offer the fashion industry?  A lot.
How did you get started as a fashion designer?
I decided that I wanted to go back to school.  I had been a flight attendant for Delta Airlines for 13 years.  I realized I was getting older. I was traveling a lot.  So I got to see a lot of the world.  I was moonlighting with my modeling career for 20 years.  So I just wanted a little bit more, and I always was interested in design.  I attended the Fashion Institute of Design, and it opened up a whole new world.  I found an investor that was interested in helping, and it evolved from there.  And here I am today.
Did being a model influence your decision to become a fashion designer?
Oh, definitely!  Just traveling around the world and being in London and Paris, and especially for me, Milan, had a great influence on me when I was there.  I didn't have a very good modeling career there.  I was too short.  I remember going to a couple of the big agencies and being told, "Unfortunately, black models don't work here."  And I told them I had friends in New York that were models and they did quite well.  They responded, "Yeah, because they're 5'11.  We use them for shows."  So I was a little discouraged.  I remember getting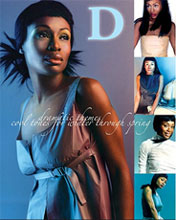 back on the plane and going back to New York really disappointed that they weren't able to see that I could do lingerie or swimwear.  And at that time in New York, there weren't that many markets as there are now for swimwear models.  There were lots of markets for hair products that were in the black market, or a limited amount of swimsuits.  It was mostly work for video.  So I just took what I had seen as far as gowns, and the beautiful dresses that I saw when I was there in the shops.  I just used that and kept that in my mind to influence me for the future.  I just kept traveling around and doing what I could do to see myself in the future past modeling.  And that's what led me to where I am now.
Tell me about whom you design for.
The Coco Johnsen woman is very feminine.  She is an individual, yet she can go with the trend. . .but yet powerful.  It's really for a forward thinking type of woman who's thinking, "I have this blouse now, and I want to be able to wear this next season."  What jacket can I make that's going to accentuate what she has?
What are some of your fabrics that you use?
We use silk, silk dupiani, the finest cottons, and jersey.  And in our fall collection we have wool.  So we're really thinking about giving you something that you can retain for a long time.  And it's a work of art.  My last collection was very focused on the French renaissance period.  A lot of our tops (tops with high collars), I made them so that if you had a jacket, it would accentuate what you were going to wear.  Even if you were in the office during the day, you could take your jacket off at night to go meet up with someone at a cocktail party.  So these are the kinds of things that I'm thinking about.  I believe a lot of that influence comes from me living in New York City, and packing a lot of stuff with me, when I'm walking around the city and being able to pull my jacket out if I need to.  Or put it on or take it off for an event.
Is Coco Johnsen couture?
Oh yes, definitely couture.  Our tops range from $150 for our ready to wear. Our gowns range anywhere from $500 to $2,000 to $5,000.  We have a dress that's $12,000.  And our clothes are manufactured in Brazil.  The workmanship and artisans there need to be recognized.  That's the difference between a garment that you could buy at Macy's, compared to something you can buy at Coco Johnsen's.  Not many people will be walking around in that garment.  You know when you come to us, you're going to have a top or pant that not many people will be able to have.  That's one of the reasons that we're in that niche of luxury line.
How did you decide to become a couturier?
I always loved the couture pieces.  Some of my favorite designers are Vivienne Westwood., Jean Paul Gaultier, and Chanel.  When you're living in New York City, you aspire to wear those clothes.  Especially for me, having grown up in the South, it was my dream to be able to wear one of those tops or dresses. I thought, "Wouldn't it be neat to be able to design in that way?  Use the same types of fabrics and be able to [enable just about] anyone to purchase that, and not be so far above what you can afford?"  That's why we're sort of falling in between the other designers in our price points.  We're trying to wholesale a little bit under what you might find from Chanel, Monique L'Huillier, or Kevan Hall.  And those designers do inspire me.
What's a typical day for Coco Johnsen?
I'm working on both lines now.  
We started out with our couture collection Coco Johnsen, and then we added the ready to wear line Coco Johnsen Ready toWear.  And then we added sandals with Swarovsky crystals.  Every day could be a different project.  Because of the time restraints with Brazil, it could take up to 6 to 10 weeks to get a garment back to us.  So we are looking every day for new ways to make our products better, and to keep our price points as low as we can, but still make a profit.
Do you do your own pattern making and sketching, or do you have someone that does it for you?
A little bit of both.  Later on today, I'll have a sketch artist come in and I will dictate what I'd like to see.  Maybe change the sleeve or make the skirt length this season below the knee.  Maybe sit with her for a couple of hours and flesh out what we want to have on the page, and she'll go back and work on that on her computer.  Then, she'll come back to me.  It can go through 2 or 3 revisions.  I also sketch as well, but because I am the CEO of this company, I have so many responsibilities.  I can't sketch out every line as I would like to.  And I don't do patterns. (Laughs) Some people don't do windows.  I don't do patterns!  I can tell you exactly what I want to see or what kind of cuts I would like.  The lines are very clean.  For my last collection they were a little broader.  And for every season I'm thinking about what I'd like to see.  As a woman, I do take my own taste into consideration.  I am not going to produce something or put something out that's not going to flatter a woman's physique.  And I do take different sizes into consideration.  Not only am I designing for a size 0 to a 2 to a 4 to a 6 and 8, but in seasons to come, we will be looking to design for our full-figured ladies size 12, 14, 16, and 18.  We don't want to leave them out.
Highest High
Our first fashion week at Mercedes Benz Fashion Week last season for our spring collection.  I was exhausted, but it was a definite high to see what we had designed go down the runway.  And the applause for the clothes—they really appreciate that we did something you could wear every day.  Sometimes, myself included, I will only design stuff for editorial use.  And sometimes it can be confusing to the consumer, if they're looking us up to see what our collection was for that season.  They think, "I can't' wear that." I really wanted our first collection to reflect that we are thinking about what you're going to wear every day, a special occasion.  We did a 64-piece collection.  Something in there should be right for you.  No matter what size you wear.  You'd be able to find something in the collection that would accentuate your wardrobe.
That's a big showing for a first-time showing, too.  That was very ambitious.
It's always scary a little bit, because you don't have anyone to really bounce that idea off of.  The collections move so fast.  I don't think the public realizes that once a designer puts a collection out, they only have 3 months before they have to show their next collection.  And that's a lot of work.  Some new designers will show a big collection like we did with 64 pieces and then they'll skip the next season and then show you a next spring or fall.  We're actually putting out another fall.  We're limiting the collection in order to do it right, and to get the pieces forward that we believe are the strongest pieces for that collection.  But it is a challenge every season.  So I would say my lowest low would be realizing that we're not able to do all of the things and produce all of the pieces that we initially designed. We may design 120 pieces, but the public may only see 64 of those pieces.  And sometimes that's a bit of a letdown.  As designers, we have this vision of what we want to see and the pieces all interconnect.  But there may be pieces missing from the collection that are either too expensive to reproduce, or because of the lack of availability, it becomes one-of-a-kind.
Did you experience any obstacles when trying to start your business?
How much time do you have!  There are so many obstacles to overcome that I decided to write a book about it.  My book is calledFrivolous and it's about the industry coming from a model's point of view.  All these things that were happening to me like ordering fabric from a factory and you find out after you've made the garment, the factory is out of business, or the fabric's not available.  So you just learn as you're moving and progressing into this business that there are certain obstacles that you cannot avoid.  Because the fashion business is a frivolous business, finding funding is a challenge.  Let's say you put into a shop a garment that's taken you 3 months to make, it's a trendy garment.  It's gone.  Next season it's out.  That fabric might not be in any more.  So I try to design around that and not to make my pieces go out.  You learn through designing and a lot of obstacles like spending a lot of money for fabric and then discovering that you can't use it.  These are things that you can only learn from being in the business.  And the books that I've read [on the subject] don't really touch on that.  Or say for example, the back end part of it of having co-designers that you work with.  Sometimes it doesn't work out.  Sometimes they want to have their name above yours even though they're not funding the company.  So these are the types of things that happen when you start a small business like I have.  And then I would like people to understand and to know before they get into this business that when you're designing it's not just about the designs.  It's about the business side of being in the business.  If you're going to be a designer, you have to learn accounting, payroll, taxation, incorporation.  I want to put it into a language that everyday people will understand.
That leads to my next question.  What advice would you give to an upcoming designer?
Learn all different variables of design, not just the pretty pictures—not just wanting to be in the magazine.  It would be good to find a way to your dream and it may not always be the most conventional way.  It may not always be the most popular way.  And don't let people discourage you from it, like I did as a model.  I'm really only 5'7, but I said I was 5'8 on my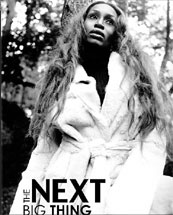 comp card.  Whatever your dream is, you have to find a way to make that happen for you.  You have to love what you're doing.  I would encourage especially women that want to be in this business, to understand the business-side before you jump in.
Where do you see Coco Johnsen 5 years from now?
I see the label growing and hopefully being something that I can be proud of.  Eventually being all over the world and being known for the quality that we produce.  I don't mind if we don't produce or sell as much volume as you might find in a Macy's or Bloomindale's.  As long as the quality is there and the fit is true to what I am designing for, I'll be happy with that.
Any last words?
Again, back to starting your business, I'd like to say enjoy your life and appreciate every day, and appreciate your clothes.
To learn more about Coco Johnsen's designs, visitwww.cocojohnsenboutique.com.
By Kaylene Peoples