The Measure of a Man Sidney Poitier
By
admin
| May 29th, 2011 | Category:
2007
,
Book Reviews
,
Spring 2007
|
No Comments »
Book Review
The Measure of a Man
Sidney Poitier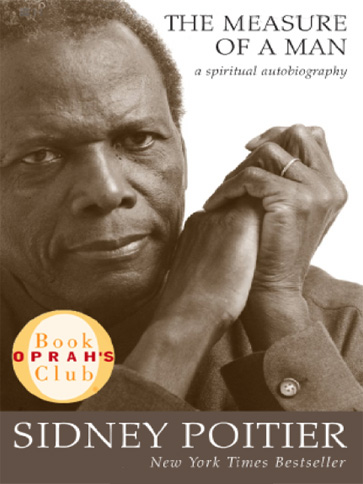 Having always thought of Sidney Poitier as a gifted, consummate actor, I was pleasantly surprised to discover the trials he went through to become that way.   A current Oprah's pick, his memoir,The Measure of a Man, is the story of how a young man with so limited advantages and resources rises to become the consummate actor.
The consummate artist interprets rather than play acts, Poitier learned very early in his career, and in spite of acting lessons, turned to other artists to emulate, while achieving through imagination and daydreams (210).   Thus, his outstanding, memorable performance in such movies as Blackboard Jungle, Cry the Beloved Country, Guess Who's Coming to Dinner, To Sir with Love, and others. Among his many awards for his performances both on stage and in the movies is the Academy Award he received in 1964 for best actor in Lilies of the Field.
With a back and forth movement—moving from the present to the past, then back to the present—the memoir shows how his past shapes or explains his being.   This memoir could be called an intellectual study into who Sidney Poitier is, how his past defines his measure as a man.
Sidney Poitier was born on Cat Island in the Bahamas, where he lived until ten and a half years old, when the family, of necessity, moved to Nassau.   Until he went to Nassau, the outside world for him did not exist.   Cat Island was a small, idyllic island, where the only threats Sidney met were those posed by nature and the strong discipline of his mother and father.   Though very poor, his family was close.   It was in Nassau that he was introduced to the prejudices toward blacks and the limitations racism placed upon them.   Cat Island was idyllic, as opposed to the obvious haves vs. the have-nots of Nassau.   He wore clothes made from flour sacks but loved and respected his parents so much he did not make a big deal out of the teasing he took from his schoolmates:   "…knowing that my mom and dad were doing the best they could gave me the strength to suck it up and move on" (39).
He dropped out of school by the age of thirteen and was sent away from this environment—friends, even his older brother, were sent away because of the trouble they had gotten into because of the influence of the environment.   (On Cat Island, the only dangers he had faced were those posed by nature.)   Little Sidney was jailed briefly for stealing corn.   So his father sent him to Miami to live with a brother ten years older than he.   There, he also encountered race issues but did not let them interfere with what he had chosen for himself; so "the Jim Crow way of life had trouble overwhelming me" (42).
Sidney Poitier never compromised his values, refusing to play parts he did not believe in.   Yet, this is exactly what his own race accused him of (118).   Of course, he's angry about what he and other blacks had to endure, but "… I've learned that I must find positive outlets for anger or it will destroy me.   I have to try to find a way to channel that anger to the positive, and the highest positive is forgiveness" (128).
There are lessons to be learned from this memoir on how to achieve in spite of the obstacles life and society may place in the way, for one's response is the measure of a man; and I agree that once again Oprah is right on in her selection. For example, hurt over the failure and breakup of his first marriage, he does not fail in fulfilling his father's legacy:   the measure of a man is how well he takes care of his children (181).   He is quite proud of his six talented and intelligent daughters he helped raise in spite of his divorce from their mother.   Poor though he was, his own father, Reggie Poitier, always took care of his family, and in this respect, as well as others, Sidney chose to emulate him.
I would say "the measure of a man" is one's response to all of the opposition one is faced with in society, and Sidney Poitier certainly lives up to his measure as a man in all the racial opposition he encountered as a black man on his journey to becoming the consummate actor, beloved by so many.
Reviewed by Lee L. Peoples