TIPS FOR TEENS – Been There, Survived That Joe Pinsker, Hannah Shr, Carolyn Hou, Maxfield Peterson
By
admin
| May 28th, 2011 | Category:
2008
,
Book Reviews
,
Fall 2008
|
No Comments »
TIPS FOR TEENS – Been There, Survived That
Joe Pinsker, Hannah Shr, Carolyn Hou, Maxfield Peterson
Subtitled Getting Through Freshman Year of High School, Been There, Survived That is a how-to manual for the student just entering high school. Written by four teenagers who were once freshmen themselves, the ninety-six page pamphlet is divided into three sections: Social Advice, Academic Advice, and Practical Advice. Quoted from page 5, "It includes tips on everything from how to deal with failure and survive group projects to how to make up good excuses for teachers and fake sick days." Humorous and captivating, the manual is very easy to read. The new high school student will find it very helpful, as it will contribute to his/her ease of adjustment.
ISBN-13:978-097901737-7
ISBN-10:097901737-8
Fashion 101, A Crash Course in Clothing, written by Erika Stalder with illustrations by Ariel Krietzman, is a catalog of 300+ illustrated wardrobe items: dresses and skirts, tops and coats, pants and shorts, shoes, and underthings. With the exception of underthings,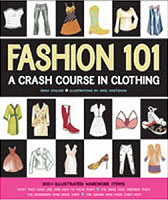 accessories are also included. This catalog will appeal to the young fashionista in that for each of the wardrobe items, four topics are covered:
What They Look Like and How to Wear Them
The Eras That Inspired Them
The Designers Who Made Them
The Celebs Who Made Them Hot
ISBN-13:978-097901734-6
ISBN-10:097901734-3
For more information on both of these books, visitwww.zestbooks.net.