Tommy Rays in Studio City
By
admin
| May 29th, 2011 | Category:
2006
,
Entertainment
,
Travel
,
Winter 2006/2007
|
No Comments »
"Romance on the Road"
Tommy Rays in Studio City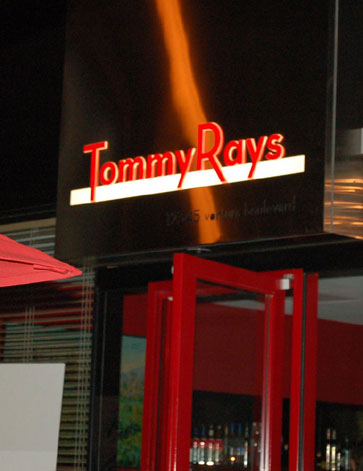 WHAT a party tonight at Tommy Rays! It's a fabulous new restaurant on Ventura Blvd. in Studio City, and this was their Grand Opening bash! I joined the tons of people having drinks, hors d'oeuvres, and fun. Who was seen at the scene? First, there was Ed Begley Jr., a total gentlemen as well as a consummate actor. Ed, we love you! And I had such a cool conversation with Tasia Sherel from "Everybody Hates Chris." Tasia was wearing a super outfit—with a stunning hat! I used to wear hats all the time, and seeing Tasia in one, I think I'll start wearing one again!
Since I'm writing my column, "Romance on the Road," I asked Tasia what her favorite "Romance on the Road" place is. Tasia loves Santa Barbara. Guess what? Me, too! I told her about an enchanting Bed & Breakfast there, Simpson House Inn. And the terrific 5-star Hotel Andalucia—and their restaurant "31 West!" Also, if you're in Santa Barbara on a Wednesday night, don't miss the Live Tango night at Cafe Buenos Aires!
But now, let's return to the action at Tommy Rays tonight. Tasia has been married to a terrific guy for 10 years. Ever since I started my "Romance on the Road" column, I always have to ask people how they met; and Tasia has a wonderfully romantic story.
Before she started acting… and before her hubby started writing, they both worked at a COLLECTION agency. Now WHO would think that a "collection" agency could be romantic? Well, it can be… and it was… for Tasia and Anthony. They were both working there. He put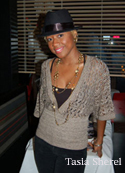 a can of "Orange Crush" soda on her desk with a note, "I've got a crush on you!" Tasia thought it was soooo sweet – BUT, uh-oh, she doesn't like orange. So she told an associate that she preferred GRAPE. Sooooo, can you believe it – every day for the next week, Anthony put a can of GRAPE CRUSH soda on her desk. CUT TO: — years later – they are STILL happily married. Now, THAT'S romantic!
And who else did I talk to at the new and incredibly cool Tommy Rays? The daughter of "Ray"—Anna, a designer, who was with her hottie husband, J.R.   J.R. turned out to be my hero. I lost an earring and he FOUND it in the middle of the floor. Not only that, but Anna and J.R. are having a baby in April! Her dad, Ray, is one of the owners of Tommy Rays and is an architect, with his office above the restaurant. The other owner is none other than the "Tommy" of Tommy Rays, former San Diego Padre Tommy Le Vasseur.
I sat down at a table to chat with Jon Polito—amazing character actor—and his partner, Darryl, who met on the set of a movie (I told you – I ALWAYS have to ask!) Also, Peter
Onorati, who you might remember from lots of Steven Bochco's shows. He also just finished shooting a movie in West Palm Beach. I told John Polito and Peter about my play, "Not Tonight, Guido," and they agreed we should do a reading of it, soon!
Later, I spoke with Charlene Tilton, who looks incredible. She was working on a couple of TV projects and is also writing a book. Did you say "book?" Another celeb there was the author of that funny and fabulous relationship book, NEVER KISS A FROG: A Girl's Guide to Creatures from the Dating Swamp. Oh… that's ME, isn't it? Okay, a little shameless self-promotion, so what's wrong with that? I mean, it IS a hot book and so toadallysmart and savvy.
Now, back to Tommy Rays! Some of the other celebs enjoying the appetizers and party drinks: Dominic Comperatore, Matt Cedeno, Patrika Darbo, Kate Linder from "Young and the Restless," and funny lady Judy Tenuta. I also met the svelte and beautiful Adrienne Janic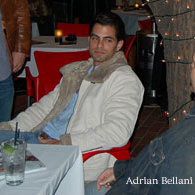 from TLC's "Overhaulin." Carolina Bacardi hosted this rockin' "Party with Bacardi" by treating guests to special Bacardi mojitos and Voodoo Doll martinis.
Although it was party time tonight, you should stop by for lunch or dinner Monday thru Saturday, or for Sunday Brunch. Also, there's a Happy Hour on Mon-Fri from 3-6 with free hors d'oeuvres!
Tommy Rays has an awesome menu. Tonight we sampled mini-crab cakes, tuna tartar, and teriyaki steak-on-a-stick with a mango sauce… all dee-lish. I'll return soon to try out their "house favorites," including a Wild Mushroom Trio, Potato and Onion Tart, and Spinach & Cheese Ravioli in a wild mushroom ragout. And if you're into the beef experience, try their Boulevard Burger with all the fixin's.
On their outdoor patio tonight, you could make your own s'mores with graham crackers, Hershey's chocolate, and marshmallows. I loved them and asked if it was on their regular menu. Oops, "Sorry," the waiter told me, "it's a 'specialty'," but lots of other goodies can be
found under their "Sweet Tooth" section on the menu. Mmmm… here are a few desserts that sound heavenly: Pumpkin Pot du Crème, Chocolate Lava Cake, and their "Snowball," white chocolate marshmallow ice cream, rolled in toasted coconut, and served with chocolate syrup & macadamia nuts. Don't start your diet until you get home!
Tommy Rays
12345 Ventura Blvd.
Studio City, CA 91604
818-506-2412
www.tommyrayscafe.com
Written by Marilyn Anderson