TV Land, Beverly Johnson, Wilhelmina Models, Inc., and Time Warner Cable L.A. Present a New Kind of Modeling Competition – Twenty Somethings Need Not Apply!
By
admin
| May 29th, 2011 | Category:
2007
,
Articles
,
Fall 2007
|
No Comments »
TV Land and Wilhelmina Models Present a New Kind of Modeling Competition – Twenty Somethings Need Not Apply!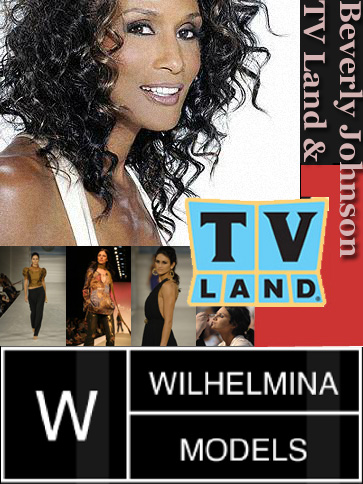 I guess it's true what they say: 40 is the new 20. 50 is the new 30 and 60 is the new forty? So why not create a modeling competition for women over 35. After all, we are all getting younger anyway! Beverly Johnson, TV Land, Wilhelmina Models, Inc., and Time Warner Cable Los Angeles promise to deliver the next great supermodel in the new series "She's Got the Look" set to premiere Spring 2008. The show is being executive produced by Emmy Award Winner Allison Grodner ("Big Brother", "Blowout"). The winner of the reality series competition will receive a lucrative modeling contract with Wilhelmina Models, Inc.
"This will be an exciting journey across the USA. We are looking for women who embody what every model should, regardless of age, and that is the utmost beauty and confidence."
—Sean Patterson, President of Wilhelmina—
Agenda Magazine interviewed casting director Andrew Strauser. He gave us his insight on this new kind of modeling competition.
There must be a new market for 30-something models. I know about More Magazine, which caters to 40 and over. What exactly is the market?
There is a growing commercial and print market out there for these women, and we hope that our show will draw attention to it.
Will your model search be anything like America's Next Top Model,
and are you seeking professionals or amateurs?
ANTM is a fantastic show. While our show is also a modeling competition, in the youth-obsessed society we live in, the fact that we are celebrating women 35 and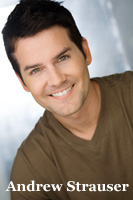 older makes this show truly groundbreaking. And yes, we're open to former professionals or first-timers. If there's a woman out there who's interested in auditioning, we're interested in meeting her!
What is the impetus for the model search? Is it also plus size models, too, or just regular size?
YES! We're looking for confident, beautiful and sophisticated women of all sizes!
Are there already advertising/marketing contracts set in place for the winners?
Our winner will receive a multi-year contract with the world-famous Wilhelmina Modeling Agency. There is also the potential for a major magazine spread. However, the details of that are still being worked out.
Why do you feel that there is a need for this kind of competition?
In general, there aren't that many opportunities for woman 35 and over to break into the fashion and television industries. So, with this show we get to break down both those barriers. I'm thrilled to be a part of it. On my casting trips, I'm met with such excitement and enthusiasm from the women all across the country. They all say, "It's about time!"
How do you think that these types of contests will affect the modeling industry?
It's hard to say, but I'm hoping that we'll be able to turn some heads and change some minds. People want to see a reflection of themselves in print and on television, and I hope that our show will help break down some walls in the industry for models 35 and over.

What type of responses have you already received?
We've had a great response thus far. We've already received thousands of applications from all over the country. Anyone who is interested can log on to www.tvland.com and fill out an application.
What do you foresee as the future of the competition? Will there be
more contests?
You never know how the viewing audience will respond and what's going to be a hit. But, I truly hope this show resonates with our audience. There are a lot of people who are working tirelessly to ensure that we put together a highly entertaining and positive television series that will showcase exceptional women from around the country in their quest to make a dream come true.
Does Wilhelmina currently have a department in their agency for middle-aged models?
Yes, they call it their Sophisticated Division, and it does quite well for them!
Do you think that once the show airs, modeling agencies will start accepting 35 and older models?
I hope so!
Interviewed by Kaylene Peoples