UCLA Live presents DAVID SEDARIS!
By
admin
| May 30th, 2011 | Category:
2008
,
Entertainment
,
Summer 2008
,
Travel
|
No Comments »
UCLA Live presents DAVID SEDARIS!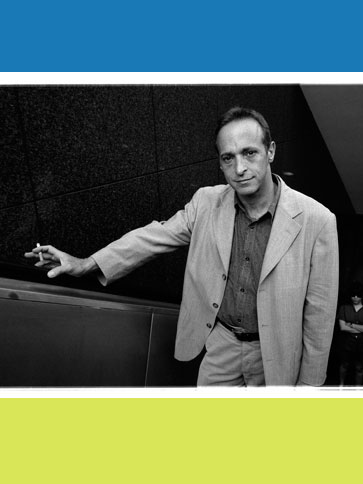 Author, radio star and humorist David Sedaris packed Royce Hall on Saturday, June 28th in the final event of UCLA Live's 2007-2008 season. It was a hilarious evening, featuring David reading new work and a selection of essays from his best-selling books, excerpts from The New Yorker and even his diary! The sold-out audience cheered as Mr. Sedaris took the stage, and the enthusiasm continued all night with constant laughs.
In addition to his published materials, Sedaris treated us to some essays that "don't work" in print, such as a piece on one of his old teachers who pronounced "Nicaragua" in such a way that David would keep asking questions that required it to be the answer! His teacher pronounced it rolling the "r" and using the utmost care and Latino flair. David loved to hear him say "Nicaragua" over and over—and as he related the story, the audience did, too!
David has an engaging and quirky quality when he reads his essays, which are intelligent, sardonic (and just downright funny!) observations on the things he goes through in life. His piece on being seated in Business Elite on a flight from France to the U.S., sitting next to a Polish man sobbing over the death of his mother would probably make her turn over in her grave… laughing!
Sedaris' new collection of essays, When You Are Engulfed in Flames, has just been published. David is on a multi-city tour around the country, usually in a different city every day, except for the big cities, where he spends two nights. He told us that at book store signings he has sat as long as nine hours autographing for his loyal fans.
Some of his other bestsellers include Naked, Me Talk Pretty One Day, and Dress Your Family in Corduroy and Denim. He is also an award-winning playwright and recipient of a Thurber Prize for American Humor. David's original radio pieces can often be heard on "This American Life," distributed nationally by Public Radio International.
Sedaris' performance marked the end of a wonderful season for UCLA Live. Their new nine-month season will run from October 1, 2008 to June 20, 2009, and is set to include 94 performances, covering an eclectic variety of genres. Single events and nine series will feature theater, dance, spoken word, family, and music ranging from classical, jazz, and world to folk, roots, and electronica.
Audiences can look forward to extraordinary events such as evenings with Pulitzer Prize-winning literary icons Edward Albee and John Updike; the Southern California premiere of Kronos Quartet's moving 9/11 commemoration "Awakening"; superstar Chinese pianist Lang Lang; the return of legendary barefoot diva Césaria Évora; "A Romantic Evening in Old Mexico" with Linda Ronstadt and Mariachi Los Camperos de Nati Cano; the reunion of former Miles Davis bandmates Chick Corea and John McLaughlin; and a UCLA Live exclusive event with director Werner Herzog. In addition, one of the most anticipated offerings is the Seventh Annual International Theatre Festival.
Information on these and all events, performances, dates, and ticket prices can be found at: www.uclalive.org.
Article by Marilyn Anderson