On May 5, 2016, AWM SoCal presented the 57th Annual Genii Awards Gala. The event was held during the Digital Hollywood Conference at the Skirball Center and saluted the achievements of women in media and entertainment.  These women were chosen to receive a Genii Award for their pioneering efforts, dedicated leadership, commitment to quality and excellence, and community contributions. The diverse, multitalented, gracious group of women who walked the red carpet that evening did justice in representing successful women in the media. I interviewed many of the recipients and presenters who exuded intelligence and dedication with a strong work ethic, as well as having the hope that other young women, following in their footsteps, would achieve similar victories.
Pat Prescott (94.7 The Wave) has pioneered the way for female DJs on the radio with her career spanning 40 years. Tonight Prescott was to receive an award for Excellence In Radio.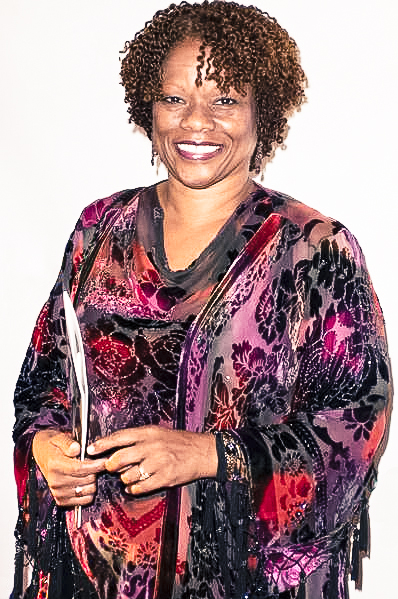 "It is always wonderful to be recognized for what you do, but to be recognized by your peers, it brings the honor to a whole other level. It means a lot to me that the community has accepted me after 15 years as a member of it and as a member of the media in it." –Pat Prescott
Over the years that Pat has been in the music business, she witnessed many changes for women DJs and for female jazz musicians, too.
"A lot has changed. When I first got into the business, most radio stations, if they had a woman . . . she [that woman] was allotted the night shift. However, at The Wave—at one point we had all female announcers. A lot has changed, but much more has to change.

Women as jazz musicians, if you look at the number of female players, there are now so much more than in the past. I have built so many great relationships in that community, and do everything I can to support those artists." Prescott continues.
Helping others through charitable works and mentoring interns seems to be the impetus that guides Pat Prescott's conscious.
"I work with a number of organizations. I prefer to work with the smaller charities because I feel they need us more. One organization is Heal Kids.  [Its mission is to] help athletes in high schools in Los Angeles get the proper training and recovery that they need from their injuries. I also work with Hands4Hope, an after school program to help working [parents], single parents, and kids to not only nurture them with academics, but to also encourage [their] artistic talents."
Regarding helping others who are interested in working in the media:
"I've always had interns. I'm a former school teacher. I think it's important to reach out and teach young people what's going on, and to form alliances with them."
Erica Olsen, co-host for the award ceremony with Matt Iseman of American Ninja Warriors is an on air television personality for CBS2 and KCAL9. Thrilled to be on the docket for the evening's stage, Olsen commented about her role for the ceremony.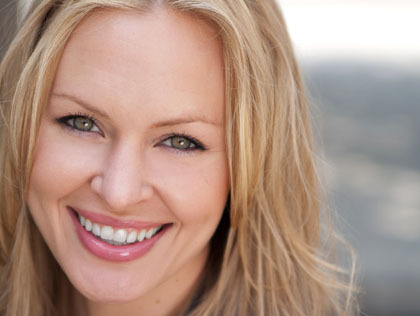 "Lucky for me I get to be the co-host of the Genii Awards tonight and work with the charming Matt Iseman. Matt Iseman is salt of the earth. I couldn't be happier than to have him by my side. Something is so genuine about Matt plus he's hilarious and good looking."
I asked Erica what were her thoughts on how women have fared in the Media.
"By day I work for CBS2 and KCAL9. I've been an on air personality for many years. It's so exciting to be in that role because we're honoring women in the media, pioneers, and rising stars. I have also been the president for AWM, SoCal.

I think with groups like AWM, we're breaking through barriers, we're supporting ourselves; we're empowering ourselves, educating ourselves; and with those tools moving forward."
Olsen hosts a segment on CBS2 and KCAL9 called Music Minute, which features an upcoming musician or band every week. She loves exposing the new talent in the Los Angeles area.
"I am proud of Music Minute. We feature emerging bands in the market place that are going out on tour. It's a really pure moment in a musician's life. It's right before they hit the big time. In addition to that, we just launched a podcast to support the Music Minute which is amazing. It's all genres of music and such a diverse group."
When I asked her how she thought tonight would go, Erica Olsen replied with humor, "We have a politician, a nanny (Fran Drescher), and a studio executive presenting . . . You put that joke together!"
Two women were being awarded Excellence In Entertainment. Tracey Edmonds of Extra! and Charissa Thompson. This beautiful on air personality had spent many years behind the camera as a Producer and was pleasantly surprised to be winning an award for being in front of the camera.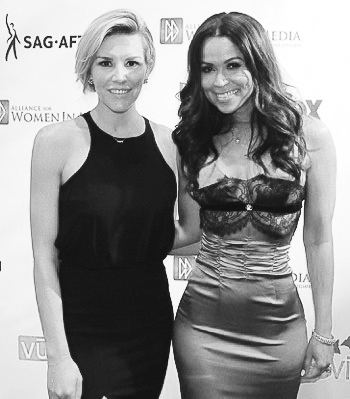 "For two decades I was a TV producer, always behind the camera and felt very comfortable there. I was so scared to be on camera…so for me getting an award for being on camera is surreal." Gushes Tracey Edmonds
Edmonds commented on being an African American woman in the Media, which was a double-edged sword. "Thinking about earlier challenges for me being an African American female…there were fewer opportunities in front of the camera and behind the camera, finding programming about us on on television. So as women on the air, we now have the opportunity to tell our stories and join forces with other women as well."
Charissa Thompson is a television host/sportscaster with Fox Sports 1 and NBC; and Thompson also co-hosts Extra! She has been in the business for ten years and is one of the first female sportscasters.
"I come from a sports background, and of course that's been a male dominated business. I began ten years ago and there were very few women in the industry. Now you see many more female sportscasters on television."
Both women (Edmonds and Thompson) mentor young women who want to break into the industry.
"I mentor on the Board of Governors for the Producers Guild. A part of the mentorship program is once a quarter I have the opportunity to work with a young person and show her the ropes." States Tracey Edmonds
Charissa Thompson interjects:
"I have a young lady coming to work tomorrow to shadow me. I get asked by different people—either friends or colleagues—to help out a young lady who might be interested in being a sports reporter or work in the entertainment industry. I have them come on set with me and I conduct a mini internship program." Adds Charissa Thompson.
Another dynamic duo gracing the red carpet was Nicole and Barbara Boxer; the mutual love and respect each had for the other was obvious by their comments. That evening Barbara Boxer would be presenting her filmmaking daughter the award for Excellence in Documentary Film. Nicole Boxer expressed the passion she felt for women telling their stories through the medium of film. As she spoke, her mother listened intently.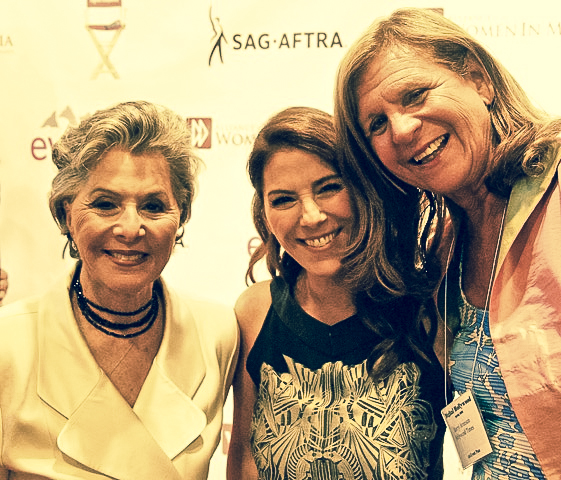 " . . . women in the media—they are important on both sides of the camera. Obviously I've been focused on behind the camera as a filmmaker, but equally I think we tell stories about women in front of the camera. That can be anything. It can be a story of politics, or a subject that is tragic like rape on college campuses; or a profile of a woman who is the president of a country in the world; or a women soccer team; or a women teacher." States Nicole Boxer

"Narrative filming and television is important, too. I've been impressed with what is going on with women in TV, and the ability of women writers and directors to create serialized TV shows that have female protagonists; and shows about political women in power." Continues Nicole Boxer
I asked Nicole if her mother helped to influence her sense of self as a woman?
"The most important influence my mother has given me is her tenacity and watching her never give up. There were times when she would come home (we were roommates in DC) from a brutal day dealing with situations she knew she wouldn't win, but somehow she found ways to win that battle."
Beaming at her mother, Nicole reveals . . .
"I know that one can really do anything. It's actually the purpose of just doing something that creates the feeling of winning. Because sometimes you might not win the long game, but you win because you fought and kept going."
Senator Boxer turns to me and immediately replies . . .
"My daughter has taught me a lot too. And when she says she never gives up, there was a time in my career when my kids kept me running. I had it. The whole ugly scene of politics was really getting to me. She and her brother sat me down and said to me, 'Mom you just can't give up.' Our whole family supports each other."
Barbara Boxer beamed with pride as she talked about her daughter's success:
"It's a thrill because my daughter has taken on so many issues like the ones I have fought for and she has also introduced me to the issues like rape on college campuses, rape in the military. She has enlightened me to the fact that homeless women are there because they have suffered some kind of trauma."
I asked what Barbara Boxer thought about the possibility of a woman becoming President of the United States . . . She told me she was so glad I asked her that question!  She held up her necklace.
"I am wearing my 'H' close to my heart. It's the right moment. We're approaching the 100th anniversary for women getting the right to vote, and it took us so long. Frankly we stood back and fought for everybody else, but we didn't fight for ourselves." Replied Barbara Boxer.
Pulling her daughter (Nicole) closer to her, Barbara described how women who pave the road to success possess the same qualities.
"The type of things Nicole is doing in her world; the kind of things I'm doing in my world; the kind of things Hillary is doing in her world, it's all connected—It's connected with a certain type of spirit—I think we carry passion in our hearts, but we're tough."
As the red carpet arrivals ended, and everyone went into the auditorium for the award's ceremony, one celebrity stood there looking forever young and talking with that unmistakable voice of The Nanny. Fran Drescher (The Nanny's Fran Fine) made sure she had creative control of her long-time running television series.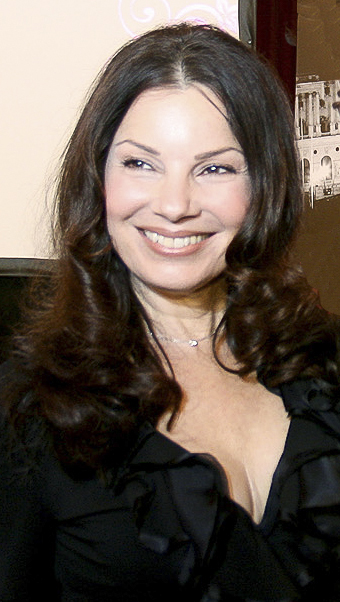 "I was the Executive Producer of The Nanny, I wrote and directed it too. The Nanny offered me a great opportunity to have many options in this industry. That's why I am here tonight, because I am about opening doors, honoring women; and trying to change the narrative of how important we are to any business that we involve ourselves with."
Fran Drescher looked very serious as she finished her thoughts . . .
"We need to start realizing that women bring a different energy . . . different abilities to the party; and unless they are invited to the table, to every board meeting, to executive policy meetings in every job at a high level position, we're not getting the full value of what can happen."
Competent and pensive, Fran Drescher was able to lighten the mood when I asked her to say in all, too familiar nasal, New York Jewish vernacular of her character, "Oh Mr. Sheffield . . . " As quickly as she became The Nanny, off she went to the 57th Annual Genii Awards!
Agenda Bloggers: Written by Sheryl Aronson for "Arting Around" | Want to comment?  Login/Register here.