On Saturday, October 14, 2017, 2-time Grammy-nominated bassist Bunny Brunel presented a very special event, "A South of France Feast & Jazz Fusion Pairing" at The Back Bay Bistro in Newport Beach.  This legendary musician displayed his versatility as a jazz bassist and notable French gourmet chef. Brunel featured his signature seafood entree with wine pairing.  In addition, he featured his All-star band of highly acclaimed jazz performers. The band included Bunny Brunel (bass), Virgil Donati (drums), Mitch Forman (keys), Julian Coryell (guitars), and Kaylene Peoples (vocals and flute).
"This is our debut show.  We are extremely excited about having this kind of talent in the room.  Bunny Brunel has been in the kitchen cooking up his signature dish the last few days.  He has come down on several occasions to perfect this dish." -Brian Ross, Entertainment Director, Back Bay Bistro
The Back Bay Bistro is tucked away in the Newport Dunes,  overlooking the quaint harbor, and surrounded by the luxurious real estate of Newport Beach. As the sun set that evening, the sky lit up with golden hues, creating a serene and stunning atmosphere to hear the music.  This venue plans on being a go-to place for jazz aficionados, who also appreciate delicious food.
"We will now be featuring one to two artists per month and we are very happy to be adding another musical venue to Orange County and the Southern California music scene," continues Brian Ross.
My dinner that evening was exquisite.  I started with the Pumpkin Spice Soup with Crème Fraiche; it was seasoned perfectly with just the right amount of spice, combined with a sweet, creamy flavor.  The Gambas A L'Armoricaine (Jumbo Shrimp Sauteed in Tomato and Cognac) was divine.  The shrimp was succulent and the sauce was light, yet savory.  I ended with Chocolate Molten Cake that melted in my mouth . . . a chocolate lover's dream.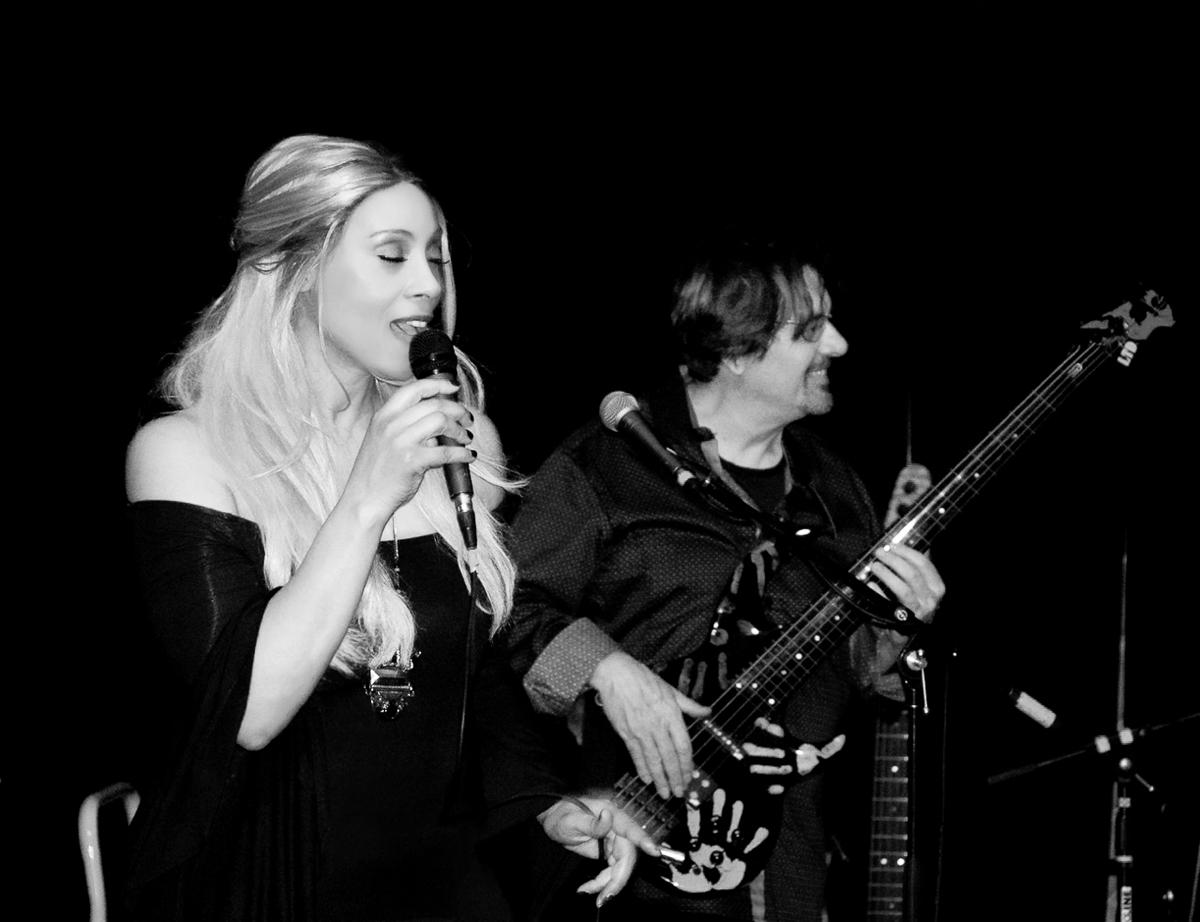 Then, I settled in to hear the brilliant music of Bunny Brunel and CAB.  The musical menu began with Kaylene Peoples singing in her lovely, mellifluous voice "How Deep Is The Ocean."  We also heard a lively Bossa-nova tune "One Note Samba," where Peoples not only sang but soloed on flute.  Bunny Brunel then took over the stage with his electric fusion band CAB.  On his composition, "A Song For Wayne" (Wayne Shorter), we heard Julian Coryell's fluid guitar playing, full of energy.  Coryell delivered an impressive solo, followed by Bunny Brunel's iconic bass playing, while Virgil Donati added his cohesive drums, all in rhythmic unison.
When Brunel featured his original piece, "CAB," this pulsating rhythm, repeated with its ostinatos and trance-like bass line; Virgil's syncopated rhythms added the perfect flavor to this flawless performance.  Julian Coryell, always an energetic soloist, followed suit as he shredded on his guitar and impressed us all. Bunny ended the round of soloing with his usual, mind-blowing dexterity and agility on his bass.
The second set began with Kaylene Peoples tantalizing vocals as she masterfully presented the hit tune "Spain," which Bunny Brunel had originally played with Chick Corea and Al Jarreau live on a PBS special; what an enjoyable ride of intoxicating sound!  Mitch Forman on keys added to the Spanish mood and masterfully performed on his keyboards with his mouth organ; and Julian Coryell performed a very fitting guitar solo.
A South of France Feast & Jazz Fusion Pairing at the Back Bay Bistro had it all that evening . . . a sublime setting, marvelous cuisine, and five-star music by Bunny Brunel and CAB.
The entire night of music was filmed by Florentino Buenaventura of EnterTalk Radio and hosted by Jackie Bertone of Jackie's Groove.
Sponsors for the evening were Back Bay Bistro, Newport Dunes Resorts, EnterTalk Radio, Jackie's Groove, and Agenda magazine. Read the press release to learn more about this incredible "Feast and Fusion!" http://www.prweb.com/releases/2017/10/prweb14801552.htm
Agenda Bloggers: Written by Sheryl Aronson for "Arting Around" | Want to comment? Login/Register here.