Bobby Lyle presented a powerful presence on the keys during his set with Ndugu Chancler, Alphonso Johnson, and Craig T. Cooper at the 30th Annual Long Beach Jazz Festival on Saturday, August 12, 2017.  One could see the joy and passion on Lyle's face during performance.  He tickled the ivory of the electric keyboard, then switched over to the acoustic piano and maintaining a masterful technique on both.
A veteran of the music industry for 40 years, Bobby Lyle has amassed a prolific discography of jazz music.  He has traveled all over the world performing musical directing for legends Bette Midler, Al Jarreau, Anita Baker, and more.  He now heads his own ensembles and plans to head up his own jazz series in Houston titled Bobby Lyle Presents.
I caught up with Bobby Lyle backstage of the Long Beach Jazz Festival just after his performance.
Interviewed by Sheryl Aronson
Responses by Bobby Lyle
Talk about your set that you just played with Ndugu Chancler, Alphonso Johnson, and Craig Cooper.
It's just a great energizing, inspirational feeling when you get good musicians playing together for a common cause. The feeling is indescribable.
Please talk about your career in the music industry.
The years go so quickly; I don't even realize all the stops I've made along the way until people remind me.  My career took off when I moved from Minneapolis, Minnesota to Los Angeles. This has been my home for 26 years. From moving here I have been able to hook up with the artists and the tours, like Bette Midler, George Benson, Anita Baker, Al Jarreau . . . those were my big four.  That spanned about 10 years or so until I got my own recording deal in 1978 at Capitol Jazz Records and did three albums with them.  From there I went to Atlantic Jazz and did seven more [albums] there.  I also recorded with the Three Keys record company.  I have about 14 CDs from that whole time. That has allowed me to go out and tour as a solo artist.  I did back up other people or act as a Musical Director, but nowadays I don't have time for that anymore.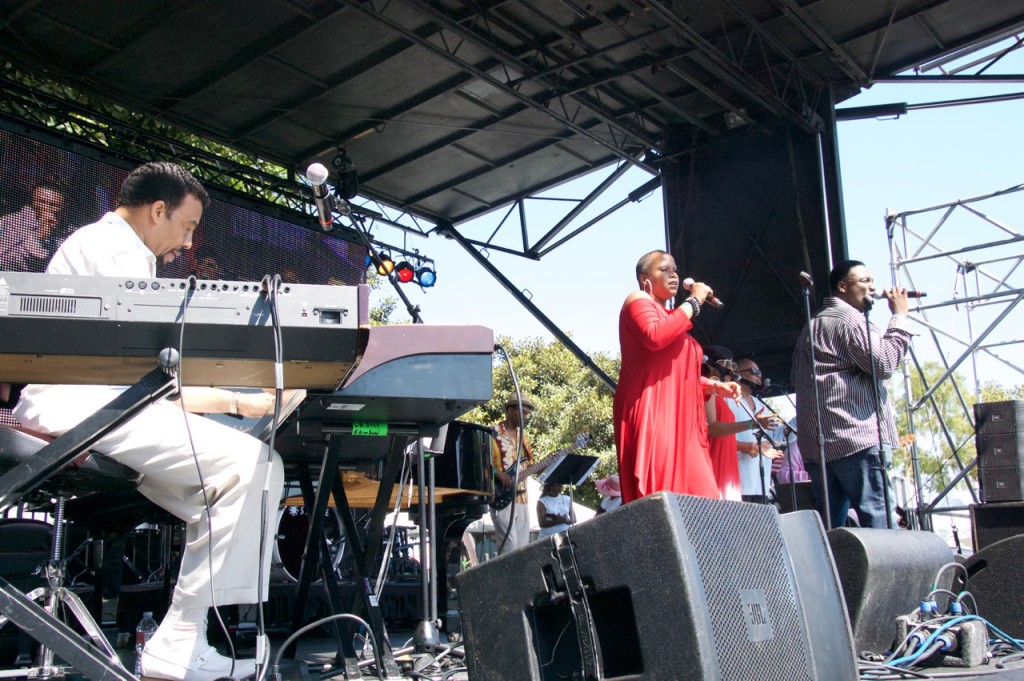 Talk about what you are doing this summer.
I am in and out of town.  I've hooked up with some promotors in Houston, Texas, where I now live and we are aiming to bring more of the jazz artists into Houston.  We are going to do Bobby Lyle Presents and then we will bring in artists like Najee or Gerald Albright, etc.  I will still play occasionally there.
What venue might this take place in?
They are kicking around a few venues like Verizon Theater in Houston or Discovery Green Park.
That's very exciting.  Bobby Lyle will be bringing in all these fabulous artists to play in the Houston area.
You can go to my website Bobbylylekeyboards.com and that will keep you up to date on what I am doing.  Also, people can find me on Facebook [and follow me on Twitter], too.
Any music that you would like to talk about?  You played some of your songs today. They sounded great.
What I'm doing now is composing new music, and I'm also recording a solo piano album, which I have not done since the 1990s.  I'm also working on another group album.  My goal is to get both of them done by the end of the year.
When you are recording your solo piano, will it be on acoustic piano?
Yes, an acoustic grand piano.  That's my heart and favorite sound.
I read that your father was a sports writer.  
He was an editorial writer.  He loved sports but he wrote editorials and had his own byline.  He wrote for the Minneapolis Tribune.
How did you get interested in music coming from that background?
I came from a musical family. My Mom played the organ. She was actually my first piano teacher. I took formal training after that all the way up to college. I had a music and journalism major back in college. I still had it in my mind to do that newspaper thing. But finally the music bug bit so hard I said, "Okay, okay. I choose to be a musician."
For Bobby Lyle, that choice was absolutely perfect.  His multifaceted career as a pianist, recording artist, composer, musical director, and teacher has continued to entertain jazz fans worldwide.
(All Photographs by Sheryl Aronson)
Agenda Bloggers: Written by Sheryl Aronson for "Arting Around" | Want to comment? Login/Register here.