Thursday, January 19, 2017—the First Day of NAMM at the Anaheim Convention Center . . .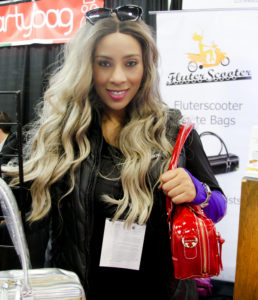 As I entered the showroom floor, I was frozen in my tracks when I saw a rack of gorgeous handbags—they were functional, fashionable, flute bags. The patent leather, red flute bag was calling me, and I had to have it. I bought it on the spot! I told Andrea Fisher, the designer/creator of these heavenly bags, that I was very interested in knowing more about them.
I have been playing the flute my whole life (since I was nine) and I realized I never gave it a second thought to use anything other than the original case my flute(s) had come in. How could I have not investigated the options of fashionable, functional flute bags? Even musicians should have a bit of pizzazz when it comes to their gear. Andrea Fisher's designs range from eye-popping to subtle to "blingy." These flute bags are gorgeous, and I intend to show mine off at my very next performance.
"We bring functional and edgy couture to music accessories. We offer Fluter Scooter to any flutist who wants to look fashionable." —Andrea Fluter Scooter Fisher
Interviewed by Kaylene Peoples
Responses by Andrea "Fluter Scooter" Fisher
How did you start designing flute bags?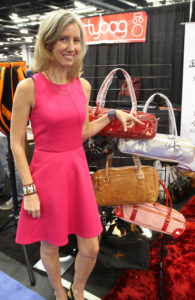 The flute bag business is about six years old. I actually started it because I wanted a fashionable flute bag just for myself. Because I was going to a lot of hip-hop sessions in New York after I graduated, and I looked really nerdy with my black and orange band bag. I felt like a band geek; and I was working with all these cool people. Like I actually worked with John Legend, 50 Cent, etc. So I was going in with this nerdy bag. I always rode a scooter to all the sessions I did. And I was carrying my flute in an old yoga bag. I had a fashion designer friend make me up a mock-up of a sample (the silver bag), and I wore it all the time. It became my thing. One of the producers I was working with coined the phrase 'fluter scooter' because I always had my flute with the bag in the back on my scooter.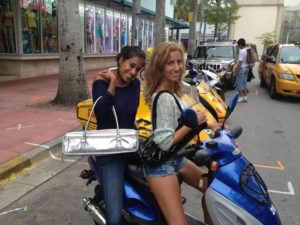 I was going to a flute fair in New York and these teenagers stopped me before I could get in, wanting to know where they could get my [flute] bag. I told them, "You can't, this was made for me." Then it hit me—maybe I should do this as a business. I had just graduated from Julliard and I didn't really know what I was going to do yet. It just evolved into this and kind of took legs from there.
Wow, before I get into the design, tell me about your fluting?
My undergrad and grad school are from Julliard, and I still work with a lot of hip-hop artists. I was on Rick Ross's second to last album. I worked with and toured with John Legend; I have mostly worked with producers playing flute and vibes. I played with Ian Anderson of Jethro Tull, but right now I am concentrating on solo stuff . . . back to classical. I produced a whole show in Japan with holograms of myself in Tokyo a few years ago. So I like using cutting edge technology.  I just recorded a meditation and feeling album. I do a lot. I don't really have any barriers. I play a lot of ethnic flutes as well.
What types of flutes do you play?
I'm a Powell flute artist. I play a Powell flute, piccolo, and have an alto. (I also play Indian, Japanese, Javanese, Native American flutes, Chinese flutes, etc.) I like doing a lot of contemporary music, but putting my own spin on it. I like using live art.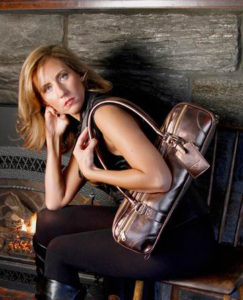 Okay, well now I understand the why the flute bags! Tell me about the construction, textiles, and inspiration of your designs?
Originally it was just for flute, and I kind of worked from a sample. This industry, getting the right factory to work with is key. It took me a while to actually find that and get the construction the way I wanted it. I have two straps inside, which actually are there for two reasons: They hold the flute nice and snug so it can hold a variety of cases; and the piccolo can also sit on top. There's also an outside pocket, which is really roomy, where you can put anything from cleaning rods, swabs, your cell phone, keys, and your wallet. Some of them have additional shoulder straps like the red patent leather bag you have; some people like to wear it across their shoulders. I also started designing bigger bags like backpacks and messenger bags, and a gig bag, so people can keep sheet music and laptops, iPads, because everyone's reading off of iPads now. And I just branched out to clarinet and oboe bags, because they have to look fierce, too!
How long have you had your business?
Six years.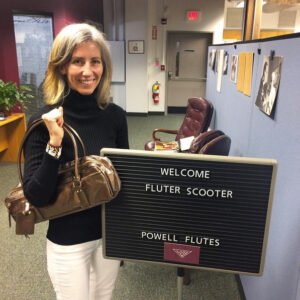 Are you cornering the market on the bags? Are there other companies?
There are other companies, but I like to say that I'm in my own category. I do something that is not just functional, but extremely fashionable. Most things are just really functional and boring. I wanted something that was going to be like a handbag.
Because I am a "fashionista," I saw a silver bag (at Powell Flute) last year, and all I could say was wow.  At the time it wasn't available for purchase. Is that Fluter Scooter, too?
I did a bag for their Sonare Flute anniversary, which was a copper color.
I remember thinking, "This is amazing." I've been using the same case, and never really saw anything I wanted to purchase. I love the design. You have a good variety.

I have 20 different colors, and a lot of different fabrics, including suede and leather.
How can people find Fluter Scooter?
I have a huge social media following among flutists. I go to all the flute shows in the flute world. I have 30-40 dealers in this country, and internationally I have distributors in Japan and Europe.
---
Fluter Scooter prices range from $60.00 – $300.00.  For more information, visit www.fluterscooter.com.  You can also find Fluter Scooter dealers at www.fluterscooter.com/pages/dealers.   Fluter Scooter's social media links: Facebook/fluterscooter, Twitter/fluterscooter, and Instagram/fluterscooter. (Images courtesy of Andrea Fisher.)
Have something to say about this post?  We'd love to hear it!  Login/register to comment.
Agenda Bloggers | Fashion Talk by Kaylene Peoples