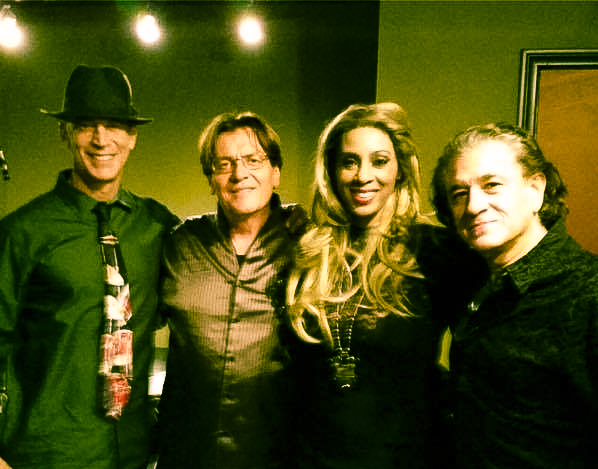 On the evening of December 3, 2016, Kaylene Peoples performed a Romantic Bossa-Nova concert in the cozy atmosphere of The Mouse House Studio, located in Altadena, CA. The wooden high-beamed ceilings created a cathedral feel, while her five-piece personnel accompanied her that evening. Forty chairs brimming with guests dressed in holiday fare completed the "kick-off," very private, very exclusive holiday celebration; and each guest  awaited this Romantic Bossa-Nova night with great anticipation.
The musicians that evening were: Kaylene Peoples (vocals and flute), Bunny Brunel (BBEUB Bunny Brunel Electric Upright Bass), Joe Calderon (guitar), Leon Bisquera (grand piano), Bryan Cabrera (drums), Pete Korpela (percussion); Chase Masterson (vocals) and the legendary Dave Pell (tenor saxophone) were special guest performers.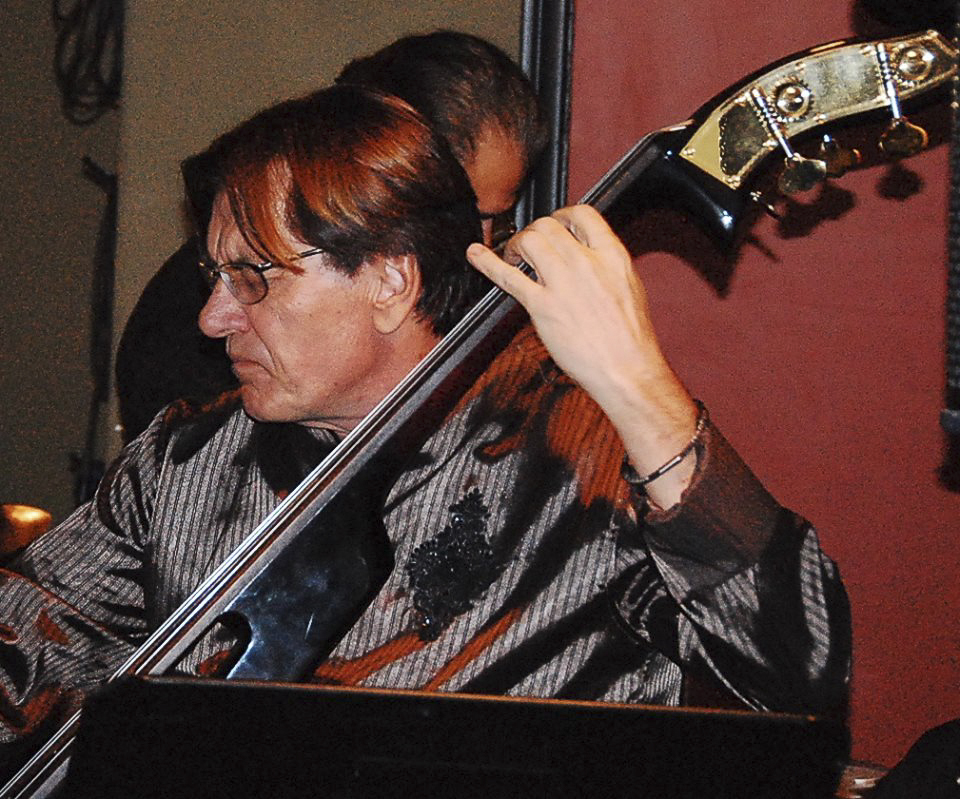 Warming up the audience, Grammy-nominated virtuoso Bunny Brunel was featured as the band played a selection of straight-ahead music ("Stella by Starlight," "Someday My Prince Will Come," "Dolphin Dance," and "On Green Dolphin Street"). The stunning Chase Masterson, adorned in a red gown, set the stage with "Fly Me to the Moon" and "Sway." Dave Pell soloed beautifully on both selections.  This was the perfect opening act.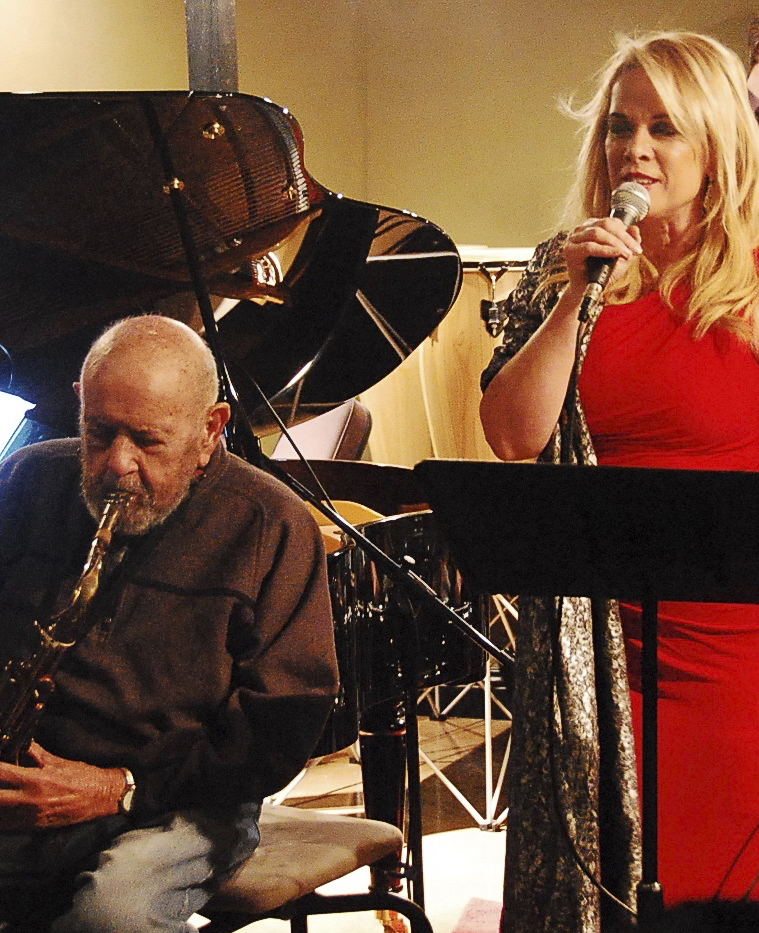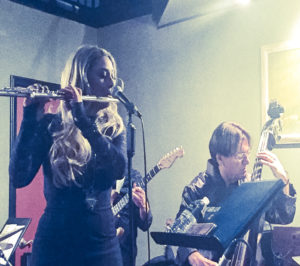 Kaylene Peoples took center stage with flute in hand, and without further adieu, exquisitely sang and played flute on Antonio Carlos Jobim's "Once I Loved"; the piece was dreamy and the perfect opening for her set. The gorgeous love ballad "How Deep Is the Ocean" had a tasty flavor with a serious "Bossa" beat.  Spicing up the evening's festivities, Kaylene debuted new material,  including "Berimbau" in Portuguese. (Each word sounded fresh and alive as she articulated the lyrics.) We were also treated to "Besame Mucho" in French; and with Dave Pell sitting in on sax, Kaylene performed "Quiet Nights of Quiet Stars" sung in English and Portuguese. She ended her Portuguese serenade with a Bossa favorite, "Girl from Ipanema," sung in both English and Portuguese.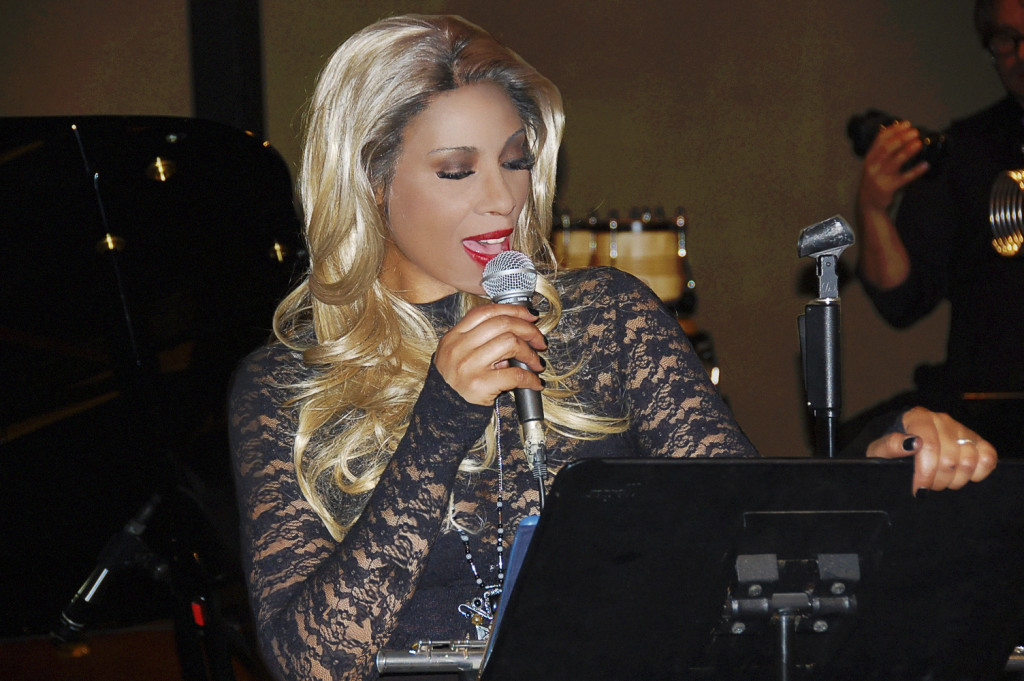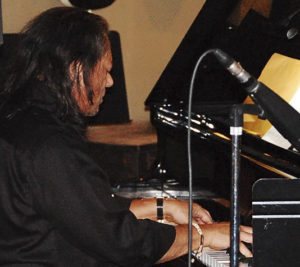 The musicians executed these Latin classics with agility. For two more songs, Dave Pell entertained us with his solos. Bryan Cabrera on drums was steady the whole evening with his cool, Latin beats, while Pete Korpela complemented with the colors of his percussion. I was impressed by Leon Bisquera's complex, sensitive playing—a very distinct sound with subtle phrasing. Joe Calderon on guitar displayed sophisticated " Bossa" rhythms and hint of flamenco on certain tunes, creating an inescapable, romantic mood; and with intricate rhythms on the upright electric bass, music director Bunny Brunel led the band.
Statuesque with her blonde locks flowing around her gorgeous face, Kaylene blew from her flute magnetic, powerful riffs all evening long. She enchanted everyone with sexy, soulful vocals, and even surprised us with ferocious, impressive scatting.
Ending the evening with a complex, intricate composition, Kaylene and her band impressed us all with Chick Corea's "Spain."
Kaylene Peoples . . .

"I wanted the evening to be an enchanted, blessed experience for all who attended."

A Guest at the Show . . .

"There's just no substitution for great playing,  This was a special evening for me, being able to see performers of legendary status perform in such an exclusive setting."

Dana Cody Sirotnak, a Guest that Evening . . .

"I was shocked to learn I was actually sitting next to Dave Pell. And when he got up to perform, watching him play, watching Bunny Brunel play . . . all the performers up close like that . . . it was a treat.  I'm looking forward to the next show."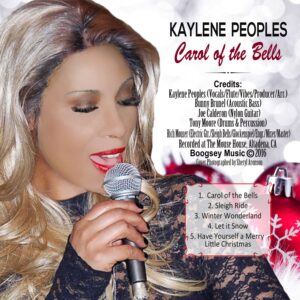 The final surprise that night, each guest received a gift bag with a surprise that contained Kaylene Peoples's unreleased holiday single "Carol of the Bells."
"I wanted to do something special for my appreciative audience . . . something exclusive. What better way to get them in the holiday spirit by giving them a preview of an unreleased EP. . . I am really looking forward to doing more of these private shows," states Kaylene Peoples
Check out Kaylene Peoples Carol of the Bells EP  for this holiday season. The 5-song Latin-influenced EP features Bunny Brunel, Joe Calderon, Tony Moore, and Rich Mouser. Visit www.boogseymusic.com for more information.
(Lead Photo by Sheryl Aronson)
Agenda Bloggers: Written by Sheryl Aronson for "Arting Around" | Want to comment?  Login/Register here.