On September 24, 2016, I watched Terry Steele perform a legacy show in honor of one of my favorite vocalists (Luther Vandross) at the Holden Theatre in Los Angeles. Steele is the singer/songwriter responsible for the Grammy-winning single "Here and Now."
After I heard about this upcoming legacy performance, I immediately contacted Terry Steele and requested to cover his show. I can recall marveling at Luther Vandross's divine, heavenly voice that used to flow like honey. That voice conjured up images of love. And Vandross's artistry came through with his intense vocal acrobatics. It has been 11 years since Luther's passing; and Terry Steele revealed to me, right after his performance, that there were so many artists whom he felt were of legendary status . . . but unfortunately some of those artists slipped through the cracks. In this instance, Steele is determined to keep Luther Vandross's music alive.  And he does just that with his performance!
How did the song "Here and Now" come about?
At the age of 17, Terry Steele's pastor requested he write a song for his daughter's wedding . . . the song he wrote was "Here and Now." I was surprised to learn at such a young age that this gifted artist could understood the dynamics of love so deeply.
"The lyrics were based on the love story of what I perceived of my parent's marriage, and the love they shared. I was brought up in a Christian, loving home. I never saw my parents argue or fight. I was raised by the example that we as men [are to] respect women, love them, and treat them like queens. That was in my head when I wrote the song. That was my example of what real love and marriage is all about."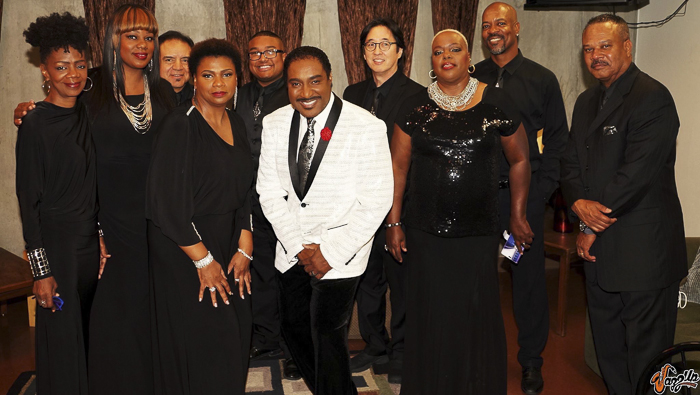 How did Luther Vandross come to record "Here and Now?"
"I was at the house of my Godmother (Dionne Warwick). Her son David and I were fooling around in the basement, playing music; and I asked him to listen to this song I had just written for my pastor's daughter's wedding. He heard it and said it would be really good if I put a little groove under it. Then Dionne, being the proud Momma, took it to Luther, and Luther liked it," responds Terry Steele
"Here and Now" earned Luther Vandross his very first Grammy for Best Male R&B Vocal Performance. Terry Steele attended the Grammy's with Luther, and Luther who gave him a very unique present. During this concert, Terry told the audience about this experience with Luther firsthand.
"Luther called to congratulate me. [He then] asked me what I was wearing to the Grammys. He then said, 'I'm going to have my designer make a special jacket for you to wear.' Terry was wearing that very jacket at the concert, but jokingly said, "It was double-breasted back then. It's single-breasted now."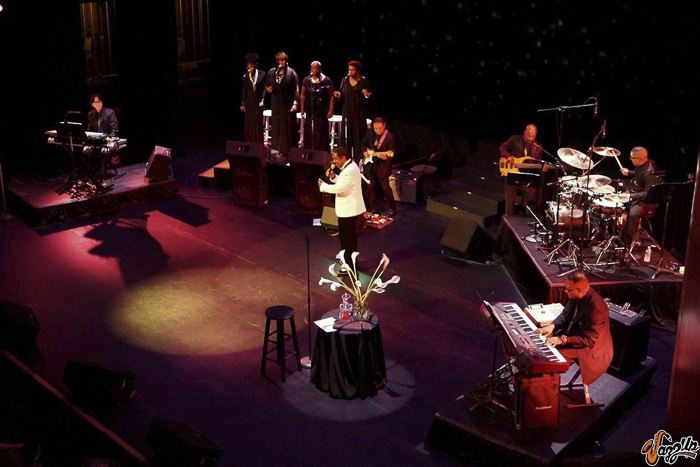 From the moment the lights dimmed at the Nate Holden Theater, a hushed anticipation swept across the hall with a profound reverence. Musical director TC Campbell played those oh-so familiar chords from Luther's signature cover song "A House Is Not a Home," and quickly became a tribute of beloved hits from some of the most romantic singers of all time. It made my heart beat with joy. Terry Steele worked his own magic with his powerful, unique vocals—he never tried to be Luther Vandross. With each recognizable song, Terry weaved a spell on us with his rich, exquisitely in-tune voice. His backup singers complemented him perfectly with colorful, beautifully executed harmonies, accenting Terry's trademarked, soulful vocal style.
"Some people might think I'm trying to be like Luther or capitalize on that. But that's not where my heart is on this. There's only one Luther Vandross. It's just the songs I know, and the way they make me feel. In delivering the music, I have to be true to what I feel about it. So I take into consideration how he sings them and how he presented them. But I have to make them my own." – Terry Steele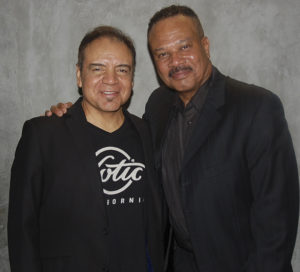 For the two full hours, we were enchanted by the stellar legacy of Terry Steele and his all-star band, which consisted of the following: TC Campbell, Noriko Olling, Cecil Thomas, Michael Angel Alvarado, and Daniel Campbell; including backup singers Janet Moore, Francine Pattie Howard, and Vonciele Faggett.
When it was time to sing Luther's most popular duets, Terry brought out veteran vocalist Peggie Blu (who had performed live previously with Luther Vandross). Blu's voice added beautifully to the combination with a siren-like quality, and we journeyed through the beautifully executed romantic ballads including "If this World Were Mine"
At times the audience shouted their appreciation for Terry and the band's delivery of their favorite tunes; and there were moments when the audience got up and danced to the smooth rhythm of the music. Terry didn't wait until the end of the night to sing his song, "Here and Now." I sat there mesmerized. The chorus captured the heart of what lovers want to hear and feel throughout eternity.
"Here and now

I promise to love faithfully

You're all I need

Here and now

I vow to be one with thee

Your love is all I need"
Terry Steele put his own stamp on the evening's performance. Although I'm sure Luther Vandross's spirit was smiling down at him, knowing his legacy was safe and secure.
"There is one thing Dionne [Warwick], Luther [Vandross], Whitney Houston, and Patti Labelle taught me—that you take a lyric and you have to make it real for yourself, even if it's someone else's song . . . even if you are paying tribute."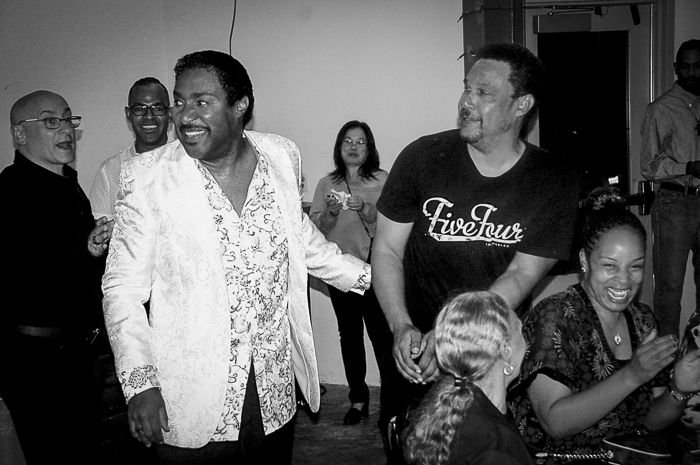 I asked Terry what he would say if Luther Vandross had been sitting in the audience that night. He responded, "I would say thank you to Luther. That gratitude and thanks go beyond just recording my song. Thank you for the years of music that you've given the world and allowed us all to feel a little better. Thank you for sharing the Power of Love."
"I've written a couple of songs for Patti LaBelle, "You Saved My Life," which went Gold (and it was produced by Aretha Martin). I've written for Whitney Houston, and Dionne Warwick did a duet, 'Love Will Find a Way.' I've written for Hiroshima", continues Terry Steele
Why now, the Luther Vandross Legacy?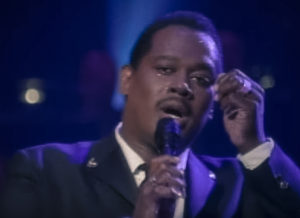 " . . . This is a good time especially with the new generation. He's left us now for 11 years, although it doesn't seem like it. There's a whole new generation that doesn't know his music or where R&B stems from. A lot of licks and singing things I hear on new records, those were things Luther did that and Aretha Franklin. I don't want us to lose [Luther's] memory and the legacy that he left here. There are so many people doing Frank Sinatra, Elvis . . . I don't want his music and talent disappear."
Terry Steele has a residency at the Wren Brown and Ebony Repertory Theater for a six shows over a three-month period. Steele will be performing at the end of every month, including a Christmas performance. He will be releasing his CD "Here and Now" sometime next month.
For more information on Terry Steele's tribute to Luther Vandross, contact the Nate Holden Theatre, located at 4718 W. Washington Blvd. Los Angeles, CA 90016. Call 323-964-9766 for Ticket information.