When I think of the word "jazz," I admit my heart strings are first pulled when listening to the cool, hip sounds of Duke Ellington, John Coltrane, Miles Davis, Ron Carter, Herbie Hancock, Tony Williams, and the list goes on. The record labels, GRP, Columbia, Blue Note, Verve, Atlantic come to mind as well. I grew up in the 70s and 80s, and jazz was still tied to its beginning roots; however, rock, funk, and soul were now being infused into the mix because of the 60s Revolution in music. A respect for what came before filtered through the creations of these cutting-edge musicians who were now trying to put their own stamp on the modern day jazz melodies (and amplified sound). Back then the term for this type of music was called "jazz fusion," which helped create our contemporary jazz styles today.
On Memorial Day Weekend at the annual KSBR Birthday Bash in Mission Viejo, California, I was able to interview the three musicians Najee, David Benoit, and Brian Bromberg. Each artist exemplifies this era in the history of jazz, while at the same time remaining current and popular with fans during their own evolution. Each musician's background steps profoundly into their home: straight-ahead jazz . . . and this is their foundation.
---
Najee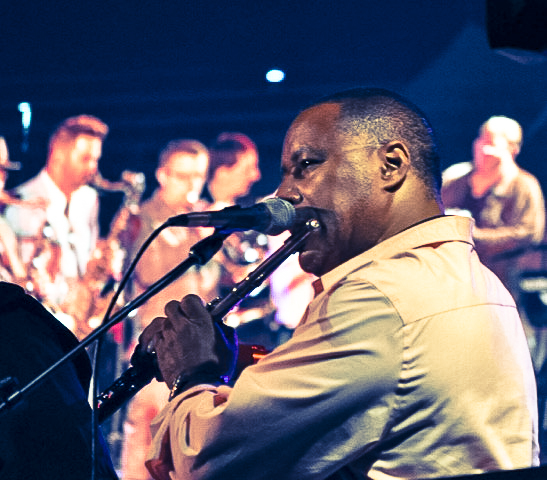 At the KSBR Birthday Bash, the musicians do not know with whom they are jamming until all the players arrive. Nor do they know which composition they will be improvising. Najee was delighted to be playing with David Benoit that day.
"I got to play with David Benoit. We've never played together before. Our set was totally spontaneous. I told him, let's play "Giant Steps" . . . he looked at me for a moment questioning my choice, but soon we were grooving to it. Of course he played amazingly with just the prompt of a few chord changes."
Then Brian Bromberg asked Najee to sit in on his set . . .
"I was surprised that Brian wanted me to sit in with him, too. At the Birthday Bash when we're jamming together, we never know what's going to happen. Someone calls a tune, and we all start to play and that's it. That's what being a real musician is all about," continues Najee.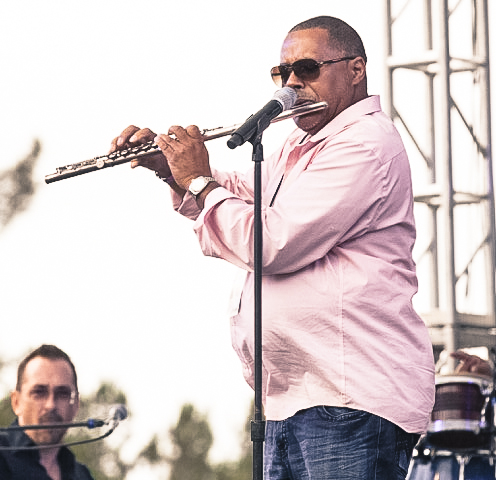 Najee studied at the New England Conservatory of Music in Boston back in the 1980s. An illustrious crowd of musicians surrounded him, not only on his campus, but also right around the corner as well at Berklee College of Music.
"We all played together (the Berklee and the conservatory students). Nelson Rangell was one of my classmates, and on the Berklee side were Walter Beasley, Brandford Marsalis, and Eric Marienthal. New England Conservatory of Music had a very strong jazz department. I went there because of the legendary teacher Joe Allard, who taught Michael Brecker, John Coltrane, and Eric Dolphy," Najee comments.
Najee was influenced at an early age by listening to his mother's recordings of Miles Davis and other legendary American jazz artists. In his heart, he knew he wanted to be a professional jazz musician.
"As a kid growing up in New York City, I would have never thought I would get this far making a living at what I love to do." –Najee reminisces.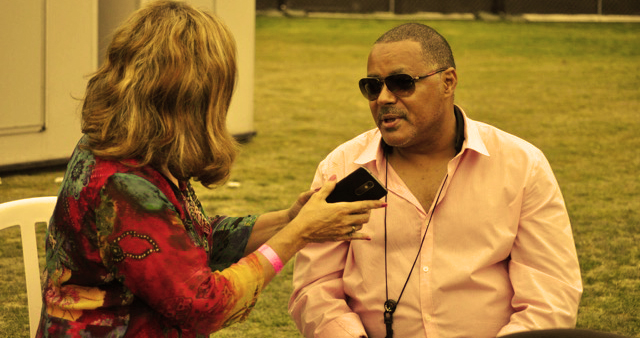 In high school, Najee studied jazz as a student on the Jazz mobile program (co-founded by Dr. Billy Taylor) where he perfected his skills on tenor saxophone and flute. He told a funny story how he picked up the flute.
" . . . my saxophone on Christmas Eve was stolen, so all I had was a flute. What I thought was my misfortune ended up becoming a great blessing!"
Thirty years have now passed since Najee developed a solo career. He has put out seventeen CDs and produced a new CD within the last year titled You, Me, and Forever. He has been touring the world with his own band, and doing some dates with Regina Bell, Chanté Moore and Melissa Morgan. He just released a second single from his new CD, featuring Frank McComb playing keyboards.
"Jazz is subject to whatever the culture is going through at the time. As it has changed, jazz still holds on to its roots in the past century; but the culture has the main influence. However, I have to play some straight-ahead. That's my love. I can't just do contemporary jazz and R&B." –Najee on the Future of Jazz
---
David Benoit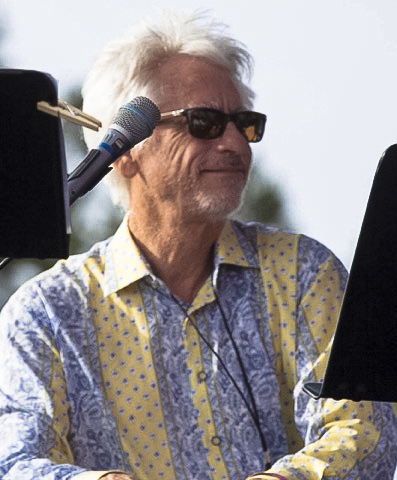 David Benoit's career started off in Los Angeles as Lainie Kazan's musical director in 1976.
"I worked with Lainie Kazan as her conductor for many years. She likes to say 'I taught David how to conduct.' I started off as her rehearsal pianist, then she threw me into the fire," David Benoit muses.
Benoit also performed the same role for Ann-Margaret and Connie Stevens.
Benoit received a recording contract from GRP Records and in 1987 made Freedom At Midnight, which hit #5 on Billboard's Top Contemporary Jazz Albums chart and rereleased This Side Up (previously 1986) on the same label.
1989's Waiting for Spring made it to #1 on Billboard's Top Jazz Albums chart and Shadows from 1991, made it to #2 on the Top Contemporary Jazz Albums chart.  Out of respect for Bill Evans (one of his main influences), Benoit dedicated his 1992 album Letter to Evan.
David Benoit talked about some of his influences on the piano.
"My sound developed by listening to several different people like Ramsey Lewis, Sergio Mendes, Oscar Peterson, Bill Evans, and Horace Silver. However, I never went to music school. Maybe in a sense I broke some rules, but in the process learned my own individual style."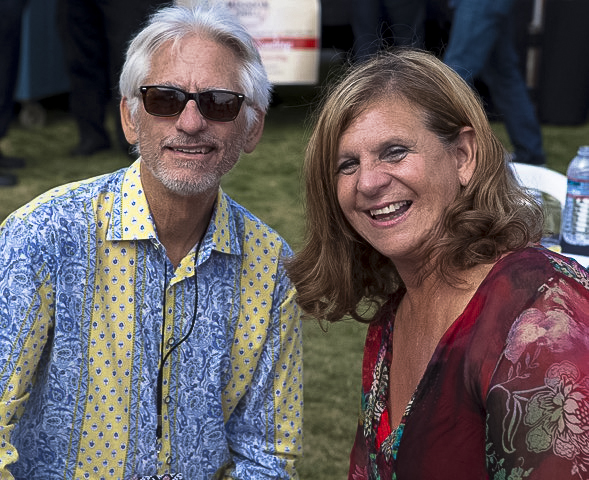 One of his most popular works was Vince Guaraldi's "Linus and Lucy," which Benoit recorded in 1985 for the album This Side Up. This work seemed to play a big role in helping to launch the smooth jazz genre. David Benoit talked about how music changed in the 80s.
"Back then it was called jazz fusion, and my colleagues were musicians like John McLaughlin, Lee Ritenour, Pat Metheny, and many more. 
Benoit continues . . .
My Grammy nomination for the album Every Step of the Way (1989) was in the category of Best Contemporary Jazz Performance. This was a new category in jazz back then. I was in on the beginning of the 94.7 The WAVE when they were developing the contemporary jazz scene."
After forty years as a composer/musician/musical director, David Benoit has earned three Grammy nominations, recorded 37 albums, and has performed for Presidents Bill Clinton, Ronald Reagan, and George Bush, Sr. Here's what the veteran musician is most excited about now.
"Two weeks ago I premiered a new work of mine with an orchestra, boys choir, and solo piano. It's a six-minute story about bullying in schools… a little mini opera. I debuted that on May 15th at the James Armstrong theater in Torrance. I got it recorded too, and that was challenging."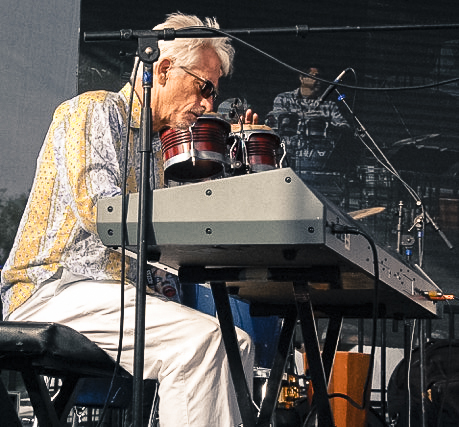 David has put out two CDs in the last year, and a Christmas CD back in December of 2015. The master keyboardist just finished his first all-acoustic, solo piano album. In fact, Benoit stated very firmly that playing an acoustic instrument is the only keyboard he's interested in touching.
"There is a huge difference between acoustic and electronic keyboards. I have drawn the line in the sand. In smooth jazz you don't hear an acoustic piano at all. I love the tone, the vibe, and it's the best way to express myself with the most emotion I can get from the real instrument. It's the relationship between the hands hitting the hammer, striking the strings . . . it's the whole process of how that's created.  It's something about this process; about getting the feedback (he pauses) I love."
"As I've gotten older, I just started doing the stuff I really want to do. I am getting away from the format and am experimenting with some new things," David Benoit concludes.
---
Brian Bromberg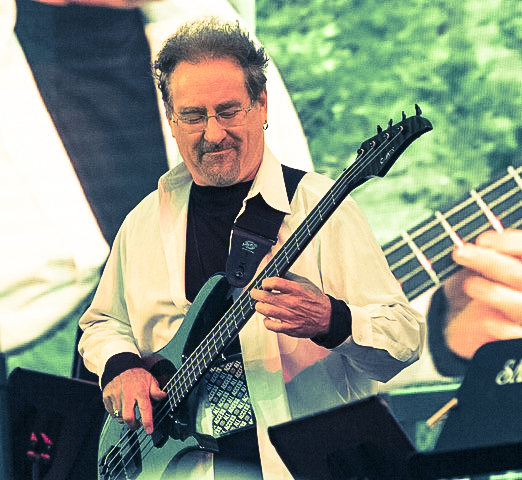 Brian Bromberg feels he has come full circle in his career, his life, and with the music he loves the most . . . jazz. Oddly enough, this is the title of his newest CD release, Full Circle.
"The reason it's called Full Circle is because I started my musical career as a drummer; and once I found the bass, I stopped playing drums. The bass then took over. Due to life experiences, I started playing drums again recently, and I play the drums on the record as well; so this makes it a full circle."
There are a few more poignant reasons Bromberg came up with the name Full Circle. He hasn't released a CD since 2012 as a result of a terrible accident where he broke his back. He went through years of excruciating rehabilitation with his wife by his side to successfully achieve the goal to be able to play the bass again–another full circle. Finally, Bromberg talked about how his father Howard Bromberg had played the drums as a soldier in the air force; and how Brian had some old recordings of his father playing with his band. His story was touching.
"My father was a drummer and did a recording with some of his air force buddies in Tucson, AZ, but there's no bass on it. So I took his recording and played bass with my father on my new CD; so technically I'm playing with him now . . . before I was born. That starts and ends my full circle."
Playing with his father also started Brian playing the drums again.
"I know now where I got my feel for rhythm," states Bromberg.
Beginning his musical training on the drums, Brian switched to the bass at 13 years old. By the end of high school, he gigged five to seven nights a week with various bands—shortly after that, Brian was discovered by Marc Johnson, the bassist for Bill Evans. Johnson was impressed when he heard Bromberg's passionate bass playing. He then recommended Bromberg to saxophonist Stan Getz, who was looking for a new bass player. Getz hired him; and only six years of him picking up the bass, Bromberg, at 19 years old, was touring internationally with Stan Getz.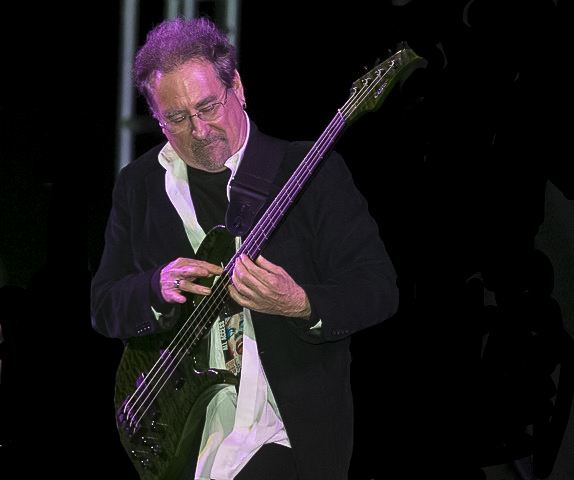 Brian Bromberg incorporated in his musical style sounds from the 70s-80s rock, funk, and soul. He hit the smooth jazz market in the late 80s with albums such as New Day and Basses Loaded.
"I came from the same era when jazz was starting to evolve into the funkier and rock side with fusion. However, even though I gravitated in the direction of more funky, I still had my feet wet in the old direction. For me, listening to Miles Davis, there was nothing better in the world; but I also loved Jimmy Hendrix and Led Zeppelin," reminisced Bromberg.
Never straying too far from the original roots of jazz, Brian found himself straddling both worlds of straight-ahead and contemporary jazz quite successfully. In 1991, he put out a trio album entitled It's About Time, The Acoustic Project. This is an acoustic jazz record that rose to #4 on the mainstream jazz charts. Here, Bromberg teamed up with Freddie Hubbard on trumpet and Ernie Watts on sax.
Staying innovative, whether he used his craft on the strings of the acoustic or electric bass, Bromberg reached high levels of success with 21 diverse albums. On this particular evening, Bromberg glowed with excitement at the prospect of jamming with Najee and David Benoit. With his original series of a B2 emerald green bass in hand, he was ready to hit the stage with his lightning fast rip-roaring plucking that sends shivers up my spine.
"My wish is that the legacy and respect for the arts with different genres and styles will continue to grow and evolve. If you look at the rock bands in the 70s, these guys were throwing it down and jamming; it changed the world. I think all of it might be gone . . . so I feel fortunate to have experienced that in my world. Artistry is artistry; but you have to respect where you came from, and help the next generation keep it alive."
Brian Bromberg then took the stage with his two comrades in jazz: Najee and David Benoit. And together they entertained the audience with their own legacy, rooted in the past, yet blazing with a modern day, piquant sound.
Agenda Bloggers: Written by Sheryl Aronson for "Arting Around" | Want to comment?  Login/Register here.