P Boutique on Sunset: A Fusion of Art and Fashion
By
Elana Pruitt
| May 1st, 2010 | Category:
Articles, Interviews and Reviews
,
Fashion
|
No Comments »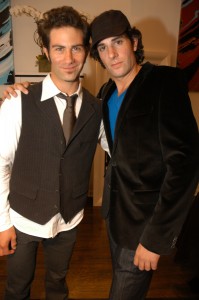 The new, exclusive P Boutique on Sunset Boulevard proves that fashion is certainly not just for women.  Situated in a 1920s historic building that gives off the Soho vibe many LA natives may desire, P Boutique caters to men and women who thrive on quality, couture, and creative fashion.  The store's launch party went down in October 2009, attracting fashion-savvy shoppers everywhere.  The grand opening featured collections of artwork from Cosandra Callowway, Jessica Gottschalk, and Gianni Falcone, as well as fashion by such designers as 7 For All Mankind, Apolis Activism, April 77, B.Son, Belstaff, Denim of Virtue, Detroit Sprinkles, Ernest Sewn, Feiyue, Gas'D, LNA, Mike & Chris, NDG, Nom De Guerre, Rag & Bone, Rogan, Wings + Horn, and Woolrich Woolen Mills. P Boutique owners Kevin Landau, Adam Landau, and Martin Pakidah are proud to present a retail experience that fuses art and fashion in an LA chic spot. Kevin Landau speaks out about the development, existence, and ambitious goals of P Boutique in an exclusive interview with Agenda Magazine.
How did the concept of P develop?
P developed because we wanted to provide an opportunity for men to feel comfortable shopping.  Women always had alternatives, but men have been largely forgotten.  Consequently, we originally established a men's store with select women's apparel.  However, we quickly discovered that women were gravitating more to the P construct and desired to be a part of the experience; thus, beginning in November 2009, P became a wholly integrated boutique of both men's and women's apparel and accessories.
The feel of the shop has such a down-to-earth feeling, but with a Soho-like setting. Did the three of you have the same vision for the boutique's aesthetics?
Yes. We have collectively visited just about every continent (aside from Antarctica) and have always been drawn to the culture of New York and elegance of Paris.  LA, being our home, has been the model for growth; and so we were determined to integrate as many concepts as possible to provide a comprehensive experience for our clients.
What does the "P" stand for?
This is a question we get often.  The boutique resonates with people in different capacities, and consequently, they define P as it best relates to their experience.  We wish to offer an experience to our clients that is more visceral, one each individual can feel a part of.  Therefore, the letter P was selected as a universal symbol of purity and progress on an ultimate journey for perfection.  Since P is determined to provide a universal representation of fashion, art, and accessories, we encourage our clients to personalize P and define it in a way that speaks the most directly to them.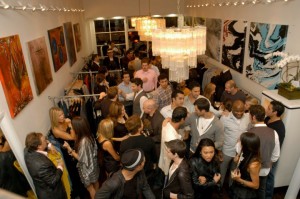 I think it's great that 10 percent of your opening night sales went to the Los Angeles Network of the Susan G Komen for the Cure. What made you, Adam, and Martin choose that specific organization?
Adam and I are brothers and our mother suffered from breast cancer, but has since overcome this terrible disease.  It was a very difficult year for our family, and we are aware that not everyone is as fortunate as we are.  As a result, we wish to give back in whatever way we can.
What type of responses have you received thus far regarding the merchandise you sell?
All positive.  Everyone loves our pieces and designers.  People were anxiously awaiting the delivery of additional women's inventory, which we had in time for '09 Thanksgiving.  Our clients have also expressed their excitement for our upcoming trunk shows for emerging designers, which started in November.  Stay tuned for more dates!
When I spoke to you, you mentioned that some of the art pieces were exclusively made for P. Do you plan to continue integrating artwork with the shop?
Absolutely!  We believe fashion is among the most accessible expressions of art.  Everyone engages in it on a daily basis, albeit some are considerably more gifted at it t
han others.  Nevertheless, fashion remains among a person's most natural and compulsory artistic expression.  Although I dispel cliché whenever possible, one holds true:  "Your body is your canvas."  The way one piece is combined with another is an individual expression.  Since we support the "human" canvas, we would be remiss not to include the traditional linen as well.
Tell me about your decision to bring P to the Sunset Strip versus another hotspot, like Melrose.
Sunset has always been the historical forward-thinking location of LA.  From the Doors to Frank Zappa, Sunset has allowed new ideas to blossom and take form.  Our concept is unique for LA, and while we love Melrose and many of the stores located there, we desired to give LA an establishment that is able to flourish in an environment not resistant to progressive thought, nor encumbered by catering to a transient consumer with a rigid definition of what an LA store is "supposed" to be.
How do you think P will affect the LA fashion scene?
We're hoping very positively.  We have ambitious goals to energize our community on a multitude of levels, and in so doing, elevate the consciousness of consumers, designers, and artists within our city and beyond.
—
P Boutique is located at 8872 Sunset Blvd. It is open Monday through Saturday, 11:30 a.m. – 9 p.m., and Sunday from 12 p.m. – 5 p.m.
Interviewed by Elana Pruitt