Saddle Peak Lodge Restaurant Review – Where the Game Is On . . . the Walls and Your Plate!
By
Marilyn Anderson & Dennis L. Lanning
| July 17th, 2010 | Category:
Inside the US
,
Travel
|
4 comments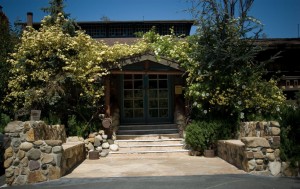 We had heard about the Saddle Peak Lodge for years, but in more than two decades of living in Los Angeles, we'd never been there. So on our way back from Santa Barbara one recent weekend, it felt like the perfect time to stop and enjoy what promised to be a truly unusual dining experience at this beautiful, rustic dining haven, nestled in the hills above Malibu.
Upon entering, you know immediately that it's a special place. The log cabin interior has walls adorned with fancy stonework, mysterious paintings, photos of famous people, and large fireplaces.  It's all of these, but especially the multitude of wild beasts peering down at you from the walls that contributes to the sense that you've just stepped into a deluxe hunting lodge in some exotic, faraway place.
We were seated in the main dining room near one of the fireplaces, warming us just enough on this cool spring evening. The general manager, Josh, described a little of the history of Saddle Peak Lodge to us, all the while ensuring that we were comfortable and happy with our surroundings.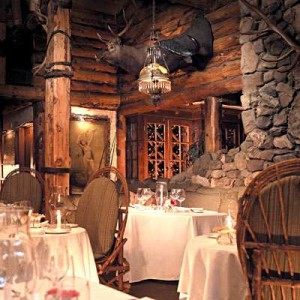 As we perused the menu and sipped a superior Foxen Pinot Noir, our waiter, Bryce, presented us with an amuse bouché – a Demi-tasse of Truffle Potato Leek Soup. The smooth and light essence of its flavors was a preface to the exciting eating adventure that was to follow.
The menu offered a vast variety of unusual meat and game selections. Bryce was happy to help us with our choices by describing them in more detail and telling us past customers' favorites. We were able to try dishes you won't find at the corner diner or even at the best Beverly Hills Bistro!  Most are prepared in a way that very few chefs have the knowledge and skill to employ, but more about this later.
After completing our order and awaiting our appetizers, our waiter surprised us with another amuse bouché. This one consisted of House-Smoked Salmon on Potato Puree with a Dollop of Crème Fraiche and a Sprinkle of Caviar. Just the subtlest of flavors combined into a major taste treat.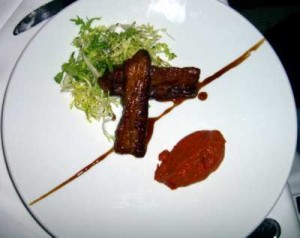 Eyeballing each other, we were starting to wonder just how big this meal would be. Then, Marilyn's appetizer of Sizzling Pork Belly with a sweet/heat dab of Peppadew arrived, and we promptly stopped caring about portion control. Although we usually share everything, after devouring her first mouth-watering, fat-laden morsel, Marilyn was reluctant to leave any of this incredibly aromatic dish for Dennis.  However, her penchant for fairness kicked in, and she saved him one last piece.  Dennis scarfed it down in one bite, definitely wishing he had dived in sooner.  It's difficult to describe something that is so good and satisfying, that you literally feel it, as well as taste it.
The salad that Dennis ordered was the winner of a kitchen contest for "most beautiful presentation." The artistic combination of vegetables, in different shapes and sizes on the plate, was a visual as well as an edible delight, although he wasn't sure whether to eat it or hang it on the wall. After sharing the salad, we were ready to move on to the main courses.
Marilyn loves to be adventurous in eating, so for an e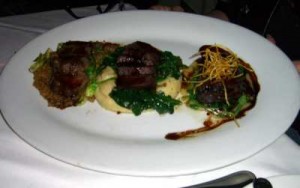 ntrée, she chose the Game Trio, consisting of Antelope, Elk and Ostrich. These are exotic cuts of meat, arriving from specialty purveyors to the Saddle Peak Lodge from all over the country. Think of the complexity of preparing, cooking, and simultaneously presenting three different types of meats, delivered to the table hot, moist and done to perfection.  Most restaurants struggle to get one meat done right.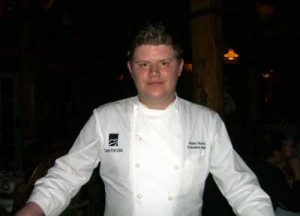 Adam Horton, the 28-year-old chef of the Saddle Peak Lodge, apparently does this with ease many times each night, as Marilyn's trio treat was pure gastronomic ecstasy.
Speaking of complexity, these very low fat meats require a special cooking technique that takes many hours at low temperature to prevent them from drying out. When Adam explained the process to us, it sounded more like a college science class than Cooking 101. Even cooking has gone high-tech, with specialty kitchen equipment required to get it right.
Researching Wikipedia, we discovered that the method, called "sous-vide" was first described by Sir Benjamin Thompson (Count Rumford) in 1799, and much later re-discovered by Georges Pralus in the mid-1970s for the Restaurant Troisgros in Roanne, France. Another pioneer in the science of sous-vide is Bruno Goussault, who further researched the effects of temperature on various foods and became well-known for training top chefs in the method.
Marilyn's fave on the trio plate was the antelope. It was ultra-tender and moist, with an au jus that accentuated it perfectly. The elk was another delectable taste, also tender and moist, much more so than we expected with these extremely lean cuts of meat. Although we have had ostrich burgers before, the ostrich filet at Saddle Peak Lodge was quite different. It was extraordinarily tasty, but somewhat chewier than its other four-legged companions on the plate.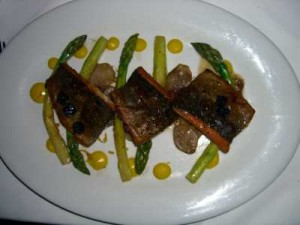 Sounding mundane, but ultimately superb, the Idaho trout that Dennis ordered came surrounded by a lemon puree with sunflower hearts. Sweeter than artichokes, the sunflowers were a nice companion to this excellent dish. Sure, you may be thinking, "Who orders fish at a specialty meat emporium?"  Tonight's trout was a winner, ranking amongst the best we've tasted at any fine Seafood houses for freshness, taste, and moist flaky meat.
Dennis tasted (and loved) Marilyn's meaty melody. Not usually a big meat-eater, Dennis was awed by the flavor and texture of the Elk, exclaiming, "We'll have to come back soon for one of those Elk Filets."
By this time, we were full and ready for coffee. However, Bryce and Adam realized that we hadn't tried one of their "house special" appetizers earlier. To be sure we didn't miss out, they brought us a sample of the Diver Scallops with Black Garlic and English Pea Puree on a Bed of Peas and Sea Urchin Veloutte. We thought we would be polite and take a small taste, but when Bryce came back to the table, he found a totally empty plate and big smiles on our faces!  Scallops are one of Dennis's favorite foods, and he tries them everywhere. These were as fresh and flavorful as if we were sitting on the dock in Digby, Nova Scotia, watching the trawlers unload from the Bay of Fundy.
Now it was definitely time to go!  We would skip the coffee and walk off the meal. However, unbeknown to us, Adam and Bryce had other plans. Dessert!  For each of us!
Oh no, the pain of eating one more bite.  Did Bryce say, "Chocolate something?"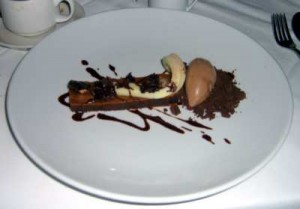 Mmmm, yes!  The Chocolate Textures, consisting of flourless chocolate cake, white chocolate ribbon Grenache and chocolate crumbles, was set in front of Dennis. And the Apple Beignet with an apple-cinnamon dipping sauce was for Marilyn. OMG! Foodie heaven!
After dinner, we took a self-guided tour of the rest of the lodge. A central staircase leads up to the other two floors, where we found smaller, cozy dining areas and private rooms for special occasions. Wall space was again filled with dramatic animal heads and artwork. The top floor of the restaurant is a library, an impressive room where small groups can enjoy the restaurant's special fare, surrounded by the opulence of animal trophies, books, and semi-privacy, while looking out the window at the surrounding countryside.
The Saddle Peak Lodge ranks as one of the most distinctive spots in the Los Angeles area.  Over the years it has been transformed from a rustic campsite to a first-class, award-winning restaurant. Under the tutelage of Ann Ehringer since 1992, her daily presence is an inspiration to the highly professional staff and her guests as well.  You sense it when you arrive and know it when you leave; Saddle Peak Lodge is a special place.
Don't wait as long as we did to enjoy this rare and truly exceptional dining experience. High in the Santa Monica Mountains overlooking Malibu, it's a little off the beaten track, but well worth the trek. Isn't everything that's worthwhile?
Saddle Peak Lodge
419 Cold Canyon Road
Calabasas, CA 91302
818-222-3888
http://www.saddlepeaklodge.com
By Marilyn Anderson and Dennis Lanning