Beautiful Water Color Hues Describes Monique L'huillier's Spring 2011 Collection – A Fantasy of Pure Loveliness
By
Kaylene Peoples
| September 15th, 2010 | Category:
Articles, Interviews and Reviews
,
Fashion
|
3 comments
"This collection came to me in a dream . . . a beautiful girl running through a lush garden—her very own Garden of Eden." –Monique L'huillier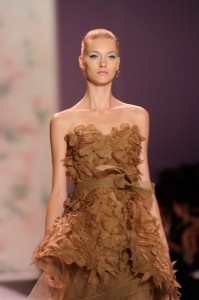 Known for her beautiful bridal gowns and luxurious evening wear, Monique L'huillier's is one show I must make every season.   Ever since I learned of her through Mattel and her beautiful designs for Bridal Barbie™ a few years ago, I have been fascinated with her very consistently pretty designs, most of which I have had the pleasure of seeing firsthand on the New York runway during Mercedes Benz Fashion Weeks.
L'huillier's dream was indeed a fantasy come true.  Her description of Eve's garden was portrayed accurately with her lush fabrics, adorning silhouettes, and soft colors of gold, toffee, blush, ivory, and more.  Her bold color choice "red apple" made a very strong presence.  Her fairy-like prints were memorable, too.  Some of the non-evening looks really stood out as well.  The high-waist trousers showed nicely in shades of cream and toffee.  Overall there were beautiful pencil skirts, jersey and lace corseted cocktail dresses, strapless gowns, and floral printed draped gowns.
"I don't want to wake up.  I'm in a state of euphoria."–Monique L'huillier
This collection was enchanting and pretty.   Any woman wanting to feel more feminine or be the belle of the ball should consider Monique L'huillier's Spring 2011 Collection.  After all, you don't have to be a bride anymore to be a vision of loveliness.
View the Spring 2011 collection.