LA TORRETTA LAKE RESORT & SPA – Montgomery, Texas
By
Marilyn Anderson & Dennis L. Lanning
| September 11th, 2010 | Category:
Inside the US
,
Travel
|
1 Comment »
If it weren't for the drawl, y'all, we would have thought we were in Milano, Firenze, or the Italian Riviera, not Montgomery, Texas. While the folks may be local, this elegant tower on the lake is pure world class.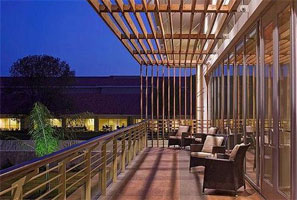 Prominently located on Lake Conroe, approximately 60 miles north of Houston and 140 miles from Austin, La Torretta dwarfs all other hostelries in the area. Entering from the highway is a long driveway, taking you past the golf course, specialty villas, the spa, water park, conference center and Chez Roux to the hotel's modern entryway.  Inside, the Italian influences are obvious in the design scheme. You sense the touches of luxury that Noble House management knows are important for its fashionable clientele.
Checking in was fast and pleasantly handled, and we were whisked off to the villas by golf cart, where we stayed with our dog, Boomer. He loved the proximity to the golf course and the frolicking squirrels teasing him just outside our windows. We loved the views and openness of our spacious quarters. In addition to the Golf Villas, there are Lake Front Villas with private piers for boat travelers. Handy, when carrying your clubs to or from your yacht.
You can also enjoy all-suite Tower accommodations, designed for comfort with 42" TVs, free wi-fi, soft linens, and balconies overlooking the lake. Even in the middle of Texas, a sunrise over the water is an exhilarating experience and worth waking early to see.
For travelers who don't like rising at dawn, the list of activities at La Torretta is practically endless. For the kids, and adults alike, the Aqua Park would be the first stop.
With several pools, a huge slide and "The Lazy River" (a meandering wave-powered stream that you cruise on an inner tube), this is the place for those hot summer days. Poolside chaises and outdoor bars ensure adult delight. When we visited, temperatures in the 30s prevented swimming, water skiing, or boating. Sure, we're spoiled by the Southern California climate, but we didn't see any Texans out there either! Next time we'll bring our wetsuits.
Speaking of water, Lake Conroe's 22,000 acres is a fisherman's haven and La Torretta is a boater's paradise with its own a 300-slip marina and fuel dock. Guests can rent boats and jet skis if they didn't bring their own.
If a day boating around the lake or multi-rounds of golf on the newly redesigned Jeffrey D. Blume course is not enough activity for you, there is the Fitness Center, available to guests 24/7. This is not your typical hotel sweat-room but a full featured 10,000 sq. ft. fitness studio with all the bells and whistles of the best gyms. Dennis liked going in after the incredible meals we ate and burning off some of the calories while watching his inspiration—Governor Schwarzenegger—on TV.
SpaTerre at La Torretta Lake Resort is truly Texas-sized at 17,000 square feet and features 20 treatment rooms, relaxing Shiatsu Massage chairs, and a Zen-inspired garden in the center of the Relaxation Lounge. Marilyn's three hours at the spa included an exceptional Swedish massage and relaxing in the steamy, eucalyptus-filled Hamam afterwards. There are facilities for men and women with services including facials, manicures, pedicures and massages.  A resort special is the couples massage.
The resort features a number of food venues including Prime, Yoi Sushi Bar, Sonata Piano Bar, Énergie, CoCoCove Grill, Mokka Café, Final Putt Lounge, and Chez Roux.
We only had time to try Prime for the breakfast buffet and La Torretta's signature restaurant, Chez Roux. Both are stand-out eateries, and your stay should include both.
The breakfast buffet at Prime exceeded all our expectations with regard to the quality and variety of its offerings, and matches those in the best hotels in Las Vegas, where the abundant, gourmet all-you-can-eat meal has become an art form. Again, this resort feast in the middle of Texas ranks as equal to the best anywhere, and we were overwhelmed with so many delicious and beautiful choices.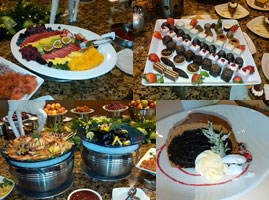 How do you like your eggs? Scrambled, poached, omelet, Frittata?  It doesn't matter; the duty chef will prepare them for you. Do you want Belgian Waffles, BBQ ham, thick smoked bacon, biscuits and gravy, sausage, or chicken-fried pork chops? No problem, it's all there for you. How about a huge just-out-of-the-oven roast beef, dripping in a luscious au jus? Carvers are waiting to serve you. Do you desire fresh fruits and salads brimming over with perfectly ripened blackberries, blueberries, strawberries, mango, and more? Yes, and all may be adorned with fresh cream, real whipped cream or brown sugar.
If you have room for dessert, mosey on over to the table brimming with cakes, pies, pastries, gelato, more fresh berries, and petits fours. All lovingly made at the hotel and all scrumptious. Trust me, we tasted most of them!  The Yule Log Cake was particularly interesting, in that not only was it a delicious treat, it was a festive feast for the eyes. Each piece was adorned with a little tree of thyme covered with sugar to look like sparkling lights, surrounded by snowy whipped cream and cranberry ornaments. A marvelous presentation.
Neither effort nor ingredients are spared at La Torretta's Prime to provide its guests with the best. At $26 per person, it's practically a bargain. We loved it so much we visited for breakfast twice. Gluttonous? Perhaps, but we prefer to think of ourselves simply as bountiful buffet foodies.
CHEZ ROUX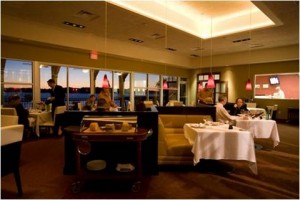 A short walk (or faster golf cart ride) from the hotel sits Chez Roux, La Torretta's entry into eating excellence. A world-renowned chef is not a necessary ingredient to craft a great meal, but if you want to create a world-class restaurant, then having Master Chef Albert Roux's name on the front door ensures the highest status. Our dinner confirmed its place in the upper strata of restaurants.
Cool and calming upon entry, the intimate bar flows into the comfy dining room, with all tables facing the lake, and a deck for outdoor eating. Separating the two areas is the wine room with bottles visibly stacked to the ceiling on metal racks. When seen in reflection on the dining room windows, the image appears to mirror La Torretta in the background.
Taken immediately to our table by Maitre d' Garrets Donavan, we eagerly perused our menus after learning of the day's specials. There is a choice of pricing formulas that includes an ala carte or prix fixe menu. Most entrees are in the $30 range, with a Rib Eye that serves 3 for $96.  The prix fixe includes a ½ bottle of wine and at $65 per person is a real deal for this level of dining.
Garrets brought us complimentary glasses of champagne to accompany the nights amuse bouché, consisting of a zesty mushroom soup served in a demitasse with burnt toasted croton on the side.
Following this tasting, we had the quail salad resting on a bed of greens with pine nuts, asparagus and lardons, dressed with the bird's seasoned juices. Our other starter was Chef Roux's long perfected signature dish, the cheese soufflé of Texas gold cheddar with corn kernel cream. We were told that the Queen Mother of England would come to Chef Roux's restaurant in London especially for this elegant dish. It was light and fluffy, precisely the way a soufflé should be.
We shared fish and fowl entrees consisting of a tranche of cod with mustard roasted fennel, apple and cucumber compote; and Muscovy duck with caramelized parsnip, gnocchi, cabbage and poached apple. Both were stellar dishes, with the duck rating a special quack for its nearly perfect taste and tenderness.
Each course was accompanied by a different wine selected by Garrets for us. We had Champagne, Sauvignon Blanc, Merlot, Chablis, and Muscatel with dessert. His wine choices worked perfectly with our meal choices; and we suggest letting him select yours. Ably served by our waiter, Michael, all our dishes were expertly described and presented with attention to detail required of proper French service.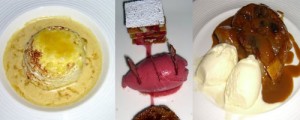 Despite being fully satisfied (i.e., "stuffed"), we had to try their desserts. After all, the dessert chef was waiting for us to complete our meal before going home. We chose the Strawberry Tasting, which is a trio of strawberry treats, with the brulee and strawberry chips standing out. Also, the Apple Tartan ala mode with caramel sauce sure went down easy.
Chef Roux does not do the cooking at this restaurant. In his mid-seventies, Chef Albert was recently in Montgomery checking on the progress of his first American venture. This kitchen is in the extremely competent hands of Executive Chef Matthew Gray, the only Michelin Guide-rated chef in Texas. Hailing from Scotland, he oversees an extremely talented team of accomplished professionals from around the world. Each specialist proved to us that culinary perfection is not luck but a combination of skill, knowledge, experience, and the love of food. They were proud of their cuisine, and we were appreciative for an extremely accomplished meal.
We had the opportunity to meet Chef Gray in his spotless kitchen and watch the preparation of dishes from the "Chef's Table," a private dining area inside. This is also where the Chez Roux cooking school is hosted. The initial classes were fully subscribed, and new courses are scheduled for spring 2010.
If not over-used, then the term "world class" is appropriate for this mid-Texas locale in all respects. You don't have to travel to foreign countries to enjoy international luxury and amenities. It's all right here in Montgomery, Texas.
LA TORRETTA LAKE RESORT & SPA
600 La Torretta Boulevard
Montgomery, TX 77356
(877) 286-9590
www.latorrettalakeresort.com