The Last Operative by Jerry B. Jenkins
By
Lee Peoples
| September 11th, 2010 | Category:
Book Reviews
,
Fiction
|
No Comments »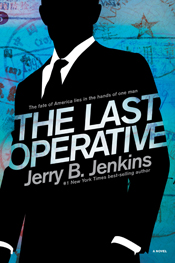 The Last Operative by best-selling author Jerry B. Jenkins is an international spy thriller.  A complete rewrite of an earlier novel, The Operative, it is a story of intrigue, featuring personal conflicts, romance, and betrayal.  The main character's Christian beliefs and practices enable him to deal with his desire for revenge in light of all the personal tragedies and losses he suffers while carrying out his duties as an NSA agent.
Jordan Kirkwood's career as an NSA (National Security Agency) operative has caused him to make many personal sacrifices.  He has spent much time away from his two children, now adults, and his wife Rosemary.  When called away to Frankfurt, Germany, by NSA Chief Stanley Stuart, he seizes this as an opportunity to spend some time with Rosemary.  They plan to meet in London.
As he awaits the arrival of his wife at Heathrow Airport, he is unable to stop thinking of the horrifying intelligence Agent Stuart has confided to him, a threat on the U. S., larger than 9/11.  He can tell no one, as it is suspected someone within the agency is helping Al-Qaeda.  As he watches the passengers deplane and head for customs, his wife of more than twenty years is struck down in what is later learned to be an assassination attempt on his life.
Like good spy thrillers, the plot twists and turns add to the suspense from the very first page. Jordan Kirkwood, the title character, the last operative, has spent the better part of his life as an NSA agent.  This job, of course, has caused him to make a number of sacrifices in his personal life, not least of which has been spending little time with his wife who is now dead and his two children, Christa and Ken.  Ken has always resented his father's absence because of the demands of his job as agent.  Now, news from the past threatens to add to the father/son conflict.  As I did, you will enjoy this fast-moving modern day spy thriller.
ISBN 978-1-4143-0905-7