Breast Augmentation 101: Everything You Need to Know About Breast Enhancement
By
Anthony Heredia
| October 27th, 2010 | Category:
Fitness Couture
,
Health
,
Plastic Surgery
|
5 comments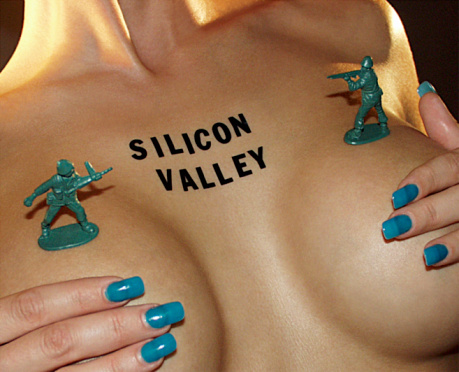 Thinking about some enhancement or reduction and don't know where to start? You have come to the right place, ladies.  Agenda will fill you in on all you need to know from beginning to end. Breast augmentation is actually more popular than ever, tracked as the most performed procedure from 2006-2009, according to the American Society of Plastic Surgeons.  In 2009 1,521,409 cosmetic surgery procedures were performed, and 289,328 of these were—you guessed it—breast augmentations. The increase in popularity directly correlates with how significantly safer, affordable, and socially accepted the procedure has become since its first appearances. The increase in societal pressures for aesthetic perfection is playing a role, I am sure, but make sure a change on this level is well thought out. The stigma that we should all be happy just the way we are, accepting our lives and bodies as is has not been a favorite of mine, and I respectfully disagree. Let me be clear that I am not promoting that all woman and men should undergo cosmetic procedures towards societal standards of perfection, but I do feel healthy self esteem and self respect is incredibly important to a fulfilling life. Enhanced nutrition and fitness go a long way in dramatically changing the shape and feel of our bodies, but I will admit that these do have their limits in comparison to most cosmetic procedures. If you are happy just the way you are, then more power to you; but if you are healthy and just need that extra something for personal fulfillment, follow your bliss, but stay safe by doing your homework. What a perfect segue to this issue's article!  Now let us educate you further on what you need to know when considering any and all breast augmentations, shall we?
Reasons for Breast Augmentation:
The three most common reasons a woman undergoes breast augmentation is to either modify size, volume, or shape. Increasing breast size is typically because of under development and is done for an aesthetic balance/proportion to her overall body shape, and more often than not for a more powerful sense of femininity. A decrease in breast size is typically done for comfort reasons, as a heavy chest is incredibly straining on a woman's lower back. An alternate option to breast reduction, should back pain be your problem, is strengthening lower back muscles through exercise. Back pain is due to weak muscles stiffening and recruiting all surrounding muscles to support the weight, creating knots, cramps, and endless discomfort. A good back/core strengthening regimen could save you some surgical pain, money, and could give you a new, fitter body as a nice bonus. Breast volume is more often than not a result of aging, and breast drooping from gravity, drastic weight loss, or as a result of heavy breast feeding. Gravity's effects can be prolonged with good supportive bras, exercise to maintain skin health, and caring for breast skin, as with any other anti-aging regimen. Wrinkles are simply the result of breakdown of skin collagen and gravity having more power to stretch on weaker skin. The same goes for breast skin, except the loss of elasticity is more apparent from the obvious weight of a woman's breast creating more pull. Lastly is shape, which usually is to correct an irregular breast or nipple shape or unbalance, such as one breast being larger than the other. There are endless reasons women undergo augmentation, but the best reasons begin with the woman herself and the pursuit of a healthy self-esteem and relationship with herself.
Breast Augmentation Procedures in 2009 by Ages:
13-19yrs      -                  8,199
20-29yrs      -                  86,525
30-39yrs      -                  103,738
40-54yrs      -                  80,668
55yrs+          -                  10,198
Finding the Right Doctor
The right surgeon makes all the difference, and this is one scenario where you do not want to cut corners to save a dollar or two. Make sure that you verify certification by the American Board of Plastic Surgeons, but don't stop there, as that alone doesn't guarantee quality. Often surgeons will change practices, wanting to try a new field, so make sure that your surgeon has years of experience doing breast augmentation and not ten years in nose jobs and one year in breast augmentation. Inquire as to how many breast augmentations the surgeon performs monthly. Don't feel timid; this is your body and you have to live with the results. Make sure to check with your state medical board for any disciplinary actions against your surgeon. Lastly, look for years of experience specialized in breast augmentations and affiliations with the America Board of Medical Specialties to show he/she has gone that extra mile to earn his/her fee. You should feel very comfortable and trust your surgeon; after all, your body is in his/her hands.
The Right Implant for You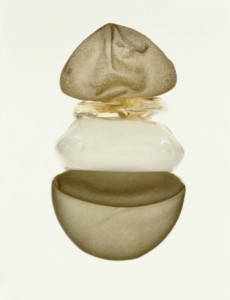 Breast implants are either filled with saline (salt water solution), silicone, or a specialized gel; but all implants are encased in a silicone rubber material that comes in single or double layers.  This shell is referred to as a lumen. The type, size, and style of implant you choose are determined by your lifestyle, body contours, amount of available breast tissue, and goal cup size. "So what's the best?" you might be asking. Well, that you will have to determine with your surgeon, but the following FDA approved options and information will help you start choosing. The FDA removed silicone from the market between 1992-2005, due to lawsuits alleging silicone increased the risk of auto-immune and connective tissue disease. After intense investigation resulting in not being able to prove this on any level, silicone was reapproved in 2006 (in case you were worried).
Implant Type
Saline – Filled with a salt water solution
o   Pros – Low rate of developing capsular contracture, saline is naturally absorbed by body in case of rupture, significantly cheaper, smaller incisions possible.
o   Cons – Tend to look round and feel stiff/unnatural, particularly in thin women with less breast tissue, more likely to displace downward due to heavier weight.
Silicone – Filled with silicone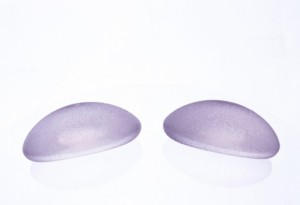 o   Pros – Aesthesis are the primary advantages over saline. Look and feel natural, lower rate of rippling and less drooping since silicone weighs less.
o   Cons – significantly higher cost, longer scar since these implants are pre-filled, slightly higher rate of developing capsular contracture, possible silent rupture – needing MRI to positively detect rupture.
Gummy Bear Implants (Yes, Gummy Implants) – These are not yet FDA approved but are receiving significant attention because when cut/ruptured, they keep their consistency, just like when you cut a gummy bear in half. They belong to the silicone implant family. You can find more about this new variation through its more common name of highly cohesive silicone gel implants.
o   Pros – Higher degree of safety, very soft to feel
o   Cons – Strongly holds shape, leaving decisions very permanent, not available yet
Texture – Smooth vs. Textured
Implants give you the option of textured or smooth surfaces, the reason pertaining to capsular contracture. This contracture is a natural reaction to a foreign object in the body in which scar tissue surrounds the object, in some cases warping the shape of the implant. It is believed that the textured implants reduce the risk of this capsular contraction. Large recent clinical studies showed that there actually wasn't much difference in reducing this contraction with a textured implant, but the option is still offered as studies are always ongoing.
Shape
Round standard – smallest size that changes shape as the filling is able to move around freely
Round moderate – medium size that changes shape as the filling is able to move around freely
Round high profile – largest size that changes shape as the filling is able to move around freely
Shaped – this implant comes pre-shaped so that it won't change shape significantly to maintain a desired look, such as a teardrop.
Implant Placement
Subpectoral (Below Chest Muscle) – implant is placed completely under chest muscle
o   Pros – Camouflages the implant's edges best, least amount of rippling visible, muscle serves as internal bra, low risk of capsular contracture, better mammogram pictures, low risk of implant falling out of placement
o   Cons – More post operation discomfort, breast sits higher at first until muscles eventually relax, implant looks distorted when muscle is slightly flexed
Partial Submuscular (half below chest muscle) – Top half of the implant is under the chest muscle and the bottom half lies below the breast's glands.
o   Pros – decreased risk of capsular contraction (the body warping the implant), less risk of visible and palpable ripples on the breast, a more natural look as well as better mammogram views.
o   Cons – longer recovery, implants take longer to drop/settle, may appear distorted during chest flexing.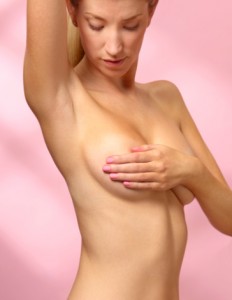 Subglandular (Above Chest Muscle) – Implant sits above muscle and below the fatty breast tissues
o   Pros – Easy placement, avoidance of a breast lift, less recovery time, larger implant possible, cleavage more easily created
o   Cons – Ripples are more easily seen and felt,  more mammogram pictures possibly needed, capsule contracture highest in this placement, can appear less realistic when less breast tissue is available
Incisions
Inframmary (Below breast)- a small incision made just below the breast crest.
o   Pros – Less interference with loss of sensation to nipple, able to place any sized implant and faster recovery time, able to use same incision should problems arise, more control over placement.
o   Cons – slightly more visible scars, more chance of scar tissue warping implant at incision, changing sizes later on may make incision more visible; incision more visible if surgeon is not skilled enough.
Periareolar – (Around Areola) – a small incision is made on the bottom of the nipple.
o   Pros – Most commonly used, faster and smoother healing time, surgeon is able to work close to breast and minimal scar visibility due to darker skin area, able to use same incision should problems arise.
o   Cons – the possibility of losing sensation in the nipple or partial breast, possible breast feeding complications, and can only be done for certain smaller sized silicone choices or any sized saline choice.
Transaxiallary – (Armpit) – a small cut in the armpit region is made where the implant is guided to the breast.
o   Pros – the least amount of risk to loss of sensation and the least visible scar.
o   Cons – Takes highly skilled surgeon to be done right, more difficult for surgeon to work, being farther away from the breast; higher risk of lopsided implants with unskilled surgeon.
Cost
You can expect to pay between $3,500 and $11,000 on average for a breast augmentation today. The implants will range from $1,000-$2,000, the facility fee from $800- $1,500, the anaesthesia is about $500-$1000, and the remainder is what the surgeon is charging for his beautification skills. A surgeon's fee is typically the bulk of the charge but is well worth every penny. You should actually make sure a surgeon doesn't charge too little unless you have really done your home work on a bargain surgeon.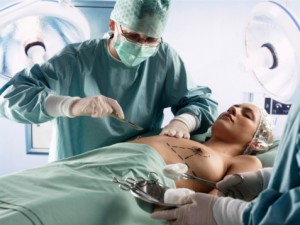 The Process
The surgery itself is done in fewer than 3 hours; and once the procedure is completed, you can be home within 2-4 hours, but you will need someone to drive you home on the big day. You can expect to be in a compression bra and wraps for the next 24-48hours and return within 3 days to have sutures and dressings removed along with being helped with draining. You can return to work within 3-7 days, but no heavy lifting for 3-4 weeks to ensure proper healing. Discomfort subsides in the first month significantly but will depend on your choices.  The breast will continue to change shape over time, but you will maintain your new look. The scars and swelling will take the longest to fade, taking from 7-9 months for full final results to show.
Risk
May interfere with breast-feeding
Mammography needed more often to ensure there is no leakage (for silicone implants)
Mammography is harder to read
Possible Loss of nipple sensation (depending on incision type)
Leaking or Rupture – No implant lasts forever, so maintenance will always be needed to ensure safety
Resources
www.plasticsurgery.org – 3D Demo Videos
www.loveyourlook.com – 3D preview of what your implant can look like
www.justbreastimplants.com – extensive pros and cons info on each topics covered
www.abplsurg.org – To verify certification and licensure of your surgeon
Some Sources
http://www.docshop.com/education/cosmetic/breast/augmentation/
http://www.drphilipmiller.com/Procedures/BreastAugmentationStatistics.asp
http://www.smartbreastaugmentation.com/implants.html