Sexy Chamber Music with a Tango Twist: A CD Review of LA CAMORRA TANGO – 15 YEARS and a Compelling Interview with the Pioneering Quintet
By
Kaylene Peoples
| December 6th, 2010 | Category:
CD Reviews
,
Indie Hotspot
,
Indie Hotspot Feature
|
28 comments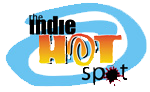 I attended a concert back in September held in Long Beach at the Carpenter Performing Arts Center.  I wasn't exactly sure what I would be hearing, as I didn't know much about the musical group I was about to enjoy; but I was elated to hear such a culmination of beautifully composed music with an interesting arrangement of instruments.  I am a huge fan of traditional chamber music.  This had an eclectic mix of both Argentinian, classical, and jazz influences.  It was music to my ears and feet, appropriately suited for Tangoing.  I liked it so much that immediately after the concert, I purchased their CD, La Camorra Tango 15 Years (a recorded live performance).  I have since listened to and enjoyed its 13 tracks.
T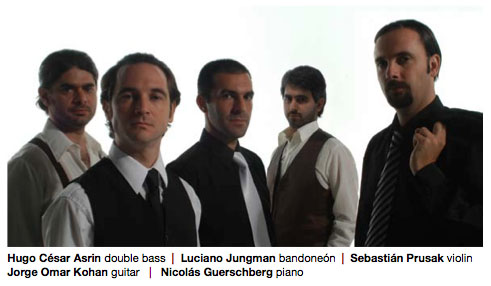 he arrangements on the CD consist of complex harmonies and dissonance not usually found in traditional tango.  Their style resembles that of improvisational, yet not at all improvised.  I pull from my own mentor, Chopin, who was known for his tonal and improvisational style of playing.  Yet he literally wrote down every note, marking, glissando, etc.  As I watched La Camorra, I never detected any member of their quintet "winging it."  La Camorra's biggest musical influence, however, comes from Astor Piazzolla's Tango music.
The instrumentation is as follows:  piano, double bass, violin, bandoneón, and classical guitar.  The double bass provides a consistent beat as well as enhancing the string chamber experience.  The most unique things about some of their compositions are the stops and starts.  In track 6, "Mirando Atras," there is a heartbeat tempo and the cohesive arrangement featuring several soloing instruments at once with the bandoneón dominating as the most distinctive tone.  But La Camorra's range in styles is vast.  Track 7, "Tangostinato," screams of dissonance and atonality.  You can almost hear a Schoenberg influence and cacophony with a touch of Bartók.  Track 12's opening, "Adios Nonino," reminds me of 19th Century and Chopin but later breaks into a rendition of that recurring "Tango" theme.
La Camorra Tango deserves 5 out of 5 stars for its passion, precision, and its potpourri of compositional styles.
****
The Interview
Questions by Kaylene Peoples (Bold)
Responses by La Camorra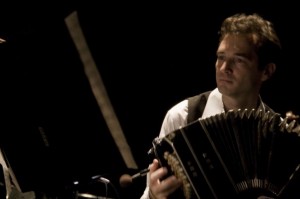 At La Camorra's showcase, it was apparent that each musician was a virtuoso on his instrument.  Even with the difficulties of pitch during the violin's and double bass's shockingly in-tune double and triple stops, La Camorra had no pitch issues.  Their intricate, syncopated rhythms were played flawlessly.  The execution and apparent intimate skill of their instruments cut through their flawless yet exciting performances.  La Camorra managed to show their personalities through their playing during their performance.  They were a real treat and a pleasant surprise.
How long has the group been together?  Who formed it and why?
La Camorra has been playing for more than 18 years already.  We (Sebastian Prusak, Jorge Kohan, and Luciano Jungman) had studied at the same music school and started with the group as a trio.  With this trio we recorded our first CD (and tape) Called Escolazo.  Then Hugo Asrin joined the group, and then the last one, Nicolas Guerschberg.  We've being playing together as a quintet for more than ten years.
All of us have attended different classical music conservatories, and after that have increased our musical experience with composition classes, tango classes . . . even jazz improvisation classes.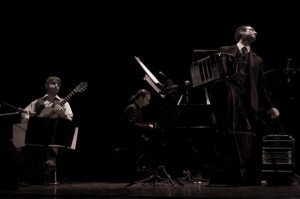 How did you hear about Western Arts Alliance?
Our manager, Ricardo Kugler, is a Board Member of ISPA (International Society for Performing Arts), and he usually attends these conferences.  Together with Universidad de Guadalajara, they proposed to WAA this concert with Eugenia Leon as a crossover experience; but unfortunately because of VISA problems, she could not be present at the concert.
Tell me about your musical style.  Please be as descriptive as possible.  Who are the influences, etc.?
Astor Piazzolla's music is no doubt the main influence of "La Camorra's" music.  But we should say that from the very beginning we've arranged and composed our own tango pieces, and nowadays I would say that we've reached our own sound—La Camorra's sound.
I really enjoyed your performance.  I loved the intricate arrangements and the sophisticated compositions.  What made you decide to use the instrumentation you used at the performance?  It really lent itself to a very eclectic, yet distinctive, sound.
Yes, I think so. It's quite an achievement for us that we've crossed tango boundaries. We are called to play also in classical theaters, jazz festivals, etc. We think this is maybe because those styles are also in "La Camorra's style."
What is your touring schedule?
At the moment we are planning to record our new CD during the first part of 2011. In the second half of 2011 we will be touring in Europe and some countries of Latin America. We hope to be able to be touring USA in the first part of 2012, and we are already working on an Asian tour in the second half of 2012.
Where can people purchase your CD?  Website address?
I-TUNES and http://www.galileo-mc.com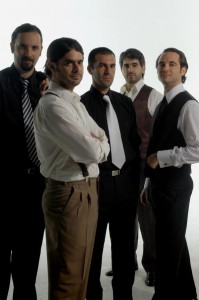 What are the highlights of being in this ensemble?  Best moments, fans, awards, etc.
Luckily, we have so many and [different experiences]:  We've won one of the most important chamber music contests in Argentina; we've played in "Palau de la Musica Catalana" in Holland, Brazil, Sarajevo, etc; we were invited to play even as preamble to "Rock" shows in Buenos Aires.  We have a very particular relationship with the Brazilian audience that makes us enjoy each of the tours we make there.
Have there been any lows or disappointments?  Any challenges?
To play our own compositions among Astor Piazzolla's pieces and famous tangos was one of our bigger challenges.  And, of course, when we were told that our music was too complicated and elaborate to be played in Argentina, we felt sad.  But there is no way out, we continue to play, compose, and create.
What advice could you give to aspiring musicians/composers?
No matter what the critique says, continue composing and continue playing.  If you do the right path and you are consistent with it over the long term, your music will be heard and enjoyed by the audiences around the world!
What is your ultimate goal?
I think that the main challenge now is to continue getting our music out there.  I think that our main goal of composing our own sound of tango has already been accomplished in a sense.  Now we have to be able to show it to our fans and to continue to enjoy our music with them.
To learn more about La Camorra, visit their website: http://www.lacamorra-tango.com.ar/ and their myspace: http://www.myspace.com/lacamorratango