Stieg Larsson's THE MILLENNIUM TRILOGY
By
Lee Peoples
| December 6th, 2010 | Category:
Book Reviews
,
Fiction
|
18 comments
The Girl with the Dragon Tattoo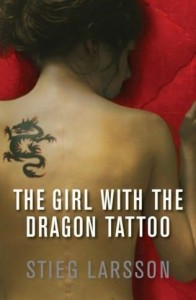 Lisbeth Salander, the girl with the dragon tattoo, and investigative journalist Mikael Blomqvist (co-owner of Millennium, a magazine) are at the center of this first book in Larsson's trilogy.  They remain the central characters throughout the trilogy. The entire first half of the book is devoted to building the character of these two people who never meet until the second half, when in Blomqvist's search to solve a nearly forty-year-old murder mystery, the evidence he unearths becomes such a huge job that he goes in search of help.  Thus, he is directed to the very person who investigated him.  More chagrined than upset with this intelligence, cleverness, and skill—she is even a gifted computer hacker—he softens, befriends, and then hires Lisbeth to assist him as a researcher.  The two prove to be excellent working partners.
ISBN-978-0-307-47347-9
The Girl Who Played with Fire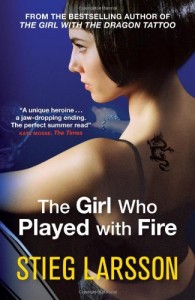 Lisbeth Salander is at the center of this crime drama.  We learn more about who this gifted "nut case" really is. It is her life that is now in jeopardy; and "Kalle" Blomqvist tirelessly works to defend, protect her, and root out the real criminal who's committed the triple murders Lisbeth is accused of.
ISBN-978-0-307-47615-9
The Girl Who Kicked the Hornet's Nest
What a hornet's nest (metaphorically, of course) Salander stirs up!
ISBN-10:03072699X
ISBN-13-978-0307269997
———
Never again will I judge a book by its cover—in this case, its title.  "Why would I want to read a book about a girl with a dragon tattoo or about a girl who played with fire and finally about a girl who kicked the hornet's nest?" I asked myself when Amazon.com recommended these books to me.  Fortunately, my reading buddies read the books and sent them to me.  This is some of the best crime fiction of all time.
The "girl" of the titles is Lisbeth Salander, the daughter of Zalachenko, Russian defector to Sweden in the 70s.  The SIS (Secret Service) has protected him from prosecution for the many crimes he has committed since:  human trafficking, physical abuse of Lisbeth's mother, resulting in her early death, among many more.  From a child Lisbeth has been the only protector of her mother, and while she has been labeled as idiotic, violent, and mentally ill, she really has the I Q of a genius, while at the same time having been diagnosed with Asperger's Syndrome, a type of autism—"the talent for seeing patterns and understanding abstract reasoning where other people perceive only white noise."
Lisbeth has remarkable computer skills, and it is ironic that she can find answers to complex questions for other people, but it is not until the third book of the trilogy that she finally finds the answers to her own questions that have plagued her nearly all of her life.  Some of these questions she had hoped her mother would supply, but her mother passes away before she could even ask them of her.