Top 10 Tablets in 2010
By
Anthony Heredia
| December 6th, 2010 | Category:
Gift Guides & Gift Suites
|
7 comments
1 – Samsung Galaxy Tab
Screen: 7-inch Super TFT-LCD, 1024×600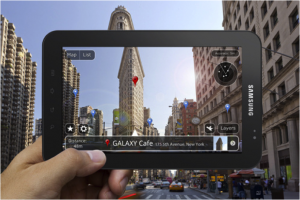 Price: $599.99
Storage: 16GB internal, up to 32GB micro SD = 48GB Total
Processor: Cortex A8 1.0GHz
OS: Android 2.2
Site: www.samsung.com
Galaxy wins first place for being the fastest little rocket next to the iPad without the iPad price. Internally you will find the same Cortex A8 processor you will find beating in the hearts of iPads and iphones. Tablets run a close race in appearance for the most part, so it is all the little things that make all the difference, like the 1.3 megapixel front-facing camera for video chat. The biggest reason the Galaxy tablet takes first place is because of its access to the Android market and all the wonderful applications it holds. Apps are cheap and very useful, as compared to buying programs for typical laptops
2 – iPad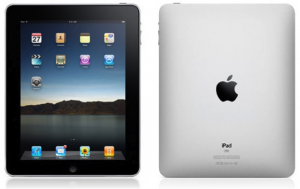 Screen: 9.7-inch LED backlit
Price: $829.99 (64GB Version)
Storage: 16, 32 or 64GB flash
Processor: Apple A4 1GHz
OS: iOS
Site: www.apple.com
Runner up in the tablet race is the one and only iPad. The iPad is still king, due to its extremely long battery life (40 hrs.), combined with its stylish tiny body that makes other tablets want to diet. The iPad is in for a good fight with all the other tablets out there, but it can still hold its own for now. Its primary down side is in its heavy price.  Right now you can discover over a thousand apps on the App Store made just for iPad, with more coming every day. And if that's not enough, you can also run almost 200,000 iPhone apps.
3 – Lenovo Ideapad U1 Hybrid Notebook/Tablet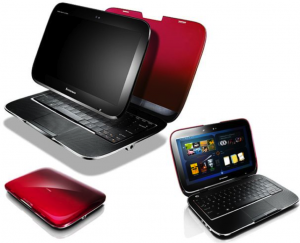 Screen: 11.6-inch LED backlit
Price: $999.99 (64GB Version)
Storage: 128GB Solid State Drive + 16GB Flash Memory
Processor: 1-GHz Snapdragon ARM processor
OS: Windows 7 & and Linux
Site: www.lenvo.com
The Ideapad takes third place as it is the first of a kind, being the very first hybrid full notebook and tablet, two computers in one. The Ideapad U1 starts out as a 3.8-pound laptop that runs Windows 7 on a Core 2 Duo CULV processor and a 128GB solid-state drive, but removing the 11.6-inch display lets you use it as a stand-alone Linux tablet PC, powered by a 1-GHz Snapdragon ARM processor with 16GB of flash memory.
4 – Dell Inspiron Duo
Screen: 10.1-inch HD Multi-touch
Price: $549.99
Storage: 320GB Sata Drive 7200RPM
Processor: 1.5GHz Intel Atom Dual Core N550 processor
OS: Windows 7
Site: www.dell.com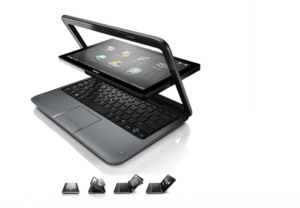 Yet another powerful first, earning fourth place in our top tablet review. Half table and half full laptop but it maintains full power in both modes. The following features are courtesy of Dell.com.
SMART DESIGN

Converts to your needs — The unique flip-hinge design enables seamless transition between touch and type modes.
Your life at your fingertips — The intuitive touch screen and duo Stage software provide quick and easy access to your music, movies and photos.
Style to go — The innovative design makes Inspiron duo sleek, easy to hold and small enough to carry anywhere.
ENTERTAINMENT CENTER
Picture perfect — Experience superb visuals on the 10.1-inch HD multitouch display.
Make a show of it — Transform it into a digital picture frame, an alarm clock or a music player with the optional Inspiron duo Audio Station featuring JBL® speaker technology.
Flash — View your multimedia the way it was designed to be seen with the fully Flash-capable Inspiron duo.
PERFORMANCE ART
All the power you need — Enjoy multitasking and excellent performance with the powerful Intel® dual-core Atom™ processor N550.
Be more productive — Get through everyday tasks quickly and easily with Genuine4 Windows® 7 Home Premium and 2 GB of RAM.
Smooth operator — Get HD display and HD accelerator for smooth HD playback performance.
See me, hear me — Stay connected to friends and family with the 1.3 MP Webcam5 and microphone.
5 – HP Slate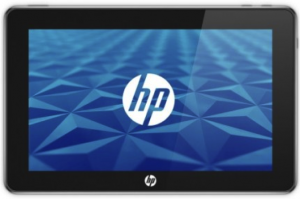 Screen: 8.9-inch HD Multi-touch
Price: $799.99
Storage: 64GB SSD
Processor: 1.86GHz Intel Atom Z540 processor
OS: Windows 7
Site: www.hp.com
Description courtesy of HP,
The HP Slate 500 is the ideal PC for professionals who don't usually work at a traditional desk, yet need to stay productive in a secure, familiar Windows® environment. The HP Slate 500 is also intended for those who use custom applications built for Windows®. Use your fingers to browse documents, spreadsheets, applications, and more on the HP Slate 500's multi-touch display.  Check e-mail, browse the web, read and edit documents, presentations, spreadsheets and more.  Walk the halls or go from meeting to meeting while running custom applications for your industry on the lightweight HP Slate 500.  Show training or product videos and stream video from the web on the HP Slate 500. Web conference with colleagues using the VGA webcam and take still shots with the 3MP camera. Plug into a Desktop Experience. Easily connect accessories like a keyboard, mouse, and printer with the HP Slate 500's built-in USB 2.0 port. Charge your HP Slate 500 in the HP Slate Dock and gain even more ways to connect accessories. Cut the cords and stay productive. Connect wirelessly to Bluetooth devices such as printers, mice and headsets.
6 – ViewSonic ViewPad 100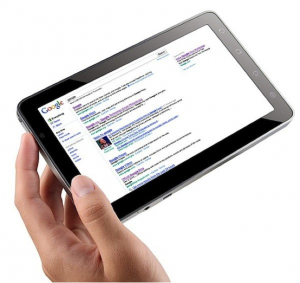 Screen: 10.1-inch HD Multi-touch LCD, 1024×600
Price: $479.99
Storage: 16GB SSD
Processor: 1.66GHz Intel Pine Trail-M N455 processor
OS: Windows 7
Site: http://www.viewsoniceurope.com
Description courtesy of View Sonic,
This 10" tablet offers dual operating systems, Windows Home Premium and Android within same high speed device Google Android or Windows 7 Home Premium
Users have the choice of an optimized mobile device experience using the innovative Google Android OS for browsing and simple applications, or the familiar Windows 7 environment for VPN, Outlook and other high end requirements.
Boasting a high definition capacitive touch-screen display.
The sensitive touch screen display opens a world of options with both Windows 7 Home Premium and Android optimized to take advantage.
This has a high speed processor and lots of memory.
The high speed Intel 1.66GHz processor, integrated 1GB and 16GB SSD HDD provide a high quality experience that allows users to use Windows the way they like, or Android for an optimized mobile device experience.
Fully wireless-enabled, USB and even a SVGA display port. The ViewPad 10 offers a full PC experience when required, inside the lightweight and stylish design of a tablet.
7 – Archos 10o Internet Tablet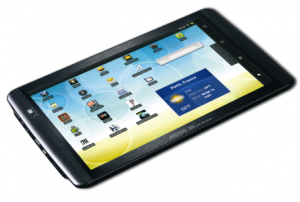 Screen: 10-inch TFT LCD, 800×480
Price: $479.99
Storage: 8GB & 16GB flash, up to 48GB with micro SD
Processor: Arm Cortex A8 at 1Ghz
OS: Android 2.2
Site: http://www.archos.com
Description courtesy of Archos,
The ARCHOS 101 Internet tablet is a tablet whose choice you'll be proud of. You'll have in your hands the best of the highly desirable Android™ technology with a large, high-resolution 10.1'' screen, a weight of 480 g, and a thinness of just 12 mm. Beyond containing your window into the Internet and your HD multimedia, your device is completely customizable with a world of apps to make it your personal tablet.
8 – WePAD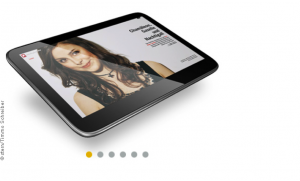 Screen: 11.6-inch TFT LCD, 1366×760
Price: $479.99
Storage: 16GB & 32GB flash, up to 48GB with micro SD
Processor: Arm Cortex A8 at 1Ghz
OS: Android 2.2
Site: http://wepad-tablet-pc.org/
Description courtesy of WePad,
The WePAD is a German made android tablet pc that promises "fast Internet connectivity, a complete world of ready-to-use applications and easy access to books and photos, as well as magazines and newspapers from various publishers via the WeMagazine ePublishing Eco System". This Android based system looks as though it may be an iPad killer, no problems running flash on the wepad, and with the android smartphone powering away, it now has some 20 percent of the smartphone market, not bad for the new boy on the block. This seems a fairly robust machine with an 11.6″ display (1366×768), a rather quick 1.66GHz Intel Atom N450 processor, a webcam (for video chats, we imagine), two USB2 sockets, integrated WAN modem, flash card reader, GMA3150 graphics (far better than on most e-readers), and a battery that is reported to last six hours, though that claim does not say under what sort of workloads you could expect that sort of battery life. It also has a set of built-in speakers, and as it is built on Google's open Android O/S, any Droid applications can be loaded on to it after purchase. Other specs include 16GB of NAND Flash (32GB optional), a 1.3MP webcam, SIM card slot, Flash/Adobe AIR support, access to the WePad AppStore and Google's own Android Marketplace, multi-tasking support, Bluetooth 2.1, Wi-Fi, optional GPS, an ambient light & motion sensor and an internal microfan to keep things cool.
9 – Microsoft Courier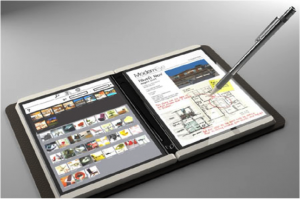 Screen: 11.6-inch TFT LCD, 1366×760
Price: Tentative
Storage: 32GB
Processor: Nvida Tegra 2 Chip
OS: Windows Mobile 7
Site: www.microsoft.com
Watch Demo Videos at:
http://www.engadget.com/2010/03/05/microsofts-courier-digital-journal-exclusive-pictures-and-de/
Description courtesy of Microsoft,
The Microsoft Courier has been a pet project of Microsoft for the last year. Countless iterations of a prototype device have been shown off on video and internal memos. Bill Gates heralds the Courier as a "revolutionary device in mobile computing"
The Courier features dual color touch screens interfaced with a stylus. It runs the Windows 7 operating system, which is a derivative of the Windows Phone series 7. It also sports a web cam and head phone jack to listen to music or to engage in web conferencing or instant messaging. It will have an Nvidia Tegra processor and the entire unit will weigh less than a kilo. No pricing or official announcement has come forth on when this device will come out, but industry insiders claim around quarter 3 or 4 of this year, we should see etched-in-stone details.
10 – COLBY Kyros MID7015 Android Tablet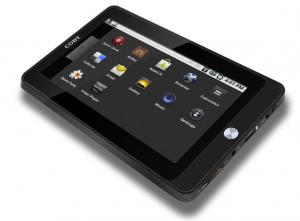 Screen: 7-inch TFT LCD
Price: $250
Storage: 4GB + micro SD
Processor: 800Mhz Telechips
OS: Android 2.1
Site: www.cobyusa.com
Description courtesy of Coby,
Connect to the world though the touch of a fingertip. The Kyros™ Tablet is a powerful and flexible Internet and Entertainment solution that features a generous 7″ screen with intuitive touchscreen controls powered by the Android™ 2.1 operating system. Browse the web wirelessly or enjoy media on a sleek and stylish media device. Enjoy 1080P HD videos, photos, music, and more in the comfort of your living room when connected to your TV via HDMI.The Kyros™ has 4GB of built-in internal memory and features a microSD card slot for upgrading the capacity to up to 16GB. It also allows you to wirelessly access the Internet through a hi-speed networking support and includes more than a dozen built-in applications, each one identified by an icon. Among the included apps are an alarm clock, browser for surfing the web, calculator, email, gallery for viewing and playing videos, music and video player for launching the mobile YouTube™ browser page to watch Internet videos and more! In addition, the Kyros™ offers two unique apps, the Aldiko E-Book, for downloading and reading thousands of e-books (which supports the ePub standard) and AppsLib, to browse, download, and install apps from the AppsLib marketplace for a complete mobile Internet solution.