Top 5 Essential Fitness Gifts
By
Anthony Heredia
| December 6th, 2010 | Category:
Gift Guides & Gift Suites
|
1 Comment »
1)    Weider Total Body Works 5000 Gym
Price: $149.99
Buy At: http://www.weiderfitness.com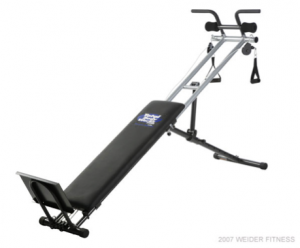 Every fitness enthusiast and non-enthusiast will always find themselves in a scenario where there is simply no time to go to the gym, so why not bring the gym to them? The Weider fitness gym is actually a very remarkable all-in-one gym for its size and price. Home gym systems typically sacrifice quality for price and size, but not in this case. Great affordable gift, earning the number one spot.
Product Features:
Over 50 Body-Shaping Exercises
This versatile system offers 50+ exercises to define and shape your arms, shoulders, back, abs, hips, thighs, and calves.
Four Adjustable Power Bands
These durable resistance bands increase weight resistance beyond your own body weight, giving you up to 50 lbs. of additional resistance.
Space-Saving Design
This Total Body Works 5000's convenient slide-away technology allows for quick and easy storage.
Workout Guide
Learn which exercises focus on what muscle groups and how to properly perform specific exercises, along with additional exercise suggestions, with this helpful workout guide.
Body Weight Resistance System
The 5000's innovative resistance mechanism turns your body weight into natural resistance for a wide variety of exercises.
Flexibility-Strength Training
An unrestricted cable and pulley system gives you greater versatility and greater range of motion, allowing for a wider variety of exercises that strengthen muscles and increase flexibility.
Adjustable Incline
Easily increase or decrease the intensity of your workout by simply changing the incline of the Body Works glide board, giving you seven easy-to-change incline options.
Footprint 49.5″H x 26.5″W x 71″L
2)    TheraCane Massager
Price: $30-$40
Buy at: relaxtheback.com, theracane.com, amazon.com
Just because something is simple and highly affordable doesn't mean it isn't a great product, case in point is our number two spot. The Theracane is for anyone and everyone who gets good workout and finds that tight spot they just can't reach for relief. This wonderful little device allows you to cut out the middle man and drugs for muscle ache relief by letting you reach spots you would not otherwise possibly reach alone.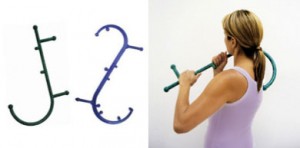 The TheraCane Massager is a self-massager, used to apply pressure to sore muscles. The unique body cane design of the TheraCane Massager lets you apply deep pressure massage to hard-to-reach areas of your body, using two strategically placed projections and six treatment balls to help relieve pain. A gentle, manually applied massaging action is all that is required for TheraCane use. The two longer rods can be used to provide leverage and an increased mechanical advantage when the TheraCane is used on the neck or upper and lower back. Pressure applied by the TheraCane Massager helps to maximize the flow of oxygenated blood to the muscles. This pressure aids in restoring muscle function by breaking up adhesions in muscle fibers and tendons and stretching them to naturally recover. The increased circulation helps the muscle to work more efficiently and uses less energy to contract. Truly a unique device, the TheraCane is ideal for use in the home or office.  Or get one for a friend as a gift! Help relieve muscle pain and fatigue today. Buy your TheraCane from ActiveForever.com!
TheraCane Massager Features:
Allows user to self treat knotted muscles in neck and back
Greatly helps patients of fibromyalgia
Decreases muscular pain by means of direct applied pressure
Can be used by anyone, anytime, anywhere to reduce pain and discomfort
One size TheraCane fits all
TheraCane has been used for patients of arthritis, stroke, and spinal cord injuries
TheraCane Massager
3)    Ironman Global Trainer GPS Watch with Digital 2.4 Heart Rate Monitor
Price: $300.00
Buy At: www.timex.com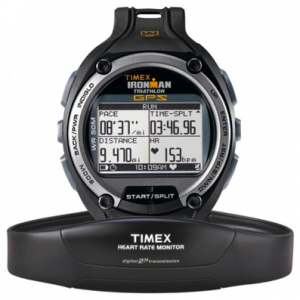 The most motivating feeling in the world comes from results due to progress, and a great system like this allows you to track every single step you gain through GPS satellites.  The idea is that your every step is recorded and graphed as accurately as possible so your progress is as efficient as possible, not to mention fun, as you can post this info on the web to brag about your momentous strides.
Get pace, speed, distance, and more on your wrist. With industry-leading SiRF star III GPS technology and ANT+ compatibility*, Global Trainer records your performance across several dimensions, providing real-time data on a customizable screen.
GPS-enabled watch measures pace, speed, distance, and more in real-time
SiRFstarIII GPS technology requires no calibration
Measures location with altitude ascent and descent distances and rates
Records up to 100 location waypoints to track back and create routes
Recalls up to fifty custom routes for pace tracking
Six modes of operation, including Performance and Multisport Modes
4)    FiveFingers footwear
Price: $65-$99
Buy At: http://www.vibramfivefingers.com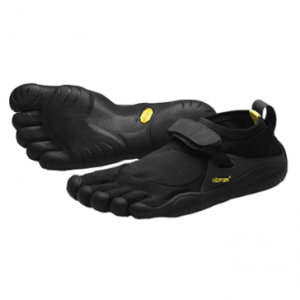 Now this gift is just so great, how much more personal can you get than shoes that grip you like a glove but sacrifice none of the protection or power? These very custom shoes will make your loving walker giddy like school girl, offering the comfort, protection, and just an awesome set of shoes.
Remember going barefoot as a child? It's the way you first discovered and conquered your world—without the constraint of shoes. Or the sense of duty you acquired later on. Now you can experience that same physical and visceral sensation in Vibram FiveFingers—the only footwear to offer the exhilarating joy of going barefoot with the protection and sure-footed grip of a Vibram® sole. FiveFingers footwear connects you to the earth and your surroundings in a way that is simply not possible in conventional shoes. It puts you in touch with the earth beneath your feet and liberates you to move in a more natural, healthy way. FiveFingers stimulates the muscles in your feet and lower legs to build strength and improve range of motion. Our customers report an increased sense of balance, greater agility, and visibly improved posture. Choose from a variety of designs to cover the wide range of activities you would rather do barefoot—everything from fitness training and yoga, to running and trekking, to kayaking and sailing. Discover a level of performance and a connection to your environment that is positively without peer.
5)    Motorola S9HD is Stereo Bluetooth Headset
Price: $39.99 $69.99
Buy At: http://www.motorola.com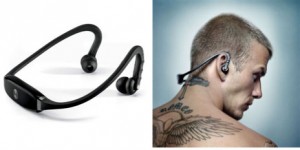 The key to any great workout is great music, and the key to enjoying great music is quality sound. Cable is so last year.  Even my dog has Bluetooth these days, so why not cut the cords on your loved one and give them the gift of freedom. If you work out even once a month, you know as well as I do that the right song and musical experience can make or break that workout; so why not extend a great sound experience this holiday season. The Motorola S9HD system is one the most affordable Bluetooth system out today and sacrifices nothing on quality, earning it our fifth place in fitness gift musts.
"The Unlocked Motorola S9HD is a Stereo Bluetooth Headset designed for those who really want to enjoy the MP3 WMA features included in many Cell-Phone models. One of the unique features that this model continues from the S9 is the use of buds instead of ear pads on this behind-the-neck headband design headphone. It promotes greater sound isolation, better, sharper sound performance, and stability. The HD portion adds a 3D experience to the sound. If you use Bluetooth, this S9HD stereo headset offers the best performance for the active user. The wireless Music experience has been enhanced with an upgraded version of the award-winning MOTOROKR S9, the Motorola S9-HD.  Freedom to exercise, move around, and commute without wires to tangle or hold you back is now enhanced with High-Definition Audio and ear buds that reduce background noise and improve comfort. The S9-HD is the new benchmark of wireless music powered by Bluetooth wireless technology. All the great features that made the MOTOROKR S9 a sensation in 2007 are present in the S9-HD.  Barely weighing an ounce, it is lighter than an average pair of sunglasses! The unique behind-the-head design creates a secure and stable fit—even in active conditions—plus easy to use controls for track selection, volume, play/pause, and send/end that allow you to manage music and calls from the headphones earned the MOTOROKR S9 top honors in the Best Headphones category for the Consumer Electronic Association's 2008 International CES Best of Innovations Design and Engineering awards. Immerse yourself in your music with the 3-D surround sound and high-definition acoustics from SRS WOW HD technology. Leave the outside world behind as you feel every beat, and focus on the space your music creates around you with enhanced bass and noise isolation. The S9-HD wraps you in rich sound quality, not wires, so you're free to control your music and calls while staying active. Connect to any compatible Bluetooth-enabled device and hit rock out." – www.dealigg.com