WannaWear by Tina O – The Online Boutique with Vintage-Inspired Clothes That Makes Every Woman Look and Feel Beautiful
By
Kaylene Peoples
| December 6th, 2010 | Category:
Fashion
,
Interviews
,
Videos
|
1 Comment »
"I love how Chanel went from an orphanage, which inspired her simplicity.  I have to say, after going to Beverly Hills and being put on an allowance by my husband made me feel the same way.  I went from a very extravagant lifestyle to a little bit more simplicity."—Tina O
Tino O (also known as Tina Hillstrom) told a series of very funny jokes, entertained her publicist, Anthony Turk, and her model (Jacee Jule), all while keeping me in stitches as I set up for her interview.  Upon learning that Tina was actually the designer for WannaWear, I thought she could have been a standup comedienne if she ever decided to change careers.  You'll see what I mean when you see her video interview.  She has appeared on television before (NBC's "Victoria Beckham: Coming to America" in 2007), so she is no stranger to entertaining; but Tina O puts as much personality into her designs as she does in her everyday life.  The colorful, perfectly sewn, vintage-inspired garments look amazing on just about any woman by focusing on the wearer's attributes and enhancing her figure.  I have to admit I was coveting that lime green frock Tina wore, or that 40s-inspired pencil skirt, paired with the billowing sleeved blouse (very Katherine Hepburn).  I am a huge fan of the classics, and WannaWear presented a fresh take on a widely featured style with each new silhouette she presented that day of our interview.
"There's no such thing as an ugly woman, just a lazy one."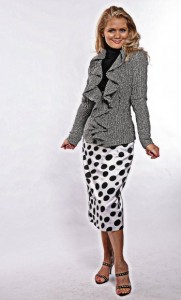 Tina created her online boutique through interesting circumstances—she attended a cocktail party in Beverly Hills and basically never left.  She's originally from Minnesota and is a former interior designer and fashion model.   She is a collector and coveter of fine couture fashion.  She became frustrated with finding her favorite things on sale, and with the downslide of the economy, decided to attack it.  She did a lot of research and brought out some of her favorite pieces through her imagination and the history of great clothing influenced by the designs of Givenchy, Dior, Balenciaga, and her most collected, Chanel.
"I decided to do a little research between fabrics.  I have a partner, Cynthia lee, who assists me with 23 gals who do all of our sewing by hand or machine in Arlington, VA.  My fabrics come from Italy, Asia, India, and the United States.  In order to keep it at a certain price point, I decided to do an online boutique." –Tina O
Interview questions by Kaylene Peoples (bold)
Responses by Tina O of WannaWear
Tell me about your fabrics.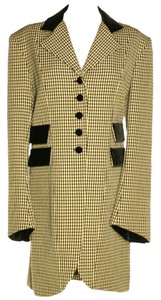 This fabric that I have on here is one of the staples of my line.  It's a cotton viscose blend with a 5-percent spandex.  What's really nice about it is that it is cool, wears and flows well, and it feels so comfortable on, yet holds your butt in and your bust line high.   So you hold your head high, and it gives you great posture and posterior all day.
Why online?
One of the reasons I decided to do an online site was so you could actually see it on real people, plastic people, and mannequins.  Ha, did you get that one?  I love to wear clothes, but I like to be comfortable in them; so I like to look like I took a lot more time than I did.  I had to think really hard about just throwing something on.  But how easy it is to throw on a dress.
I noticed that your designs are very vintage-inspired.
Yes, the best silhouettes for a woman's figure are when they feel that they aren't hiding things.  We don't want to hide our figures; we want to show our figures off.
I can see the interior design influence in your designs:  your choice of colors juxtaposed with fabrics; and I see a real creative look with everything of yours that I've seen so far on the runway that we shot earlier.    How did you get into interior design, because that's a big deal, too?  I'd love to hear some of your background on that.
A lot of people have asked me how I got into designing clothing; and as much as I've worn clothing and collected it, I was an interior designer, and I grew up in the business.  My father was an interior designer—I grew up in Las Vegas in the 1960s—and he worked for the mayor, and I hung out with the Rat Pack.  All the ladies had to dress after-five.  Of course I was very young at the time.  It was during the height of the 60s in Las Vegas.  I didn't know there was a hippy movement going on.  I was hanging out with Anne Margaret in first grade.  I got to see Dean Martin, Frank Sinatra, and everybody after 5.  The ladies always wore dresses.  And that's what I liked.  So when I moved back to Minneapolis where my father owned furniture stores, I was his assistant.  By the time I moved to Beverly Hills, we were the top interior designers in the country.  McKinley & White were my influence.  They were very architecturally demanding, when you've got everything from your doorknobs to wallpaper to trims.  So when it comes to doing a dress, my brain goes crazy.  It comes with great ease.  I can take a silhouette and change it.  If I say 30 ways, I can probably do 300.  But that's where the interior design came in.  It's just like taking a square box and turning it into a house.  How many styles of homes are there?  Well, it's the same with dresses.  Silhouettes don't change.  It's how you apply your fabrics and your own personal stamp on it.  When you start seeing my things, you're gonna go, "Is that WannaWear?"  And you'll know WannaWear because it's classic.  There are some pieces that are avant-garde.  I also like to go back to the 18th Century.  As much as I like the 30s, 40s, 50s, and the 60s, a lot of my stuff is actually influenced by the late 1800s.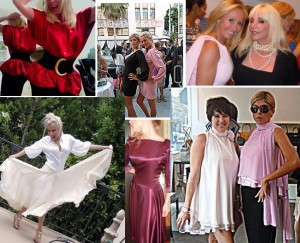 I saw some things at your launch of WannaWear a few months back.  You had the models mingling with the guests wearing your designs, which were very figure-flattering.  Everyone comes in different shapes and sizes.  Is it hard to fit for these varying sized women?
I've elongated most waists.  My size American 6 is what I call the true old measurement.  I don't do a size 6 like they mass produce a 6.  I do it according to bust line, average hip, and waistline.
What are your price points?
Most of my dresses online range anywhere from $160 to $200, the average price being $180; but I have some dresses that even start out at $100, usually lined.  If you were to find my dresses in a boutique and I had a bricks and mortar store, my average price would be from $500-$1,000.
So you're really giving a great deal being online.
You're getting a great deal, and you're getting couture quality at custom-made prices.
You're cutting the overhead.  How is WannaWear by Tina O doing?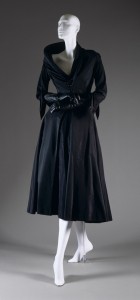 My website's doing O. K.  It's slowly but surely taking hold because I started out with just a few pieces.  It's continually changing and growing as I do.  What's been working for me is word of mouth, going online, and women in LA.  But I've been selling clothes as far as Australia, Germany, England, and New York.  East Coast is just amazing.  So I would say about 30-40 percent of my sales right now are online.  It's been a huge hit in Beverly Hills and with my friends.  I literally have to tell people, "No, you can't come over at 7:00 a.m. on Sunday."
Highest High
You witnessed even today when I see somebody in my clothing, I get goose bumps.  I get giddy.  I get as giddy as being in it.  I get excited about watching people try things on.  And I almost cry every time someone puts on one of my dresses.  I get high like this everyday.  When I told my husband I wanted to get into this business—I had been researching it for a couple of years—he didn't know about it.  I had already found a partner (which he knew nothing about) who sent me 10 dresses.  I had a cocktail party, and I had my guests arrive before my husband got there.  I had all the ladies change and wear my outfits.  When my husband arrived, he noticed how fabulous all the women looked.  And I said, "Well, Brad, remember that business I told you I wanted to get into?  This is my clothing line."  And he freaked out and that's when we got into business.  Brad said, "O. K., smarty pants, what are you going to call it?"  I didn't want to call it just Tina O.  I wanted something that would cater to the youth and just roll off the tongue.  I knew if my nieces and nephews liked the name, then I scored.  I told my husband to give me 15 minutes to think of a name.  I wrote down 30 names in 10 minutes, and WannaWear was number 28.
Lowest Low
Probably just dealing with the computer parts of the boutique.  When you have to do everything exact, especially for the computer and I have to work with the "brainiacs" that upload my stuff, I've actually had to turn that over and have little discussions with some people who helped me through that because I can't stand it, and I get so angry I break things.  It irritates me.
Where do you see WannaWear in five years?  Do you see yourself in a brick and mortar store, or do you always want to stay online?
I eventually want to see WannaWear in other stores as a particular line.  I might have a flagship store within the next year.  It really depends on the economy and how sales go because in order for me to do the quality that I do to maintain that certain price point, it's really up to my customer.  So I'm going to give them the responsibility.  They tell me where they want me, and I'll be there.
Visit www.wannawearbytinao.com for more information.