A Rare Moment with George Clinton as He Talks About His Career While Supporting a Good Cause, Autism
By
Kaylene Peoples
| January 18th, 2011 | Category:
Entertainment
,
Interviews
|
1 Comment »
I ran into legendary George Clinton from the group Parliament-Funkadelic at the 5th Annual Denim and Diamonds for Autism Benefit last fall.  He arrived in a Rolls Royce, dressed in Native American headdress and an impressive entourage to boot!  I was at the red carpet when his "chariot" arrived.  Just as he used to do back in his heyday, once again George Clinton proved that the entrance is everything!  Believe me when I tell you his over-the-top arrival had everybody clamoring to get in on the action.  George Clinton was not only a Rock and Roll Hall of Famer, but along with his other numerous accomplishments, he continues to make a difference in each new generation.  His music spans from today's teenagers to their grandparents.
"Take music with a light heart and have fun doing it and you'll never be hurt by it. That way you can always enjoy making music."— George Clinton's advice to Indie musicians.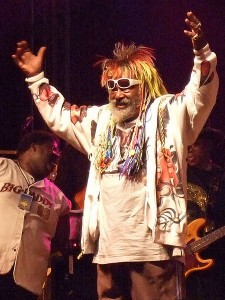 There's a lot to George Clinton than most would think.  I discovered that during his teen years he formed a doo wop group, inspired by Frankie Lymon & the Teenagers, called The Parliaments, while he was at a barber shop in Plainfield. In the 1960s Clinton was a staff songwriter for Motown.  With only one major hit single, "I (I Wanna) Testify" in 1967, The Parliaments eventually found success under the names Parliament and Funkadelic in the 70s (P-Funk).  This group explored their own brand of sounds with the latest technology and "way out there" lyrics, combined with elements of Jimi Hendrix, Sly and the Family Stone, Cream, and James Brown, with over 40 R&B hit singles (and three number ones) and three platinum albums.  Always transforming with the times, Clinton started his solo career in 1982 and produced albums for Bootsy Collins and Red Hot Chili Peppers, and more.
With George Clinton's unique alchemy of musical inspiration, it's no wonder that he is deemed one of the biggest musical influences of our time.  P-Funk continues to influence some of music's most creative minds today.  George Clinton continues to be a musical entrepreneurial force.
Interview by Kaylene Peoples (bold)
Answers by George Clinton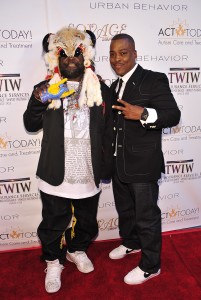 I'm a huge fan of your music.  It's a thrill for me to be talking to you.  You're at an Autism awareness benefit, and I would love to hear your thoughts on this illness.
I'm always interested in children, especially those suffering.  So when I was asked to do it, it was easy for me to say yes.  I wanted to be more aware of autism.  Sometimes it seems like a gift.  I don't know the difference between the types of autisms—I'd like to know more about it.  A friend of mine, Won-G, asked me to come, and I was glad to support the cause.
It's sad.  1 in 110 children are affected by it.  Three years ago it was 1 in 125.  It's a pandemic actually.  It's really nice to see legends such as yourself speaking out and being supportive of such a cause because that's what helps to get others involved.
So if I make myself more aware of it [autism], then I'll be more visible whenever I can.
Now another reason I wanted to interview you is Agenda Magazine has a section called The Indie Hostspot, which caters to Indie musicians.  You created a genre of music, which started a whole trend.  Do you have any advice you would like to give for up and coming musicians who are trying to carve their own niche?
I love what I'm doing, and that is the most important thing with music.  Loving it makes it easy to do.  I do music as a hobby . . . but I'm not going to do anything else!  It has always been my life, too.  Be aware that in the music business, you have to be light-hearted about it; otherwise you'll get frustrated to the point to where you'll want to give up, especially if you're looking to blow up right away.  So the more aware of the psychology of this business you are, the better off you'll be, like how bad you can or can't be treated.
What would you say was the highest point in your career?
I've been high now.  I had a spaceship, remember?  Landing that spaceship in Madison Square Garden in New York, Houston, Texas, Oakland and Los Angeles, California, with 20,000 people with flashlights singing my songs so loud it was deafening.  Those were some unbelievable highs.
Have there been any lows?
Lows are just another opportunity to jump back up!  You see, you have to come back to the ground and spring back up.  Back then I was looking for them.  When "One Nation" came, we made our own lows.  It was the Anti-Tour.  This was a big record that had been out for four years with all our big hits.  We decided to go out with the album Mothership [The Mothership Connection] and take it underwater.  We decided to make our own low.  No limos, no roadies, we wore fatigues.  It was called the Chitterling Circuit Tour.  We did the whole tour carrying our own equipment.  We played small venues.  Nobody believed we were going to be there so we had to go out sometimes and give away comps [free tickets] just to convince people that we were there.  That was just something we did because we really needed to take a rest.  We called it the Anti-Tour.
How old were you when you started your career?
14 years old.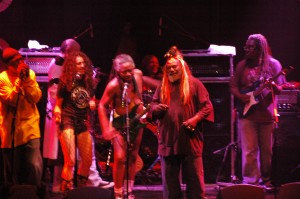 That's amazing.  I know of one or two hits.  What was it like on the road to hitting, per se?  Were there any difficulties there?  Was it pretty easy?
I'm so in love with doing music as a group.  All of us at the time were in grade school.  Everybody on the corner had a group at 14 and 15 years old.  We sang in schools, sang in the gym.  In '59, back when they were making Hula Hoops, we played at a barbershop by the time I was 18.  We started opening in New York with all of the 1960s groups like the Chiffons (George sang "dolang dolang dolang") doing all of that early rock and roll.  Then Motown came, and we became a part of that.  Then it was like heaven being around all the writers and artists.  And when they left Detroit, we stayed there.  We became P-Funk.  Then we became Funkadelic.  So we took over what Motown left behind.  And from then on, we were in our own world.  We did the Mother Ship, Chocolate City, and the Mother Ship Connection.
Your sound evolved in the 80s.  How did you manage that?
Going into the 80s with Atomic Dog, it started a whole other thing.  Then Hip Hop came.  We were the DNA for Hip Hop because of the sampler.  We were always rapping already, so it was like a brand new version of ourselves every five or six years.  Right now we're doing remixes on top of everything else.  Since we have a fan club that's ongoing—youth, parents, grandparents—it's like Funkadelic all over again.  We're doing whatever we want!  Right now this is a world where you can make up your own everything!  So we're having a ball doing that.
Check out George Clinton's album:
George Clinton and his Gangsters of Love, featuring: Santana, Sly Stone, The Red Hot Chili Peppers, El DeBarge, The RZA, Kim Burrell, Dhani Harrison, and members of the P-Funk Allstars.
For more information on tour dates and future releases, visit his websites at http://www.georgeclinton.com and http://www.myspace.com/gclinton.