With a Combination of Wearable, Functional Designs, COIN 1804 Offers Today's Woman a Variety of Pieces That Provide Enduring Appeal
By
Kaylene Peoples
| January 18th, 2011 | Category:
Articles, Interviews and Reviews
,
Fashion
|
Comments Off

on With a Combination of Wearable, Functional Designs, COIN 1804 Offers Today's Woman a Variety of Pieces That Provide Enduring Appeal
"I want women to look and feel fabulous in designs that makes sense in their daily lives.  In this challenging economy, women are looking for invest fashions that provide flexibility and an enduring appeal."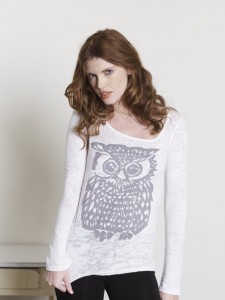 Designed by Garci Lee with graphic art by husband Phillip Kim, Coin 1804 is the perfect combination of craft and inventive, wearable designs.  They launched their collection back in 2005 and since then, the line has consisted mostly of cotton jersey and voile, and has used nature motifs in its designs.  Each piece is designed for wearable versatility and convenient mixing and matching.  Some of COIN 1804's Spring 2011 collection offers long-sleeved tops with reverse stitches, asymmetrical necklines, embroidery, ruffles, as well as sporty tunics and shrugs.  The colors range from subdued tones to sand charcoal to army.  The graphic art features owls, bicycles, and the label's very own character, "Ju-Yi," which represents the Chinese adage, "All things are accomplished as intended."  COIN 1804 has been the ideal brand for women of all ages.
"Fashion is a constant balancing act of the artistic and the practical; without one or the other, it cannot survive. We don't create clothes to hang in a museum but rather on someone who has hopes, dreams, and aspirations. It has to suit the purposes of the one who will wear it.  Otherwise it is of no use at all."—Garci Lee, Designer for COIN 1804
Interviewed by Kaylene Peoples (Bold)
Answers by GARCI LEE, designer for COIN 1804
How did you get started in fashion design?
I studied fine art extensively before transitioning into fashion and a formal finishing program in Italy. Much as I love art, I wanted to be involved in a medium where something of beauty can achieve a practical purpose. I then worked for several major junior contempo lines, which gave me a firm understanding of the driving engine of West Coast style. Eventually, I sought to develop my own line that would cater to women's practical needs while giving them more stylish options, and created COIN 1804 with my husband.
Tell us about your line.  I'd love to hear about your choice of fabrics and colors and what inspired your Spring 2011 collection.
COIN 1804 is a fusion of the words "Cotton Innovation" because we excel in the finest quality cottons that have an amazing supple hand while providing comfort and fit. The line showcases chic, easy everyday wear that fulfills multiple functions from work to play in subtle shades of russet, army, ivy, eggshell, and sand as a beautiful depiction of nature's emergence during the spring season. The collection also features nature motifs and original graphic artwork.
Do you have any designers you look to for inspiration?
I admire the great body of work that Coco Chanel achieved in her lifetime and Miuccia Prada for the truly groundbreaking accessories that have marked the label as among the most innovative brands of our time.
What have been the highs as a designer?  Any Lows?
I design a tightly focused collection, and when it works, the satisfaction of seeing the positive reactions of customers is an inimitable experience. There aren't any "lows" per se when you love what you do—but I can't say that the long, grueling hours are fun.
What advice would you give to an aspiring designer?
Enjoy every moment of the creative process. Designing requires dedication and focus and a precise eye for details. And always create with a sense of relevance to what your customer needs.
Where can people find your designs?  Your website?
Yes, people can order through our websites or at the many specialty boutiques that carry our line nationwide.  Visit www.coin1804.com.
If you could describe yourself in one or two sentences, what would you say?
I'm an outgoing, optimistic, and fun-loving person!
Where would you like to see yourself in 5 years?
I would like to be still doing what I'm doing except maybe with less hours and more dogs.