The martinMartin Fall 2011 Runway – A Collection of Evening Gowns for Men with Lace Meets Leather for Women . . . Oh My!
By
Kaylene Peoples
| March 1st, 2011 | Category:
Articles, Interviews and Reviews
,
Fashion
,
Runway
|
Comments Off

on The martinMartin Fall 2011 Runway – A Collection of Evening Gowns for Men with Lace Meets Leather for Women . . . Oh My!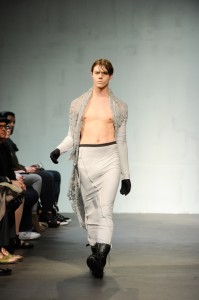 Diane Moss-Martin and Eric Martin are the designers behind the line martinMartin, and they have certainly pushed the limits with their newest collection . . . long gowns for men, forget it!  Leather fringe bottoms, side zippers, skirts for men, all black, maxis with uneven hemlines… at first glance I thought, hmm, Matrix.  Any moment I expected Keanu Reeves to turn a corner at the Audi Center.  Though the concept of draping and futuristic goth was not an original one, that was the theme for martinMartin Fall 2011.  The non-leather garments had a tattered appeal.  Dare I say thrift shop?  No, I guess vintage-inspired would be a better euphemism.
Both male and female models had white face paint, pale lips and over-teased hair.  Some wore boots with their outfits while others wore white or black nursing/marching band shoes paired with maxi skirts and dresses.  There was a complete disconnect in translation from the sewing machine to the runway, which is why this was a difficult show to review.  The simulated kilt, skinny pant, and leather coat combination for men had an appeal, and for women, I liked the parachute pants with white leather jacket and zippers down the center.  As far as fabrics, there were a lot of poly blends, jersey, lace, and cotton blends.  There was one gray wool blazer.  And will somebody please tell me when we stopped sewing hems?  Frayed fabrics with stray threads made for a very unfinished look.  But male models walking the runway in clingy evening gowns is not something I care to see.  Sorry, call me old fashioned, but man dresses, unless they're kilts, will never be big money makers.  One thing martinMartin did right was the construction of their leather coats.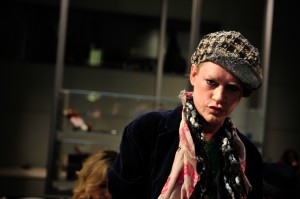 I was impressed with the fine detailing and obvious consistent design.
The final march down the runway to Beethoven's "Moonlight Sonata" were models wearing caped hoodies, leather blazers, oversized turtlenecks and sweaters, and angled/flared hems.  This was a gender bender of a show with an androgynous theme (maxis and wrap skirts for men).  Guess who sat front row taking it all in?  Fashion designer Richie Rich!  After the show, I looked for a line sheet, because I really wanted to see what martinMartin's main artistic focus was.  Unfortunately, there was none . . . ahem, a line sheet that is!
View the martinMartin Fall 2011 Runway photographed by Arun Nevader.