Did You Know: 30 Minutes of Exercise Will Boost Your Brain by 10% and Mood by So much More!
By
Anthony Heredia
| April 11th, 2011 | Category:
Fitness Couture
,
Tips
|
No Comments »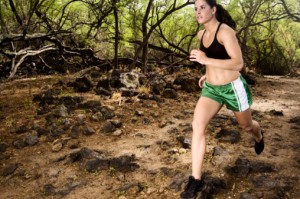 The fact that exercise is good for us is no revolutionary concept but the fact that 30 minutes of exercise can clear your mind, boost you mood, reduces fat storage hormones and simply make you more mentally efficient makes this worth mentioning again. Exercise enhances your body for countless reasons but as little as 30minutes of your day exercise can boost the overall efficiency of the 12-hour day your are about to start. Those 30 minutes increase oxygen flow to your brain, reduce fat-friendly cortisol hormone levels (stress hormone), and aid your body in creating new brain cells (neurogenesis).
A study by Charles H. Hillman, "Cognition Following Acute Aerobic Exercise," showed a clear improvement in brain cognition by up to 10% after only 20-30 minutes of challenging aerobic exercise. Ten percent more access to your brain on a busy day in exchange for 30 minutes of exercise you should be doing anyway is not a bad deal. We are all too familiar with those days where the thoughts are there but they just won't come together, and all you need is that extra little boost to take the day where it should be. Not to mention the added little bonus of being in a significantly better mood with a powerhouse, positive attitude to compliment your extra 10% brain power. I am not seeing much of a down side here.
Make sure to note that those who have reaped the highest improvements in these studies were the ones that pushed their fitness limits during the exercise.  Even walking for 20 minutes a day will improve your life over all but a challenging 30 minutes or more will open up a brand new day of possibilities.
Sources:
1)      Charles H. Hillman – Cognition Following Acute Aerobic Exercise www.ncbi.nlm.nih.gov/pmc/articles/PMC2667807/
2)      Van Praag H. Neurogenesis and Exercise: Past and Future Directions. Neuromolecular Med. 2008 Feb 20. PubMed