CGH Couture and Holly Waas: A Night of Indie Couture and Ready-to-Wear Designs with a Red Carpet Crowd of Child Stars at Agenda Loft on March 19, 2011, during LA Fashion Week
By
Kaylene Peoples
| May 4th, 2011 | Category:
Articles, Interviews and Reviews
,
Fashion
|
No Comments »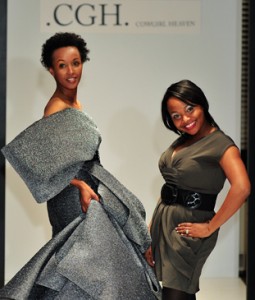 "If you can envision it in your mind, you can actually accomplish it.  Never give up on your goals.  Keep fighting and keep working.  Your hard work will actually pay off.  Stay true to your dream and one day it will become a reality." –Houstina Summers of CGH Couture
Fashion designer Houstina Summers of CGH Couture has been designing for three years now, and she is indeed what one would call an "emerging" indie designer.  As the originator of Cow Girl Heaven, a blog dedicated to independent designers, she is a true maverick of style.   I don't know about you, but it sure seemed pretty refreshing to find such an enterprising woman who not only makes clothes, but also takes the time to help others doing the exact same thing.  Really, you emerging designers should visit her blog!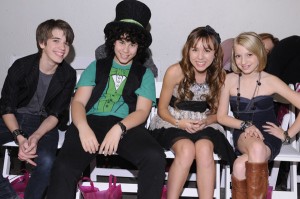 During LA Fashion Week, Houstina (Tina) of CGH Couture showcased her Fall 2011 collection alongside talented independent designer Holly Waas on March 19, 2011, at Agenda Loft.  It was a packed house with a bevy of child stars, including Madison Leisle, Brandon Tyler Russell, Camryn Molnar, Taylor Beckett, Sam Lant, and Camryn Molnar.  Emma Zehrner hosted the event.  The two designers showed their latest collections, which consisted of couture and ready-to-wear.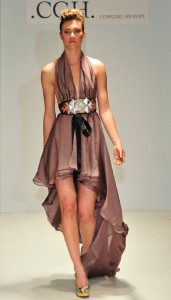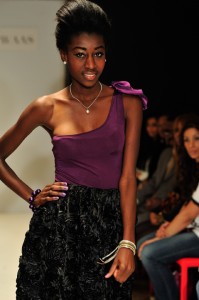 Houstina Summer's line was very formal and dramatic with interesting fabrics.  I was pleasantly surprised by how figure-flattering her clothes were in this collection.  The big highlights here were the mauve halter cocktail dress with the long train and the silver synthetic gown that was the final piece in her show.  Let's face it; there were a lot of great pieces.  Summers showcased the popular trends for fall 2011.  For instance, the gold one-sleeve lamé top with ruffled skirt; it was spectacular!  Oh, and those shoes . . . let's not forget those shoes.  I was totally blown away by the innovative, popping style of some of those pumps, most especially the pink ones.  Designer Holly Waas showed a collection of mostly cocktail dresses with a couple of pieces featuring club wear styled with lace leggings.   The big highlight of this line was the cocktail dress with the black floral appliqué and one-shoulder purple top . . . simply beautiful.
Interviewed by Kaylene Peoples
Reponses by Houstina Summers of CGH Couture
You just showed an amazing collection and I would love to hear your inspiration.
My inspiration is basically the woman who wants to make a statement.  She loves life.  She's confident.  She's happy.  And when she goes out or she has an occasion, she wants to be the light of the room when she walks in.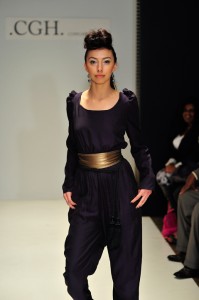 What were some of the fabrics you used?
I used leather for the first time. I also used velvet and beading for the last dress.
What drew you to the fabrics that you chose?
I love to use fabrics that can stand alone and say or create something, which inspires the creation.  I have a lot of pieces that sparkle.  There's a silver number that's a low v-neck and the silver [synthetic] gown, and the cheetah prints that I thought were just gorgeous.  If the fabric speaks to me, I have to create something with it.
One of the reasons I liked your designs is your use of sleeves.  I noticed you incorporated a lot of them into your collection.  Can you tell me why you did that and what inspired the types of sleeves that you used?
Mainly because of fall, you still want to dress cute; but sometimes it's too cold, and you don't want to wear jackets to cover up the dress that you spent a lot of money on, so why not add sleeves.  I know a lot of designers who are afraid of sleeves, but I think there's a way you can incorporate them into a design so that it works.  Hopefully I accomplished that.
What are your price points?
My prices range from $300 to $500.  And I have some ready-to-wear pieces that are a little less expensive.
Where can people find your clothes?
CG.Heaven.etsy.com
What's the turnaround time? These are one of-a-kind handmade gowns, right?
If it's not already made, then I would say around two weeks.
And there's no extra fee for special order?
Not at all.
Indie designers who want to be featured on Cow Girl Heaven should send an email to tinasummers3@yahoo.com.