Lauren Elaine "Unmasked" During LA Fashion Week – A Masquerade Ball and Runway Presentation Offering Signature Archetypal Princess Designs
By
Kaylene Peoples
| May 4th, 2011 | Category:
Events
,
Fashion
|
Comments Off

on Lauren Elaine "Unmasked" During LA Fashion Week – A Masquerade Ball and Runway Presentation Offering Signature Archetypal Princess Designs
March 14, 2011, at the "Unmasked" was a spectacular Masquerade Ball and runway presentation for the Fall Wint
er 2011 Black Label collection, at the private venue of Castle Antiques Warehouse and Showroom.  LA's hippest were in attendance, including the bevy of bloggers, publishers, and local celebrities.  Those who dressed up and wore the mask were treated with their due respect (as promised on the "mask" invitation that was sent out).  Yes, this was a masquerade ball!
I have been a cult follower of Lauren's line since her launch almost three years ago, and how she has evolved as a de
signer!  Always showing great promise and talent as a fashion designer, each season she manages to take it up a notch.  Her trademark gowns are popular among young women, and with her signature "princess" archetypes, it's no surprise her appeal has reached prom-bound teens.
The show started with Elaine's campaign video, giving us all a quick sneak peek that set the tone for what was to come.  Her collection consisted of 28 looks with the final look a wedding go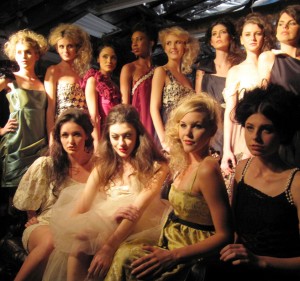 wn.  On a rose petal-filled catwalk, each model emerged with a design theme befitting a dark romantic theme.  Some pieces had a slip quality while others were off-the-shoulder.  Lauren Elaine's signature spaghetti strap feminine ruffled gowns and other pieces offered a creative use of lace, rhinestones, and tulle.  The taffeta gowns were very nice.  I liked some of her color choices, particularly the jewel tones.
Some design highlights included the feather-sleeve pink lace evening gown and the two-tone cocktail dress with feather straps.  I liked the way she mixed and matched some of her straps with pearls and fabric.  My favorite dress in this collection was the red appliqué floral gown—it reminded me of a classic Valentino or L'Huillier!  I asked Lauren after her show if these were her inspiration.  They weren't.  But that's okay. As it is with all art, isn't it up to the audience to lend their own interpretation?  Overall, it was a beautiful, romantic, poetic collection, filled with feminine details.