Robyn Peterson of CATWALK CONFIDENTIAL: A One-Woman-Show about the Trials of a Young Woman on Her Road to Becoming a High Fashion Model
By
Kaylene Peoples
| May 3rd, 2011 | Category:
Entertainment
,
Interviews
|
Comments Off

on Robyn Peterson of CATWALK CONFIDENTIAL: A One-Woman-Show about the Trials of a Young Woman on Her Road to Becoming a High Fashion Model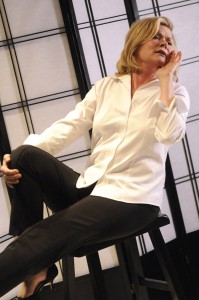 Former top model Robyn Peterson has written a riveting one-woman show that recounts the trials and tribulations of a young girl and her journey up the ladder to success in the world of modeling, from her daring mad dash to New York to her first experience on the professional catwalk.  Peterson and her team performed at Agenda Loft in a very intimate environment as a fundraiser for Agenda Foundation on March 3, 2011.  The audience was fixated on her journey, and I was very moved by her story.  I had the privilege to speak openly with Robyn and now share with you, our readers, some insight into the making of Catwalk Confidential.
Interview by Kaylene Peoples
Responses by Robyn Peterson
Robyn, you have created a beautiful One-Woman Show Catwalk Confidential.  This show was based on your career as a high fashion model.  It's a wonderful story about a woman's journey in the world of modeling.  What made you decide to tell your story?
Thank you for all your support at the Agenda Loft.  This may be more of an answer than you are looking for, but this is where I started.
One gentle summer evening, maybe 10 years ago, the sounds of "Honky Tonk Woman" playing at a nearby party were floating by on the balmy breeze, mingling with the tang of fresh-mowed grass and steaks searing on a neighbor's grill, tinkling sailboats, and the sounds of my broom sweeping the patio merged with my excited anticipation of old friends arriving from Paris.  Best friends I loved, but hadn't seen for years.
I spent the day searching for my ole Je ne sais quoi! I was plucked, stuffed, spanxed, blown out, and polished to the hilt.  I starved and squeezed into my favorite YSL–now vintage jeans–not vintage when Yves gave them to me 15 years ago, after an all-night shooting, wearing only those jeans, a top hat with a veil, and a riding crop.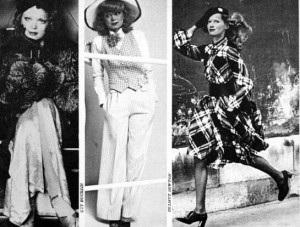 My trusted friends arrived looking thin and very ooh-la-la French, bringing champagne and macaroons from Laudree in Paris.  We spent the evening clinking glasses, and eating as we toasted old pals, failure, success, and our juicy young exploits.  The sparkling bubbly made us intimate and accessible to all our memories.
I got lost for a while in my precious moments of her, walking down runways together, eating passion fruit ice crème, her red curls, her beautiful voice cooing lullabies to her babies.  Soon after that night, I started writing about these "Lost girls from Paris."  My teenage friends from a time long past, hiding in a foreign country together, working in an alien world, learning French from comic books and boyfriends–where are they now?  How did we end up there?  What were our similarities?  We were family, advisors, enemies, playmates, and naive confidantes–all players flashing through moments searching for perfection.  Never-revealed secrets of who we really were and made-up pasts of fancy.  We just collided with each other in a world of glitter and flashing lights.  Faces frozen on film forever, trapped in seconds of time, yet never thinking of what was inside each other's head.
"How is Wally, I miss her"–my friends looked profoundly sad and dark.  I felt one of those moments when gravity grabs the breath out of your guts.
"Oh Cherie, you don't know?–a crime of passion, as we say in Paris."  He hissed a disgusted tisk,tisk,tisk.  "Oui, oui.  Police found her body the other day.  She fell out the 3rd floor window.  No note.  No one knows what happened.  Suicide.'
She would never kill herself, I answered.
"Police said it was an open-and-closed case."  He added with another tisk.  "She was married to the King of extravaganza.  Wouldn't you think she would have gone in full drag?" After a few seconds he added, "At least she died before she got old."
What was the process like putting together such an intense show?
I had 800 pages of notes, stories, and love letters from what happened behind the closed doors in the gilded world of Haute Couture.  I started out with eight characters.  To create the beginning, middle, and end of the play, I sometimes combined these characters' experiences, as they are universal coming-of-age stories of love, loss, ambition, and longing that all women experience in every world.  Many stories were lost along the way, but they do sometimes come back as time passes, and age forces me to see things differently in every performance.  All my memories color the show.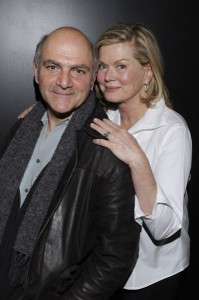 I was taking writing classes and acting in TV and movies when a good friend, Maryedith Burell, told me to stop writing so she could stop reading.  She introduced me to Tony Abatemarco, my director.  Tony and I started to develop CATWALK CONFIDENTIAL into a shape at the New Works Festivals at the Mark Taper Forum in 2001 and 2002.  We went on to perform in numerous festivals and readings, and we did a 5-week run In Los Angeles.  All of these different performances helped shape the final story.  We had a successful run at The Edinburgh Fringe Festival in Scotland, which was followed by a very exciting 5-week run at The Arts Theatre on London's West End.  We had 4 days to write, design, and memorize an additional 25 minutes to the show for our London producers. It was hairy and thrilling.  London was exciting–working with our producers Barbara Broccoli, Michael Rose, and Michael Wilson, and their great vision, experience, and hand-picked team of top designers enabled us to polish the show and take it to a much higher technical and performance level.  It was a dream.
How did you feel your show worked in a salon-style environment?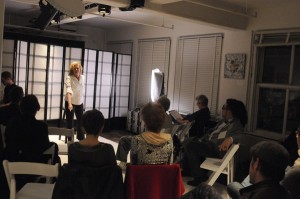 I loved the up-close personal and immediate connection with the audience.  Being able to walk into the group, I was able to feel their instantaneous reactions, which brought up different responses in me that I had never experienced before.  The Agenda vibe is glorious.  So many fashion people were there and had personal experience in that creative world.  You did everything possible to help us create a memorable night.
Tell me a little about yourself and your background as a model.  What were some of your successes as a model?
I wanted to travel and experience the world.  The chance to model arrived, and I jumped on the bus to New York City, and worked hard, very hard.  Fate handed me an opportunity to go Paris.  I had a dream, $50 dollars and a portfolio of test shots.  I am very humbled that I was lucky enough to have been included in the creative visions of some of the greatest designers and photographers in the world.  Believe me, it is the only place in the world where a girl like me from Miami could even think about being perfect.  It opened dreams and opportunities I never could have imagined.  I am proud of the work and grateful for everything I learned from the masters.  My first jobs were with talents ranging from Jean Jacques' Bugat, Karl Lagerfeld, Guy Bourdin, Kenzo, Helmut Newton, Alice Springs, Elle, Marie Claire, Vogue–they trusted me and allowed me to be part of their creativity while I was discovering who I was.  They were teaching me to fill the void of that frame.
I saw your show and really enjoyed it.  I was moved by some of the experiences you went through, which led to you becoming a model.  Was it difficult pulling from those experiences?  Some of them seemed very painful.  I would imagine even more painful to recount.
The darker moments help bring out the lightness of life and the common tragedies life serves us all.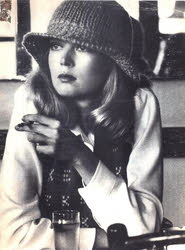 Most actors are supported by a cast.  You of course aren't.  What is that like?  Is it scary on stage performing such an intense play solo?
I am on stage with all my characters, and the audience becomes part of the evening, like my dancing partner. Every night is a different show because of their reactions, because of what's happening in the world, because of the pizza I ate between shows.
Do you have a favorite scene?
I love the Chloe Fashion Show–it so captures that backstage madness:  those flashing  moments of polish and inspiration it takes to put the jewel in the crown–all for that 4- minute strut down the runway to the waiting press.
And of course, Eve–don't you just want to slap her.
What were some of your highest moments with Catwalk Confidential?
Getting CATWALK done was a dream each step of the way.  Moving from the 66-seat Divinity School Theatre in Edinburgh, Scotland, to the 350 seat ART'S Theatre was beyond my wildest.  London was the real thing –pure polish from our artist team's magnificent design, dramatic lighting, and faultless sound–to water in the dressing room and Jenny Packham's designer gown.  We just finished a very exciting and critically acclaimed run at the Adrienne Arsht Center for the performing arts in Miami, Florida,  our ninth venue and our most elegant show yet.
Any low moments?
How can I complain?  This has been one hell of an exciting and bumpy ride.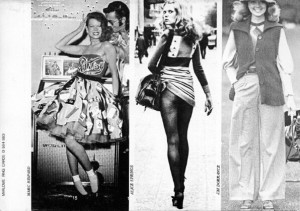 As a former top model, what advice could you give to aspiring models today?
Get an education, work hard, and save your money.  It is a lifestyle on loan.  A gift from God.  Learn as much as you can.  It can have very dreamy moments and nasty lessons.  It will change your life.  The direction is up to you.
How would you say the modeling industry has changed, if at all, from when you were modeling?
The internet has made the retail market place voracious.  Constantly searching for new faces and new looks.  Styles and products are in and out–in a flash.  I think careers rise and fall much quicker.  The competition is tough.  There are so many more girls available at younger and younger ages.  Celebrities have now become product faces.
What's your opinion on ageism in the modeling industry?
Honey, there is always a younger girl waiting to step into your stilettos!  Don't forget it's a lifestyle on loan.  A whirlwind of glamour, competition, love and drugs, as I discovered.  There is one thing to fear above all else:  AGE!  There are a few gorgeous, legendary models allowed to age, like Lauren Hutton, Carmen, Dayle Haddon, but not many.  That is life in the modeling world.  We older gals need role models in the media, women who are not trying to hang onto their 16-year-old body, and lifestyle.  Women who want to feel good about themselves inside and out.  The fashion industry doesn't give us many of those.  I won't be hanging up my sequins until they stop selling makeup.
Where has Catwalk Confidential played so far, and when and where is the next performance?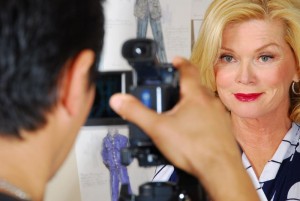 CATWALK CONFIDENTIAL was developed at the Mark Taper Forum New Works Festivals of 2001 and 2002.  It was performed at the opening of the Wallis Annenberg Center for the Performing Arts, the New Playwrights' Festival at LA's Matrix Theatre, and we enjoyed a successful 5-week Los Angeles production.
Excellent reviews at The Edinburgh Fringe Festival led to a successful autumn 2009 premiere at the 350-seat ARTS THEATRE in London's West End.  CATWALK was produced by the same team, Barbara Broccoli, Michael Wilson, and Michael Rose, that brought Hugh Jackman and Daniel Craig to Broadway in last season's hit A STEADY RAIN.
We just finished an exciting and critically successful run at the Adrienne Arsht Center for the Performing arts in Miami, Florida.