Talent Surpasses Budget at Project Ethos "Carpe Diem," on March 12, 2011, at the Avalon Nightclub in Hollywood during the Kickoff of LA Fashion Week
By
Kaylene Peoples
| May 2nd, 2011 | Category:
Events
,
Fashion
,
Runway
|
1 Comment »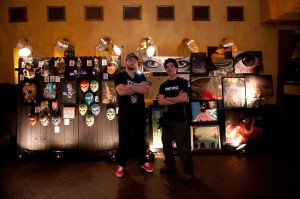 For the kickoff of LA Fashion Week on March 12, 2011, Project Ethos at the Avalon nightclub in Hollywood was the place to be.  Aside from the intimidating long line, which literally wrapped around the building with guests and press clamoring to get in, one could feel the buzz of electricity emanating, anticipating the upcoming shows that evening.  Red carpet arrivals were busy posing for media, and the fashion portion of the show was backstage, preparing for the emerging designers' debut of their collections.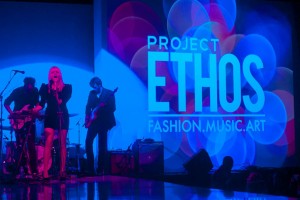 Project Ethos "Carpe Diem" had exciting musical performances by Sarah E. DeBlank of the indie rock band Robotanists and Yolanda Be Cool, who also performed their famous hit, "We Speak No Americano." Some of the sponsors for the evening were Vitaminwater Zero , Bumble and Bumble Products, Popchips, Colorevolution, Fredericks of Hollywood.  There was a lineup of seven designers who showcased their collections.  Vitaminwater Zero, the official sponsor of the event, held the "Flavor Fashionista Challenge," and the contest winner was designer Reneta J.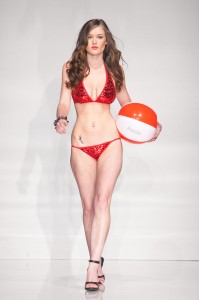 Fredericks of Hollywood Swimwear was first on the runway.  Are these suits for sunbathing or for swimming?  With sequins and metallic, these bikinis were nothing if not electrifying.  My favorite suit—the red sequin bikini at the end of the show!
Cardiwrap by Kymato followed, and they had what I term "convertible clothing"—a knitted wrap can become a top or a dress.  The colors were solid gray, red, blue, and black.  The highlight of these wraps was a gray one-shoulder long sleeved creation.  These wraps are so interchangeable you can dress your outfit up or down with ease without ever changing wardrobe.
Melissa Velia's show opened with a ballerina on toe to classical music; then the music took a modern turn and she (still on toe) strutted off the runway with some serious attitude.  Melissa Velia's was a contemporary collection of separates (tops and skirts) and dresses.  Fabrics ranged from jersey to cotton and polyester blends with patterns, and tulle.  I liked her use of ruffles on the skirts.  I could have done without the final piece, a yellow (poly blend) gown with sequins up top.   Overall this show was one of the evening's highlights.   I really appreciated the attention to production.
Reneta J was a very well put together collection.  Her theme was by far the most cohesive, and well styled; I want a pair of those rhinestone leggings!  Her line consisted of a variety of dress styles including the baby doll, the one shoulder, the shirtdress, and the appliqué cocktail dresses.  She sprinkled in ruffles and bows, too.  Her long sleeved tunics happened to be one of my favorites, and since I'm drawn to a longer sleeve these days, I really appreciated her cocktail dresses incorporating them.  Fabrics included viscose georgette, and poly blend of spandex crepe and suede.  Reneta even had some high-end prints (the white and red ombrey dyed maxi at the end of her show).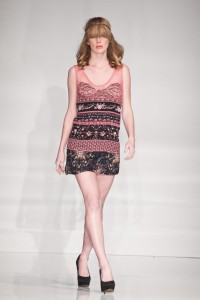 Age of Aquarius used sustainable fabrics (viscose bamboo, organic cotton) combined with velour, spandex, terrycloth and, additionally, fleece, silk, and hemp.  The retro line utilized trends from the 80s with modern personal and urban touches. Active wear with a retro twist best describes this collection.  The warm up suits with big metal buttons and ruffles, the hooded cardigans with ribbed cuffs, the yoked necklines with puffed sleeves—designer Kristi Moon put a twist on a recurring theme for Fall 2011:  Bohemia . . . except she did it unexpectedly with unusual influences.
Ermelinda Manos's collection was exclusively minis and micro-minis in a variety of prints, solids and fabrics, including feathers.  Hers was literally the first feather micro mini I remember seeing this year.  The models wore stiletto platforms featuring their long legs, and they all had long hair with a kiss to the 70s love child.  The fabrics were polyester and lace (of which I am not a big fan).   But the line was sexy, yet romantic and feminine with a bit of retro; and it did work.  My favorite piece?  I particularly liked the belted tunic mini!
Dominique Ansari's collection seemed like a tribute to Caesar before the fall of Rome, except with a wider color palette.  Cream was the color back then, but this goddess-like collection was nothing if not colorful with aqua, red, gray, navy, cream, and black.  Fabrics were spandex disguised as jersey for that draping effect.  There were uneven hemlines all styled with thigh-high stockings and pumps.  This was a fun collection to watch and, I bet, to wear.
Seth Aaron Henderson closed the fashion portion of the show.  Henderson won Project Runway Season 7.  He is known for his impeccable sewing and eye-catching graphic design—all qualities that helped him win.  His combination of separates during his runway show that night was superior in its design qualities.  From his black and white checkered dress, paired with the white twill jacket, to his high-waist red cotton wide-leg trousers, I enjoyed every second of this part of the show.  Aside from the great styling (shoes by mswoodboutique.com), I especially liked the black quilted wool jacket and the spaghetti strap evening gown at the close of the runway show.
Given the limited budget and time constraints in which these designers had to put together their collections, they did an excellent job of creating their lines, utilizing appropriate styling, and incorporating the seasonal trends.  Talent should be able to surpass budget, and in this case at Project Ethos "Carpe Diem," these designers did just that!